Coverboy Scott didn't think he'd ever work in a gay bar. In fact, he didn't know much about the LGBT community at all. But when the owner of a newly opened Freddie's approached his friend and asked if he knew anyone who needed a job, Scott found himself being volunteered for the position. "I think my friend wanted me off his couch," he laughs. A native of Northern Virginia, the 38-year-old enjoys slinging drinks in a happy work environment where he gets to interact with people of all types, and see the satisfaction on their faces after he serves them a well-made cocktail. Although he's an athlete who prides himself on physical fitness, Scott's Achilles' heel is his incurable sweet tooth. He's also got a good sense of humor, a happy-go-lucky attitude and is very open-minded, whether it's accepting other people's differences or introducing some creativity and fun into the bedroom.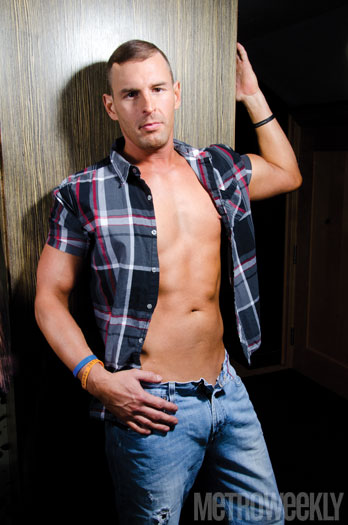 Coverboy: Scott
(Photo by Julian Vankim)
What's on your nightstand?
I really don't have a nightstand, but I have a drawer that's close by, and that has a vibrator, a gag ball, and a vibrating hand. And also the remote control to my DVD player.
What's your favorite movie of all time?
Braveheart. The emotional trauma that William Wallace deals with throughout the movie, and how he represents himself and the entire nation that doesn't respect them is pretty emotional.
What's the worst movie of all time?
Howard the Duck is possibly the crappiest movie ever.
If you could have one superpower, what would it be and why?
To have a sexual pleasuring power, so it doesn't matter who the person was, you'd be able to please them sexually without even trying. Just be like bam! Instant orgasm. That would be cool.
Would this cross over to both men and women?
Oh, yeah. That's what would be fun.
Pick three people, living or dead, who you would like to spend the day with. And what would you do?
Bill Murray, Barack Obama and Elton John. We would do whatever Bill Murray says we're going to do, so if he said, "Let's have sex," I'd be like, "Whatever. Let's do it."