As I wound my way through a series of tight corners near Great Falls, Va., over the weekend, I was faced with something of a dilemma. The car I was piloting, an Audi Q5 SUV, was performing admirably. Its finely tuned German chassis attacked the corners with minimal body roll; Audi's venerable Quattro AWD system let me spirit out of bends with surefooted gusto; a grippy, leather-coated steering wheel offered sufficient feedback to accurately direct the front tires around some worryingly twisty sections of road. This 4,000 pound, 15-feet-long, midsize SUV was eliciting a goofy grin as I threw it round corners, its relatively modest 211 hp and 258 lbs-ft of torque — produced by a turbocharged 2.0-liter four-cylinder gas engine — emitting a rorty bark as I hit the gas to power over small rises in the road.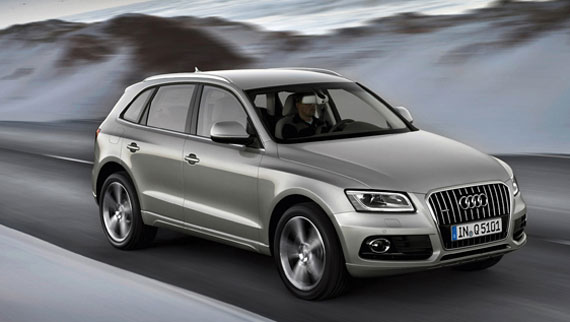 I was having a heck of a lot of fun, more so than in some sedans I've driven. The Audi's taut, multi-link suspension smoothed out harsh bumps, though it's definitely on the firm side. It never gets tiresome, but it won't "float" in the same way as, say, a Cadillac SRX. However, the German SUV slays its American rival off the freeway when faced with hills, sharp S-bends, damp and muddy corners and tight hairpin turns. The Q5 remains composed, flat and, above all else, fun. This is when a nagging doubt crept into my mind: What are the trade-offs for all this fun?
I've long been a proponent of SUVs. I grew up around Land Rovers — several classic Range Rovers as well as the second- and third-generation models and a second-generation Discovery. Most of these were body-on-frame, or ladder-box, SUVs, with the body bolted to a tough steel frame, enabling greater off-roading and towing capability. It's the type of chassis still found in large SUVs and trucks today. Early pioneers of the modern SUV, the Jeep Wagoneer, the Ford Bronco, the original Range Rover, instilled the idea of sedan-driving characteristics in a vehicle that could still go anywhere. Disc brakes, coil suspension, automatic transmission, air-conditioning, easy-to-use four-wheel-drive systems, leather seats, entertainment systems — all were introduced during the lifespan of these original pioneers. (The Range Rover even gained air suspension in the early '90s.) They blurred the lines between tough, hardy vehicles that could bash through any terrain and smooth sedans and hatches that could travel for hundreds of miles in comfort.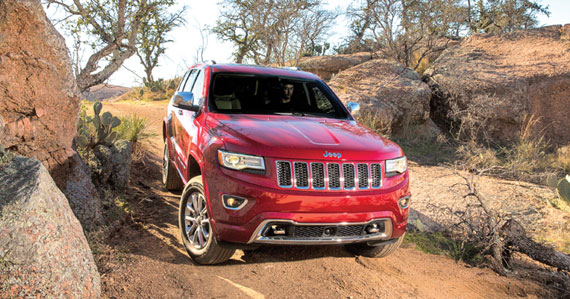 The '80s gave us the first compact SUV, introduced with Jeep's Cherokee. Here, the traditional ladder-box chassis of larger SUVs was integrated into a single monocoque, as opposed to bolting the body onto a separate chassis. It offered vast improvements in weight-reduction, as well as improving the on-road driving characteristics without sacrificing its off-road capabilities, which led to the Cherokee being a massive sales success. Jeep even introduced two-wheel drive as an option in the '80s, an attempt to woo buyers who wanted an SUV body without the need to go off-road. Jeep paved the way for the modern, two-wheel-drive crossover segment.
Land Rover's Freelander, which later became the LR2 in North America for its second-generation, launched in 1997 and further blurred the lines between compact SUVs and normal cars, driving as well as many midsize sedans. Utilizing an AWD system that eschewed low-transfer ratio boxes and other mechanical features, Land Rover put computers to task with giving the Freelander formidable off-road ability, without impacting driving characteristics that belied its size and weight. It was Europe's best-selling AWD vehicle for five years following its launch. It was also my first car, a '99 three-door, with a 4-cylinder gas engine and a hardback removable roof. It was a car as at home heading off the beaten path with three friends and a bunch of camping gear as it was flowing down a winding road or cruising at freeway speeds.
As the '00s wore on, gas prices rose, the economy collapsed and Greenpeace started angrily glaring at anyone who didn't drive a small hybrid. The SUV threatened to die out. These gas-guzzling beasts, even in compact form, were something to be ridiculed for their addiction to fossil fuels. Ford's Expedition and Cadillac's Escalade were held up as excessive, pointless and nonsensical in a world headed toward a changing climate and überexpensive prices at the fuel pumps.
Unfortunately, from that, the modern crossover emerged, a hybrid between minivans, sedans and the SUVs of yore. These were cars with the looks and AWD systems of their SUV forebears, but without the ability to handle more than a snowfall or muddy field. They dropped the ability to drive up a mountain in favor of fuel efficiency and better performance. Cars like the Honda CRV, the Nissan Juke, Toyota's RAV4, the Ford Edge were all designed for the modern soccer mom, whose only experience going off-road was mounting the curb outside of school.
It's also the same category the Audi Q5 falls into. With minimal ground-clearance, no body protection, woeful entry and departure angles and its big wheels and firm suspension, it would be terrible off-road. Audi created the Q5 to handle heavy rain, winter driving, icy conditions. It's AWD system offers grip and traction in all conditions, which is what makes it so much fun to throw around corners.
The thing is, I don't know if that's what I want from my SUV. I like knowing that, even if I never use it, my car is capable of going wherever I so desire. Jeep's Grand Cherokee is a great example: a large SUV that's capable in the corners, but is also impeccable off-road. Land Rover's most expensive Range Rover rivals Mercedes-Benz's S-Class sedan for incredible refinement and luxury, but it can pull itself deep into the wilderness, to a point where most other SUVs would have long since thrown in the towel and gone home.
I don't have an issue with crossovers, per se. There is undoubtedly a market for them, and they continue to increase in sales with each new model introduced. They're light, fuel-efficient and meet most of the demands of the modern American family. What I don't want, though, is for traditional SUVs to be influenced by crossovers and continue to trend downwards, to become a shadow of trailblazers like the Jeep Wagoneer, which first married on-road refinement with off-road prowess. When I buy an SUV, I want to know that when the going gets tough, it'll power through. There are several examples that prove that you don't need to sacrifice "go anywhere" ability for better fuel economy or improved handling.
I loved the Q5 for the way it drives, but I wouldn't buy one. If I wanted a fast, sporty Audi with AWD, I'd get the A6 sedan or A5 coupe. If I want a compact, premium SUV that is good on its feet but won't leave me hanging if the going gets tough, I'm going to my nearest Land Rover dealer and signing for an Evoque or Range Rover Sport. If I want something cheaper or with more seats, I'd get a Dodge Durango with the Hemi V8 — an SUV that competes with crossovers but trounces them off-road and on. If I want fuel efficiency, I'd get a Jeep Grand Cherokee with the V6 diesel. All of these cars are refined and comfortable on road, but they'll go far beyond any other crossover — not just in typical off-roading, but in severe winters like the one we're just starting to emerge from. Crossovers are great, the Q5 is fun to drive, but when it's my money on the line? I'll take a proper SUV.