Dance Place will conclude its season, in which its Brookland home venue has undergone extensive renovations, by presenting performances elsewhere by many of dance's leading lights, including gay choreographer Kyle Abraham at Howard University and pioneering transgender choreographer Sean Dorsey, who worked with the LGBT Elders Oral History Project for his latest piece, to be presented at Joe's Movement Emporium in May. But that's just the tip of what's on offer this season. From the National Symphony Orchestra "New Moves: Symphony + Dance" series to Wolf Trap presenting the final D.C. performance of the Trey McIntyre Project, movement fans will find plenty to move them.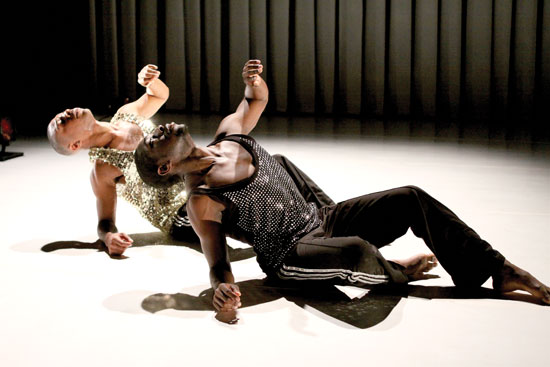 Kyle Abraham/Abraham.In.Motion
(Photo by Steven Schreiber)
THE ALDEN
McLean Community Center
1234 Ingleside Ave.
McLean, Va.
703-790-0123
aldentheatre.org
· Christopher K. Morgan & Artists: Dissolving — D.C.-based contemporary dance company, led by gay namesake, is in its third season as Alden's resident dance company; the company offers an evening of mixed repertory including the world premiere of a piece that artfully explores themes of water pollution and conservation, incorporating locally accumulated and collected rainwater into the performance (3/14-15)
AMERICAN DANCE INSTITUTE
1501 East Jefferson St.
Rockville
301-984-3003
americandance.org
· Kidd Pivot/Crystal Pite: The Tempest Replica – Based on motifs from Shakespeare's The Tempest, Pite's new dance piece features a game of revenge and forgiveness, reality and imagination (3/14-15)
· Yvonne Rainer – Assisted Living: Good Sports 2 from 2011 and Assisted Living: Do You Have Any Money? from 2013 are two recent dances from this choreographer, who was a founder of the influential, experimental Judson Dance Theater a half-century ago (4/25-26)
· John Jasperse: From once between – ADI National Incubator Showcase (5/9-10)
· Tere O'Connor: Bleed – The culmination of a two-year endeavor, this choreographer collapses three of his works in a single hybrid creation (5/16-17)
· Christopher K. Morgan & Artists: By The Inch – ADI resident artist concludes his company's season with an evening of mixed repertory (5/30-31)
· Ballet ADI: Carmina Burana – Ballet ADI Director Runqiao Du creates a new ballet set to sections of Carl Orff's iconic masterpiece inspired by the majestic music, text and context (6/13-14)
ATLAS PERFORMING ARTS CENTER
1333 H St. NE
202-399-7993
atlasarts.org
· Aparna Ramaswamy: Sannichi (Sacred Space) – Acclaimed Bharatanatyam soloist and choreographer Ramaswamy brings together Indian-American artists of the next generation in her new work, merging the spiritual and the secular into one (3/29-30)
· Camille A. Brown & Dancers: Mr. Tol E. RAncE – Seeking to defy boundaries between dance and theater, this choreographer offers a piece inspired by Spike Lee's 2002 film Bamboozled exploring the sustained racial archetypes of black performers while celebrating their tenacity and perseverance (4/5-6)
· Adele Myers: Einstein's Happiest Thought – A multidisciplinary piece by this New England-based dancer and choreographer working with L.A.-based filmmaker Emmy Picket and composer Josh Quillen of So Percussion, inspired by Myers's struggle with a fear of heights while attending NY Trapeze School (5/31-6/1)
BALTIMORE THEATRE PROJECT
45 West Preston St.
Baltimore
410-752-8558
theatreproject.org
· Deep Vision Dance Company: The Traveling Feet – Deep Vision dives into the flavor of the ragtime era, showcasing live music and social dance with a twist (4/11-13)
· Mara Neimanis/In-Flight Theater: Air Heart – A 60-minute solo aerial performance about the life, mystery and final flight of Amelia Earhart, taking place on a 12-foot-tall spinning metal plane sculpture (4/24-5/4)
CITYDANCE
CityDance Studio Theater at Strathmore
5301 Tuckerman Lane
North Bethesda
202-347-3909
citydance.net
· Children & Youth Concert – Young talents of CityDance showcase techniques they've mastered throughout the year (6/15)
· Conservatory Concert (6/16)
CLARICE SMITH PERFORMING ARTS CENTER
University of Maryland
College Park
301-405-ARTS
claricesmithcenter.umd.edu
· UMD Dynamic Dance Team: Rip The Floor 2014 — Campus hip-hop team hosts a regional battle for bragging rights as "the hottest dance team on the East Coast," as selected by a panel of locally grown, widely known choreographers and dancers (3/29)
· Sam Mauceri: Seagirl – Set to feminist punk music, Sam Mauceri's original work utilizes theater, dance and movement to explore a young woman's attempts at unpacking her own prejudices in a discouraging world (3/29-30)
· Shared Graduate Dance Concert (4/12-13)
· UMOVES: Undergraduate Dance Concert (4/24-27)
DANCE PLACE
3225 8th St. NE
202-269-1600
danceplace.org
· Rennie Harris RHAW – Harris's second company meant to forge new paths for young hip-hop hopefuls and present the genre in its "RHAW-est" forms (3/22-23, Edgewood Arts Center, 3415 8th St. NE)
· Telephone Dance Project – Four female choreographers led by Katie Drake of D.C. demonstrate the improvisational skills they use to collaborate via long distance as well as present a site-specific dance experience at the National Portrait Gallery and a salon-style show (3/28-29, Brookland Artspace Lofts)
· Companhia Urbana de Danca – An ensemble of street performers founded in Brazil a decade ago by dancer Tiago Sousa and choreographer and artistic director Sonia Destri Lie (4/5, Edgewood Arts Center)
· Dance Place's NEXTgeneration Showcase – Showcasing the talents of Dance Place's Kids on the Move students and Coyaba Dance Theater's students in African, ballet, tap and hip-hop (5/10, THEARC, 1901 Mississippi Ave. SE)
· Step It Up DC – Special step workshops and an informal performance by the Dance Place Step Team (5/16, Edgewood Arts Center)
· Kyle Abraham/Abraham.In.Motion – Live! The Realest MC is a new ensemble work by noted gay choreographer, who was inspired by Pinocchio in this exploration of gender roles in the black community and hip-hop celebrity (5/17-18, Ira Aldridge Theater, Howard University)
· Step Afrika! – Green Is The New Black explores the notion of taking the energy of dancing and stepping and reusing it to power devices and communities (5/29-6/1, Hartke Theatre at Catholic University)
· DanceAfrica 2014 – The 27th annual festival celebrating the dance and music of the African Diaspora, and marking the re-opening of Dance Place's main venue after a season-long revitalization (6/2-8)
· Sharon Mansur and Nick Bryson – Insert [ ] Here is an evening of site-situated performance featuring Washingtonian Mansur, Irishman Bryson and guests Daniel Burkholder, Naoko Maeshiba and sound artist Tara Rodgers (6/21-22)
JANE FRANKLIN DANCE
703-933-1111
janefranklin.com
· Mouse In House – Adapted from the book by Elizabeth Spires, The Mouse of Amherst (3/16, Atheaneum)
· The Big Meow — Adapted from the book by Elizabeth Spires (3/29-30, 4/5, Theatre on the Run)
· Sway – An evening of new and recent repertory (3/29, 4/5, Theatre on the Run)
· Forty+ – Jane Franklin's performing group of community-based dancers past age 40 (4/1, Theatre on the Run)
JOE'S MOVEMENT EMPORIUM
3309 Bunker Hill Rd.
Mount Rainier, Md.
301-699-1819
joesmovement.org
· The Art of Social Dance – Joe's Annual Gala (3/15)
· Deviated Theatre: VaVaVoom – A late-night performance featuring burlesque dancers, aerial artists and more (3/29)
· Nancy Havlik's Dance Performance Group – A joint venture with Daniel Barbiero's Subtle Body Transmission Orchestra and Mt. Rainier Student Group in a lively dance/music celebration (5/3)
· Sean Dorsey Dance: The Secret History of Love – Dance Place presents the first acclaimed transgender modern-dance choreographer in the U.S. and his company, performing The Secret History of Love, a piece that grew out of a two-year LGBT Elders Oral History Project (5/9-10, Joe's Movement Emporium)
KENNEDY CENTER
2700 F St. NW
202-467-4600
kennedy-center.org
· One Mic: Breaking Form: Global Urban Contemporary Dance – Hip-hop artist and director of the U.K.'s Breakin' Convention, Jonzi D hosts this showcase of hip-hop dance featuring Project Soul from South Korea, Sebastien Ramierz and Honji Wang from France and Companhia Urbana from Brazil (4/6)
· Wayne McGregor and Random Dance – British choreographer brings his company to the Kennedy Center to present the multimedia work Far, with a score by Ben Frost and visuals that includes a computerized pin board of 3,200 LED lights (5/1-3)
· National Symphony Orchestra's New Moves: Symphony + Dance series, featuring: Keigwin + Company, with new choreography by Larry Keigwin set to selections from Bernstein's On The Town and On The Waterfront and Schuman's New England Triptych (5/7-8); New Ballet Ensemble, featuring a dance performance by Memphis Jookin' artists performing to music by Duke Ellington, plus Barber's Souvenirs, Gershwin's Porgy and Bess and a concerto featuring timpani Javon Gilliam (5/10-13); Jessica Lang Dance, featuring original choreography set to Adams's Violin Concerto plus Copland's Appalachian Spring (5/16-17)
· National College Dance Festival 2014 – The American College Dance Festival Association presents three programs featuring some of the finest dance works performed by a total of 33 participating schools (6/5-7)
LISNER AUDITORIUM AT GWU
730 21st St. NW
202-994-6800
lisner.org
· Momix: Botanica – Co-presented by the Washington Performing Arts Society, this show features an eclectic score ranging from birdsong to Vivaldi that shows off the endlessly renewable energy of the performers, aided by costumes, projections and custom-made props and puppetry (4/25-26)
· Todo Tango – DC Tango Festival presents the Pan American Symphony Orchestra and a Tango music spectacular featuring an international cast of dancers (5/3)
NEXT REFLEX DANCE COLLECTIVE
703-927-0073
nextreflexdc.com
· On the edge of things and other notes… – The audience moves in, around and through dancers, changing their perspective as the choreography, by artistic director Roxann Morgan Rowley and company member Tina Fratello, unfolds (3/23, Jack Guidone Theater, Joy of Motion Dance Center Friendship Heights)
· University of Mary Washington Faculty and Student Dance Concert (4/4-5, Dodd Auditorium, University of Mary Washington)
· 2nd Annual Shepherdstown on Site (SOS) Dance Festival (6/6-8, Shepherdstown, W.V.)
· Clean Sweep – A collaboration with Dance Performance Group and Moveius Contemporary Ballet (6/17, National Portrait Gallery)
STRATHMORE
5301 Tuckerman Lane
North Bethesda
301-581-5100
strathmore.org
· Asanga Domask/Serendib Dance: Rhythm of Lanka – Asanga Domask's new company is dedicated to preserving an ancient tradition and brings a daring collection of Sri Lankan traditional and folk dance to Strathmore's Backyard Theater Series this summer (7/31)
THE WASHINGTON BALLET
202-362-3606
washingtonballet.org
· Peter Pan – A new production of Septime Webre's dazzling ballet adaptation of J.M. Barrie, a whimsical adventure told through vibrant dance (4/16-20, 4/26-27, Kennedy Center)
· Tour-de-Force: Balanchine! – A gala-style program of provocative and engaging, showstopping classical and contemporary ballets (4/23-25, Kennedy Center)
· Who Cares? – The Washington Ballet Studio Company performs an exuberant ballet set to the music of George Gershwin (5/17-18, THEARC)
WOLF TRAP
1645 Trap Road
Vienna
703-255-1900
wolf-trap.org
· Trey McIntyre Project (6/11)
· Pilobolus (7/1)
· Noche Flamenca (8/12)
· Pacific Northwest Ballet, Oregon Ballet Theatre – A Face of America Production (8/27)
Find more dance venues and listings at metroweekly.com.
Spring Arts Preview 2014