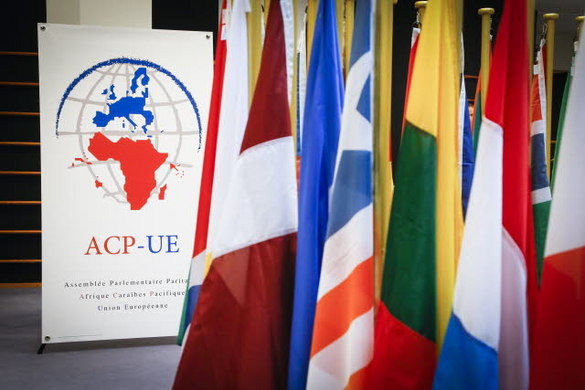 The European Parliament, the directly elected parliamentary institution of the European Union, has adopted a resolution condemning the passing of laws in Uganda and Nigeria which increase the punishment for homosexuality, the Parliament's LGBT Intergroup stated in a press release.
Uganda's "Anti Homosexuality Act" and Nigeria's "Same Sex Marriage (Prohibition) Bill" both introduce harsher penalities for homosexual citizens. Uganda's law calls for up to life imprisonment, while Nigeria's bill capped the sentence at 14 years in prison. The Parliament's resolution demands action from the European Commission (EC) and the EU's 28 Member States to utilize political cooperation, aid and asylum to effect change.
The resolution makes specific reference to the Cotonou Agreement, a treaty between the European Union and the African, Caribbean and Pacific Group of States (ACP countries). The treaty's aims, when signed in 2000, were to help eradicate poverty, aid sustainable development and gradually introduce ACP countries into the global economy. Revisions in 2005 and 2010 included measures to fight against impunity and highlight the International Criminal Court's position in promoting criminal justice. Under the treaty, signatory nations have assumed mutual obligations, which include respecting human rights.
The Parliament is asking the EC and Member States to increase the dialogue on human rights with Uganda and Nigeria. A human rights dialogue with Uganda is planned to take place on March 28, however, should Members of the European Parliament (MEPs) be unsatified with the results of the call, they will request that the EC suspend Nigeria and Uganda from the Cotonou Agreement. Suspension would reduce trade with both countries, as well as impact the distribution of aid that both receive. The Parliament added that Member States should consider punishing those responsible for passing the laws by instituting visa and travel bans for the political and civil society leaders who championed the laws in both nations.
"After 15 years of ACP-EU relations, we must admit that the Cotonou Agreement is failing human rights," said Michael Cashman MEP, Co-President of the Parliament's LGBT Intergroup. "This house believes it is high time to take the next step, and consider suspending Nigeria and Uganda from the EU-ACP political dialogue."
LGBT Intergroup Co-President Ulrike Lunacek added, "These laws gravely undermine the most basic right of all: the right to life. We know that the mere examination of these laws has already led to deaths. LGBT people in Uganda and Nigeria now live in a constant state of fear, just for being who they are, while we know that female and male homosexuality is not 'un-african' as some claim. It has existed and will exist in all cultures and societies. The EU must take a strong stance against the governments and leaders behind these laws, while standing in solidarity with all the citizens of these countries."
Today's resolution follows the Parliament's recent adoption of new data protection laws which better protect the privacy of LGBT people.
Image Credit: European Union