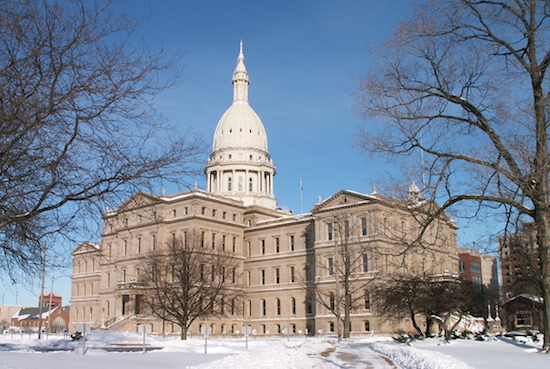 A federal judge struck down Michigan's ban on same-sex marriage as unconstitutional.
U.S. District Court Judge Bernard Friedman found a state constitutional amendment approved by Michigan voters in 2004 defining marriage as between a man and a woman in violation of the Equal Protection Clause of the Fourteenth Amendment to the U.S. Constitution.
"In attempting to define this case as a challenge to 'the will of the people,' … state defendants lost sight of what this case is truly about: people," Friedman writes. "No court record of this proceeding could ever fully convey the personal sacrifice of these two plaintiffs who seek to ensure that the state may no longer impair the rights of their children and the thousands of others now being raised by same-sex couples. It is the Court's fervent hope that these children will grow up 'to understand the integrity and closeness of their own family and its concord with other families in their community and in their daily lives.' … Today's decision is a step in that direction, and affirms the enduring principle that regardless of whoever finds favor in the eyes of the most recent majority, the guarantee of equal protection must prevail."
Friedman was appointed to the federal bench by former President Ronald Reagan in 1988.
The ruling comes after a two-week trial considering the state's marriage ban concluded earlier this week. The trial marked only the third full trial on same-sex marriage in the nation's history, with the first occurring in 1996 in Hawaii and the second in 2010 in California.
The Hawaii case is largely credited with prompting Congress to pass the Defense of Marriage Act in 1996, prohibiting federal recognition of same-sex marriage. That law was struck down by the Supreme Court last June in a broad ruling that has prompted federal judges in Virginia, Kentucky, Texas, Ohio, Oklahoma and Utah to strike down state bans on same-sex marriage or recognition of same-sex marriages performed in other jurisdictions.
In his review of expert testimony presented during the trial, Friedman discredited Mark Regnerus, the author of a study that claims child are negatively impacted by having parents of the same sex. According to Friedman, the court found Regnerus's testimony "entirely unbelievable and not worthy of serious consideration" and evidence at trial "demonstrated that his 2012 'study' was hastily concocted at the behest of a third-party funder."
Although Michigan officials will appeal the ruling to the Sixth Circuit Court of Appeals, it is not yet clear if a stay would be issued delaying the ruling from being implemented immediately.
[Photo: Michigan State Capitol. Credit: Phillip Hofmeister/Wikimedia Commons.]