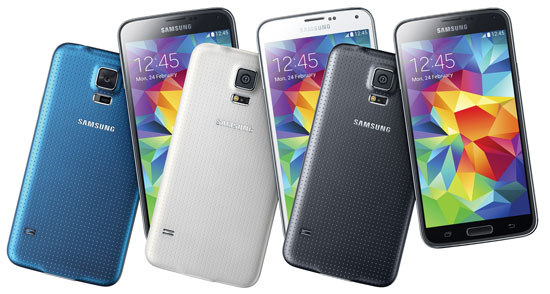 At Barcelona's Mobile World Congress (MWC), the largest exhibition of its kind, technology companies from all over the world convene to showcase the best and the brightest in the mobile industry. Brand new smartphones, crammed with the freshest tech available; new tablets, aiming to fill every gap in the market; concepts, designed to look into the future of technology; new transmission methods to beam data to our devices at increasingly faster speeds. MWC is overflowing with innovation, announcements and vendors desperate to showcase their wares. None of it really mattered, however, as this year's event was upstaged by just one press conference. Even with heavy hitters like Sony, LG and Nokia offering keynotes and new products, the industry's eyes fell to just one company: Samsung.
Why? Samsung chose this year's MWC to unveil its much-anticipated Galaxy S5 — the show would kick off with the biggest non-Apple announcement of the year. The Galaxy S-series is Samsung's most important line. Since 2010, it has sold more than 200 million units across its four generations, with 100 million of those sales in the last year alone. Since debuting iOS in 2007, Apple has shipped more than 700 million devices across the iPhone, iPad and iPod Touch. Samsung, meanwhile, has achieved almost a third of iOS's total device shipments with just one model line.
Following its launch, the newest Galaxy S device typically dominates sales until the next generation of iPhone in autumn. Between September and November of last year, while the iPhone 5S owned the top spot at America's four largest carriers, the Galaxy S4 was able to remain in second place despite the cheaper iPhone 5C. The visibility of the Galaxy S brand and its trickle-down effect to the cheaper smartphones in Samsung's lineup have resulted in Samsung enjoying the largest marketshare — 30 percent — of any smartphone brand. The short story? The S matters. A lot.
What Samsung can't afford is for the S5's mindshare to be any less than that of its predecessor. The S3 and S4 were widely recognized — and criticized — for the sheer number of features each attempted to cram into their slender, plastic frames. Gesture controls, eye-tracking, voice commands, "floating" control, super-sensitive and high-resolution screens and more, all baked into Samsung's ubiquitous, and even more polarizing, Touchwiz UI, which masks the Android OS it runs on. Samsung grabs attention by offering party tricks and features no other phone does — and in doing so gives potential buyers a reason to seriously consider it. For the S5, a consumer needs to identify it as the next in line to a series of phones renown for pushing the envelope in terms of hardware and software. What Samsung has instead done, is pare everything back.
Many will rejoice at this. Samsung is stripping away a lot of the crud weighing down its Touchwiz UI, leaving a cleaner, less cartoony interface running on top of the latest version of Android, 4.4 KitKat. It follows a cross-licensing patent deal with Google, in which Samsung reportedly agreed to reduce the extremes to which it customizes the standard Android UI — which is good news for everyone. Out goes the desire to squeeze in every software enhancement known to man, and in come some genuinely useful additions. Handy (and pretty neat) features, like placing your hand on the phone to silence music or waving your hand over it to reject an incoming call will remain. Pointless things such as Samsung's S Voice assistant — which was intended to replace Google Voice Search and rival Apple's Siri, despite being utterly slow and incompetent — will hopefully face the axe. Samsung has also baked a heart-rate sensor into the phone, sitting just beneath the camera. Combined with the S Health suite of apps, it will monitor pulse, graphing it over time and offering relevant information and suggestions. Combine it with S Health's pedometer and food tracking functions and it's an easy way to remain on top of your overall fitness.
The camera has been beefed up, too, climbing to a 16MP sensor with Ultra-HD recording and real-time High Dynamic Range capture for both photos and videos. Samsung phones have always been pretty stellar when it comes to image capture, and a host of new software additions should make it even easier to capture the best possible selfie or another pointless Instagram shot of a home-cooked meal. Samsung is borrowing from Nokia's imaging books and adding a selective focus mode. Take a shot, and if you don't like where it's focused, you simply select another part of the scene and the image will shift focus onto that portion. "Shot & More" combines best photo, eraser and drama shot, taking a number of photos instantly, and letting users scrub out unwanted objects, swap over individual subjects' faces to pick the best smile, or add dramatic editing onto images.
A sign of Apple's influence — though smartphone fingerprint sensors existed long before the iPhone 5S — the S5 has a fingerprint sensor built-in to the home button. Activated by swiping over the button, Samsung intends to use it for a variety of reasons. The obvious is unlocking the device, it also allows users to have a locked folder on the phone, accessible only via fingerprint — perfect for storing sensitive photos or even more sensitive photos that you don't want an unsuspecting friend or relative to stumble over while flicking through your gallery. You know the ones. Samsung is also partnering with PayPal to allow for fingerprint-activated payments, removing the need to log in to websites or remember card details. Samsung hasn't announced the full list of features and security provisos, but expect to hear more closer to the S5's launch.
What about the actual device? Well, it's more pared-down enhancements and revisions. The overall design is pretty much exactly like the outgoing Galaxy S4, only this time Samsung has committed to addressing the single biggest complaint affecting almost every version of the Galaxy S line: quality. It's still not made from aluminum or Kevlar, so don't get your hopes up. What it does do is take inspiration from the Galaxy Note 3 and introduce a "leather-like" polycarbonate back cover, with a soft, dimpled effect to aid with grip and feel. This replaces the cheap, glossy plastic that plagued the Galaxy S3 and S4. Around the sides of the device, a metal-effect blend of polycarbonate and glass fiber has been used to strengthen the phone's sides. Sony adopted this mix of materials on the original Xperia Z smartphone and it not only felt great, but survived more than a few drops from this writer. It's not going to win any design awards, but it should help stem some of the quality complaints.
Further enhancement comes in the form of IP67-certification. The Galaxy S5 is now resistant to both dust and water, meaning you can play Flappy Bird in the bath or read texts in the desert and not worry about ruining your phone. Or, drop it in someone's drink at a bar, just for fun.
The Galaxy S5 does have something of a problem, however, and that's evident when you move to some of the other phone's specifications. Starting with the most obvious, its screen: It's 0.1-inches bigger. That's fine, the S4 was only 0.2-inches bigger than the S3. The S4 bumped up the screen resolution, however, from HD to Full HD. Samsung was heavily rumored to be considering a Quad HD screen — an eye-watering resolution of 2560×1440. There were reportedly troubles with manufacturing, but many still expected that Samsung would be able to make it happen. Instead, we find ourselves remaining at Full HD — or 1920×1080. Now, that's nothing to turn your nose up at. It still equates to 440ppi while the iPhone's "Retina" display languishes on 326ppi. But it's hardly worth shouting about given the S4 already boasts 441ppi.
Similarly, in a world where other manufacturers are installing larger batteries to counter the constant drain our smartphones are subjected to, the S5 makes do with a 2,800mAh unit, just 200mAh more than the S4. That's not bad, but several of its key rivals have squeezed in over 3,000mAh, and that could be the difference between securing a date on Scruff or going home alone. Many other features have witnessed only marginal improvements, too. RAM is the same at 2GB, LTE speeds have been slightly increased, the microSD slot can take up to 128GB cards, but internal storage is limited to 16 or 32GB. The processor, along with the screen, for Android phones is the technological equivalent of whipping it out and measuring it, the bigger and more powerful the better. The GS5 features a speedy, 2.5GHz Snapdragon 801 quad-core chip, which is as good as it gets right now. Except the GS5 isn't launching right now — it's launching in April, and Qualcomm has announced that devices with the latest Snapdragon 805 chip will reach the market in May. One month after release, the GS5 will be outdated, relatively speaking.
For Samsung, then, it's sacrificing a lot of the things that have pushed the Galaxy line to the top of the Android heap. There's no denying that the GS5 is a flagship — it's going to be fast and very functional when it launches — but it represents a renewed focus for Samsung on the usability of a smartphone. Out goes the dramatic redesign with each new model. Out goes the latest headline-grabbing specs and features. Out goes the need to make the GS5 the loudest phone at the smartphone table. Instead, the GS5 is aiming for, it would seem, a more Apple-esque approach. With each 'S' model, Apple refines an existing product, making it better, saving the major updates for the next model number. Samsung could even be taking inspiration from HTC's old slogan, "Quietly brilliant." It's toning down the showy, glitzy nature of the S5 and making it into more of a user-friendly device.
A calmer interface, a strong focus on biometrics and health, a better camera, top-notch internals and, best of all, a stamina mode that should eke every drop of juice from that 2,800mAh battery. It's taken the S4 and has worked to refine the numerous criticisms that flagship device faced after launch. However, the sense of… well, being very underwhelmed with Samsung's latest lingers. It especially doesn't help that Sony announced the Xperia Z2 at MWC — which beats the S5 on most specs and wraps it in a glass and aluminum, water- and dust-proof body that exudes quality.
Of course, it's all moot until the S5 launches and we can see if the numerous revisions and alterations have helped the S5 earn its place at the top of the Android roster. Millions will buy it on name recognition alone, but I'd wager that many of the less tech-savvy will be hard-pressed to see the differences between the S5 and the S4, especially when the latter inevitably drops in price following the S5's release. For those considering an upgrade, comparisons to Apple could be drawn here, too — either jump ship to another smartphone that offers the headline-grabbing specs you want, or wait until the next model. The S6, much like the iPhone 6, is where the real change will be.