Incumbent Mayor Vince Gray (D) fell four votes short of securing the coveted endorsement of the Gertrude Stein Democratic Club, the city's largest LGBT political organization, at a Thursday mayoral forum. He did, however, get closer to that endorsement than any of his challengers, and brought a strong show of support to the forum venue, D.C.'s Metropolitan Community Church, which was packed to capacity.
To win the endorsement for the April 1 Democratic primary, Gray needed to earn 60 percent of all votes cast. On the first round of balloting, Gray earned 115 votes, well short of the 140 needed. But he was significantly ahead of his competitors: Councilmembers Jack Evans (D-Ward 2), with 56 votes; Tommy Wells (D-Ward 6), with 28; Muriel Bowser (D-Ward 4), with 26; and Vincent Orange (D-At-Large), with eight.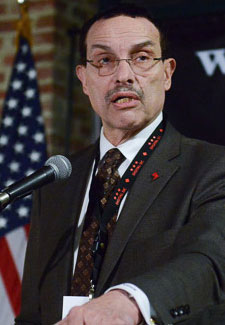 DC Mayor Vincent Gray
(Photo via Mayor Gray Flickr)
A runoff ballot narrowed to vote to Gray and Evans alone. In this second round, Gray won 112 votes, narrowly missing the 60 percent threshold of 116. Evans, meanwhile, won 74 votes. Eight member voted for "no endorsement." With no candidate meeting the 60 percent threshold, the Stein Club issued no mayoral endorsement.
Throughout the evening, Gray supporters, many wearing campaign stickers on their shirts or jackets, were clearly the largest bloc in attendance. When Gray entered the church, news camera crews in tow, his supporters began chanting "Four more years!" Throughout the forum, Gray received the loudest cheers, though smaller groups of Evans and Wells supporters showed enthusiasm for their respective candidates, as well. Bowser, whose supporters were far outnumbered, delivered the most polished responses and stayed within the time limit for each question, while some of the other candidates, including Gray, chose to deliver stem-winders to ignite the crowd, only to be cut off mid-speech by the Stein Club moderators keeping track of time limits.
During the course of the forum, candidates were asked about their records; their ratings by the nonpartisan policy group, the Gay and Lesbian Activists Alliance (GLAA); the adequacy of the Metropolitan Police Department's (MPD) Gay and Lesbian Liaison Unit (GLLU) in combating hate crimes; whether they would support the creation of affirming housing options for LGBT elders; and their stances on the decriminalization/legalization of marijuana.
For Gray, as both the incumbent and the presumptive favorite heading into Thursday evening, he largely relied on his record of achievement on LGBT issues, citing his shepherding of marriage equality through the D.C. Council as chairman in 2009; and his attempts to help transgender residents through a public-awareness campaign, job training through the Department of Employment Services' Project Empowerment, and his administration's policy of ensuring nondiscrimination in health care.
Evans, the longest serving councilmember among the five mayoral candidates, also touted his record of taking pro-LGBT stances as far back as the 1990s, when it was not politically popular to do so. Bowser, Wells and Orange emphasized their records of voting for pro-LGBT legislation, and often pointed out how LGBT-friendly all the candidates are in an attempt to neutralize Gray's advantage as an incumbent popular among many in the city's LGBT community. Wells and Orange, in particular, used the issues surrounding marijuana decriminalization to try and set themselves apart from the other candidates, with Wells criticizing the continued criminalization of those who smoke marijuana in public and advocating eventual legalization, and Orange pointing out the need for legislation to reel in employers who would use drug tests to turn away job applicants.
By dint of their sheer size, the Gray supporters at Thursday's forum controlled the room for much of the debate, occasionally booing Stein members who spoke in favor of other candidates before being shut down by the club's president, Angela Peoples, and Martin Garcia, vice president for legislative and political affairs. Overall, though, most remained respectful.
"Four years ago, in June of 2010, this club endorsed Vincent Gray by 63.1 percent over Mayor Fenty," said Paul Kuntzler, one of Stein Club's original co-founders. "As I assess the race, I believe that Mayor Gray is going to win the election, and I urge us to be part of that winning ticket."
Longtime activist Peter Rosenstein also endorsed Gray, saying he felt the city "was never better off than it is today," and urging all those present to support whoever the Democratic nominee is in the general election. While the winner of the Democratic mayoral primary is expected to go on to win the seat in heavily Democratic D.C., Rosenstein's statement hinted at the specter of a possible candidacy by At-Large Councilmember David Catania (I), seen to be a viable Gray challenger in general-election polls. Catania has said he will seek the mayor's office if Gray wins the primary.
"This year, we do have an embarrassment of riches," said transgender activist Jeri Hughes. "We have some great candidates running for mayor. But, make no mistake, I am supporting Mayor Vincent Gray."
Other members, despite being in the minority, expressed their support for other candidates.
Christopher Dyer, who works on behalf of the Bowser campaign, stood up for his preferred candidate, saying: "It would be folly for me to not acknowledge the work the mayor has done on our behalf, but I think we need a mayor who actually believes that 'One City' is more than just putting logos on government letterhead. So I'm supporting Muriel."
Stein member Justin Becker threw his support behind Jack Evans.
"I'm supporting Jack Evans because of one word: dedication," Becker said. "Jack is a dedicated advocate for the LGBT community, and has been since the beginning of his political career. Jack has proven his dedication to our community time and time again, when he led the effort to overturn D.C.'s sodomy laws, supported marriage equality in D.C., and advocated – and continues to advocate – for fair treatment for people with HIV/AIDS."
Ward 2 School Board member Jack Jacobson also spoke on behalf of Evans, emphasizing Evans's record and knowledge of how to foster economic growth, along with his support for education.
Stein Club member Paul Cooper spoke on behalf of Wells, as did longtime activist Bob Summersgill. Both men focused on Wells's record on ethics, contrasting it with the Gray administration, which has at times been overshadowed by federal investigations relating to Gray's 2010 mayoral campaign.
"All of the candidates tonight, they are unimpeachable in terms of their support for LGBT issues," Cooper said. "As Democrats, though, we should also be thinking about who's good for our party and who's good for our city. And one of the things we read most about in the newspaper is the corruption that is taking place in our government. We've lost members of the Council, we have indictments, we have that entire culture of corruption. And there's only one candidate who's been a leader fighting for clean campaigns and ethics reform. … I hope you'll support Tommy Wells."
Wells supporter and Ward 5 community organizer Jade Hadley instead chose to focus on her preferred candidate's roots as a social worker and his work on social-justice issues.
"I think when we look at the health of a community, the most important thing is to look at how the community treats the marginalized and the oppressed," Hadley said. "As a social worker and as a public official, Tommy has tirelessly advocated for the least of these in all of our communities. His work as a social worker, suing the city and working with D.C. at the height of its HIV crisis, as well as when crime was out of control, Tommy advocated for the least of these."
Following the second round of balloting, Gray said that while he would have loved to have won the Stein Club's endorsement, and believes his record merits an endorsement, he will continue to be an advocate for LGBT issues as, "It's the right thing to do." He also said he was confident that he would win the majority of LGBT votes in the primary.
"I am so happy at the number of people who came out and supported us tonight," Gray said. "I'm really appreciative. We came within four votes of getting the endorsement. Had this been a majority vote, we obviously would have won. It really is an affirmation of our record, and we'll continue to do the things that got us here tonight."
Stein members also debated the endorsement for D.C.'s shadow U.S. senator. Neither Challenger Pete Ross, with 93 votes, nor incumbent shadow Sen. Paul Strauss, with 85 votes, crossed the endorsement threshold.
Peoples said she thought the forum went well and that high turnout for the mayoral forum was indicative of the Stein Club's ability to unify disparate segments of the LGBT community and the Democratic Party around discussions of policy and visions for the city's future.
"I'm disappointed that we didn't make an endorsement," Peoples said. "I continue to think that the Stein Club's endorsement is important, and we think that our members really are at the forefront of leadership in the Democratic Party. I wish we would have been able to endorse, but no matter what happens, we're going to be in full force in November in support of any Democrat."
With regard to those candidates the club has endorsed, Peoples said she intends to have the club's political action committee "max out," or give the maximum amount allowed to the campaigns of the endorsed councilmembers: Chairman Phil Mendelson (D-At Large), Mary Cheh (D-Ward 3) and Kenyan McDuffie (D-Ward 5). For the chairman's race, the maximum donation is $1,500, and $500 for a ward seat, according to the D.C. Office of Campaign Finance.
Peoples said she researching precedent for Stein Club donations to candidates for non-Council races. In such races, Stein has endorsed Franklin Garcia for shadow U.S. representative and incumbent Eleanor Holmes Norton as the District's congressional delegate.