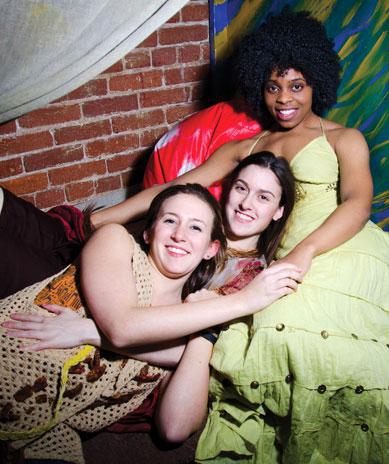 Cast of "Hair" at Andrew Keegan Theatre
(Photo by Julian Vankim)
Of course, it also takes time getting used to getting naked onstage.
"I never thought I'd be able to do that," says Caroline Wolfson, who plays Sheila, the lead protester in the tribe. "There's a part of it that's easy because it's not just me by myself. It's the whole group."
"It took a while to work up to," adds Christian Montgomery, who plays Woof and sings "Sodomy," about the short, dimly lit scene that essentially ends the first act. "But the way that it's done is so beautiful and so inspiring. It's my favorite part of the show."
Leading up to the rehearsals, the Rheas let the actors decide exactly when they were ready to get naked as a group. The directors have also given them free range to flesh out their characters and their relationships, and hence the story.
"They've all been encouraged to find relationships with each other onstage physically and emotionally," Susan says. "If you want to touch someone or kiss them or physically be near them, it doesn't matter who it is." There are no boundaries, only free love.
And the subtle, random touches, looks and gestures between cast members throughout the show, signifying their strong relationships, definitely boosts the story itself, even helping it transcend its Vietnam War-era time period.
"I didn't want to just do a bunch of songs about hippies. Like, who gives a shit, right?" Susan Rhea says. "When we first started digging into this many, many, many months ago, my stomach was in knots trying to find the story."