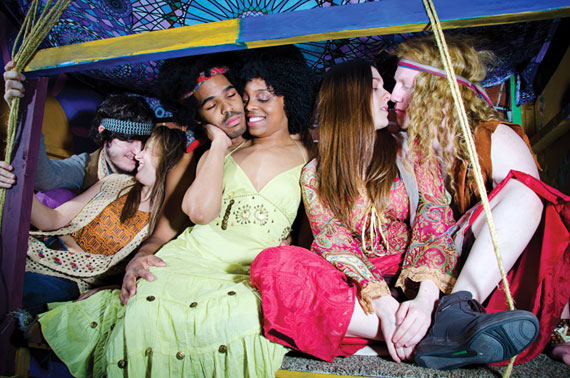 Cast of "Hair" at Andrew Keegan Theatre
(Photo by Julian Vankim)
But if the show itself makes the 43-year-old feel a little wistful for missing out on the flower-power love of the late '60s, Keegan's production, featuring nearly two dozen talented young millennials from around the region, leaves her feeling more hopeful. "I think young people are starting to find their voice and their own rage and disillusionment."
"The show is all about kind of rebelling against authority or the conventions of society that tell you you have to be a certain way, or you have to do something just because society says," actor Ian Anthony Coleman says.
"There are still themes and messages that were relevant in 1968 that are still relevant today," adds actor Christian Montgomery. "Protest movements, pointless wars, the government doing wrong to the people, and solving problems with love instead of hate, and problems with racism and homosexuality, and everything going on."
Of course, the rap on millennials, living in a selfie age all about technology, is that they're too self-absorbed and not engaged enough in the outside world to make a difference. "We see something and we have a very far away reaction to it, where we're like just closed off to it," explains actor Caroline Wolfson. "We'll see something horrible online and we'll share it on Facebook, but that's it. We don't do anything about it."
But Wolfson thinks Hair could be a motivator to help her generation do more. "It encourages people to really open up and try to find the compassion in their hearts that I think we lose a lot of. Hopefully it will send a very positive message of, 'Open up your heart. Let the sunshine in."'
Hair runs to April 27 at Andrew Keegan Theatre (formerly Church Street Theater), 1742 Church St. NW. Tickets are $37 to $42. Call 703-892-0202 or visit keegantheatre.com.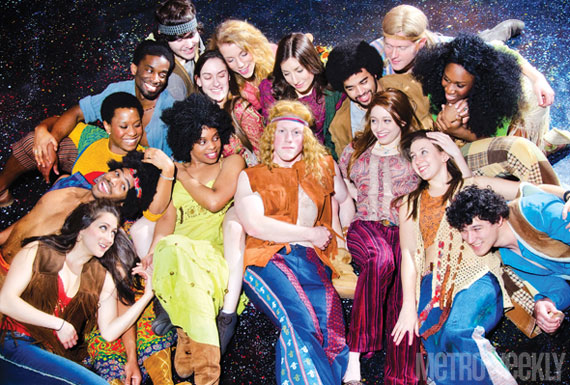 Cast of "Hair" at Andrew Keegan Theatre
(Photo by Julian Vankim)