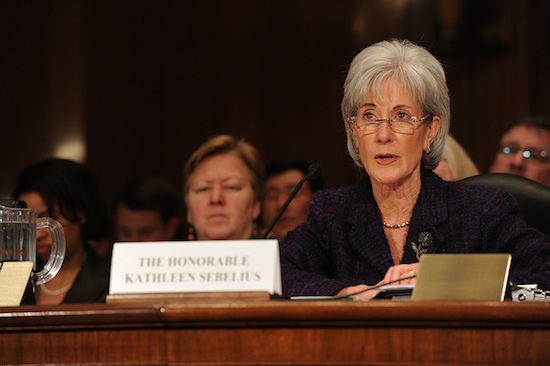 Health insurance companies that offer coverage to opposite-sex spouses will not be allowed to deny coverage to same-sex spouses, the Obama administration announced Friday.
In a move that the Department of Health and Human Services described as "one more step toward making health care coverage more accessible and equitable for married same-sex couples," the announcement is the latest in a long series of repercussions following the Supreme Court's decision last June to strike down Section 3 of the Defense of Marriage Act, defining marriage as between a man and a woman.
"Today, we are clarifying that, starting next year, if an insurance company offers coverage to opposite-sex spouses, it cannot choose to deny that coverage to same-sex spouses," Matthew Heinz, director of Provider & LGBT Outreach for HHS, wrote in a blog post. "In other words, insurance companies will not be permitted to discriminate against married same-sex couples when offering coverage. This will further enhance access to health care for all Americans, including those with same-sex spouses."
The policy will apply to all legally married same-sex couples, no matter where they currently live, and affects Health Insurance Marketplace plans, which cover essential health benefits like emergency services, prescription drugs and mental health and substance use disorder services. Flu shots, blood-pressure screening and HIV screening are also covered.
"[L]egally married same-sex couples are treated equally for purposes of financial assistance when purchasing coverage in the Marketplace, regardless of where they live," stated Heinz.
[Photo: HHS Secretary Kathleen Sebelius. Credit: HHS photo by Chris Smith.]