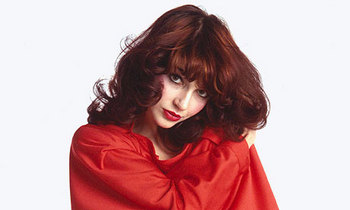 The legendary British musical icon, Kate Bush, is never predictable, but nobody could have imagined the news that hit this morning and sent shock waves through the music industry: the reclusive artist will perform live for the first time in 35 years with a series of 15 shows at the London Eventim Apollo in Hammersmith starting April 26, 2014. Ticket range from £49 to £135. They are expected to sell almost immediately, as nobody knows if there will ever be a chance to see the legend in live performance again.
Kate Bush burst onto the music scene in 1978 with her debut album The Kick Inside, released when she was only 19 years old. The album was bolstered by the classic single "Wuthering Heights," which became a massive #1 single in the U.K. Since then she has been one of the most compelling, visionary and unpredictable artists in pop/rock music, following her muse wherever it leads. Some of her landmark albums including Never For Ever (1980), The Dreaming (1982), the masterpience Hounds of Love (1985), which featured her only Top 40 hit in the US, "Running Up That Hill," and The Sensual World (1989) which includes her iconic single "This Woman's Work."
In 2005 she returned following a 12-years absence with the remarkable double-album Aerial, which was followed by two projects in 2011 — a re-recording of some of her old material (The Director's Cut) and a sublime collection of long and poetic tracks inspired by snow and winter (50 Works for Snow).
There is no word yet on whether or not Bush, now 55, will release new material in advance of her upcoming shows.
Kate Bush live in concert will be an event like few others in recent musical history, and hopefully at minimum it will spawn a live album and/or DVD for those who can't get to the shows.
Which begs the question… who is up for a trip to London?