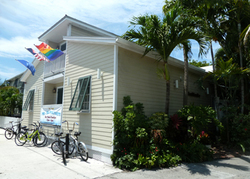 It has been called "best gay resort in the world" by Outtraveler.com, but the future of the Island House resort in Key West, Fla., is now uncertain. Yesterday, the resort's current owner Jon Allen announced his plans to sell the property in an email message.
In his message Allen wrote, "I have decided to sell the Island House and my home in Casa Caselles. Both will be listed in the next few days." Jeffrey Smead, director of marking for the Island House, confirmed the sale and said that a sale price will be announced on Friday.
Opened in 1976, the Island House is one of the the longest continuously operated gay resorts in the world. Allen and his partner Martin Kay purchased the property in 1999 and invested more then $2.5 million in upgrades. Kay passed in December 2013.
"I think I can say without boast that we created at Island House a unique place, a safe and happy space for thousands of gay men to meet, to eat and drink, to make merry. I'm proud of that, but more important in this context, Island House is successful and profitable operation. I'm confident that its new owner will operate it as a gay men's resort. It has higher ADR's and occupancy than any comparable property in Old Town. There's no good reason to change its model. It's a success," wrote Allen.
Steve Smith, outreach director for the Key West Business Guild and a friend to Allen and Kay from the time they purchased the Island House, said, "[Jon and Martin's] purchase and renovation of the Island House was a major undertaking and the end result shows through its loyal repeat guests and their dedicated employees."
In addition to its 39 guestrooms, the Island House includes an outdoor pool and hot tub, a poolside cafe and bar, a spacious tanning deck, an on-site fitness center and spa area with a indoor Jacuzzi, steam room and dry sauna.
According to Smead, the Island House will continue to conduct business as usual for the time being.