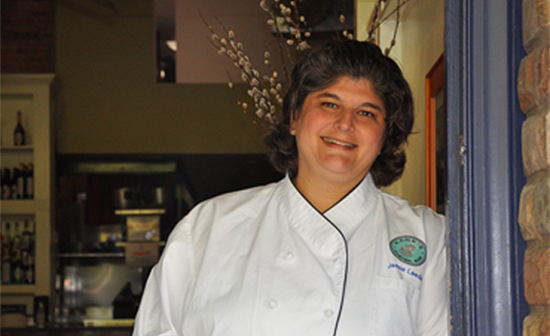 Most chefs would be honored to get even one nomination for a Restaurant Association of Metropolitan Washington RAMMY Award. However, in the case of lesbian Chef Jamie Leeds, her restaurants received three nominations.
Leeds was among dozens of nominees announced yesterday for the 2014 RAMMY Awards designed to "honor the exceptional ability and accomplishments of the hard-working individuals and organizations of the region's restaurants and foodservice community."
This year's awards program includes 20 categories, such as Chef of the Year and New Restaurant of the Year.
Hank's Oyster Bar in the Dupont Circle neighborhood, which Leeds has operated since 2005, was nominated for Everyday Casual Restaurant of the Year and Favorite Gathering Place of the Year. The Capitol Hill location of Hank's Oyser Bar received a nomination for Cocktail Program of the Year, which is one of seven new award categories introduced this year.
Blue Duck Tavern and Chef Cathal Armstrong also received three nominations each.
Armstrong, who operates mulitple restaurants in the metropolitan area, was nominated for Chef of the Year, Wine Program of the Year (Restaurant Eve), and Restauranteur of the Year. He was also named yesterday as a finalist for the James Beard Foundation's Best Chef Mid-Atlantic.
The nominations for Blue Duck Tavern include Pastry Chef of the Year (Naomi Gallego), Service Program of the Year, and Upscale Brunch
The most nominations were for Chef Jose Andres and his team at ThinkFoodGroup, which received nods for Formal Fine Dining Restaurant of the Year (Minibar), Upscale Casual Bar of the Year (Oyamel), Rising Culinary Star of the Year (Johnny Spero of Minibar), Restauranteur of the Year, and Manager of the Year (Jorge Figueredo of Jaleo DC).
While a special panel of judges will designed the winners for most of the categories, the voting public will decide the winners in four categories: Favorite Gathering Place of the Year, Upscale Brunch, Everyday Casual Brunch and Favorite Fast Bites. Votes for these categories can be cast online at ramw.org from March 27 to April 27.
More information about the RAMMY Awards is available at ramw.org/rammys. The winners will be announced at the 32nd Annual RAMMY Awards Gala on Sunday, June 22, at the Walter E. Washington Convention Center.