People of Faith for Equality in Virginia (POFEV), a group of religious people who support LGBT rights and which often allies itself with the commonwealth's LGBT community, has written a letter to Gov. Terry McAuliffe (D) criticizing his expected nomination of Richmond Mayor Dwight Jones to serve as the chairperson of the Democratic Party of Virginia.
"As a non-partisan group, we have no view as to whether Mayor Jones is the correct person to lead the Democratic Party," wrote the Rev. Robin Gorsline, POFEV's president and CEO. "However, we do have concerns about the potential impact of his appointment on the advancement of LGBT equality in Virginia."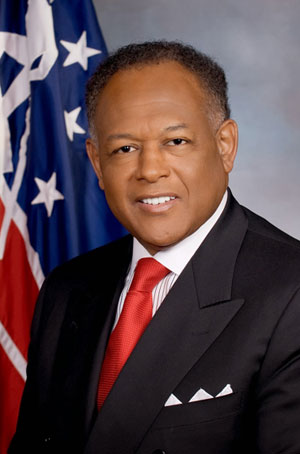 Richmond Mayor Dwight Jones
(Photovia richmondgov.com)
POFEV's chief objection to Jones largely stems from his opposition to marriage equality. After President Barack Obama announced his support for same-sex marriage in 2012, Jones publicly said he disagreed with the president. Beyond politics, Jones serves as the senior pastor of the First Baptist Church of South Richmond.
"Mayor Jones has much to recommend him as a public leader – as do many individuals whom you might consider," Gorsline wrote in his March 4 to McAuliffe. "However, he has not appeared to many as friendly to the concerns of the LGBT community in general. While he has supported and issued anti-discrimination policies in the workplace, he has not been enthusiastic in his outreach to the LGBT community and he has failed to support marriage equality in particular. His engagement and position on marriage equality would set a low bar for all elected officials in the state about the importance of marriage equality and could be interpreted as indicating that your support for equality is less deep than your public statements would indicate."
Gorsline also recommended that McAuliffe discuss the issue of Jones's position on marriage equality and on LGBT rights, and suggested that Jones could demonstrate his support by signing a statement that other mayors, including Alexandria Mayor Bill Euille, have signed advocating marriage equality.
According Richmond CBS affiliate WTVR, Jones could be named chair of the Democratic Party at the party's March 15 meeting.
In a statement to WTVR, McAuliffe spokesman Brian Coy defended McAuliffe's decision to back Jones.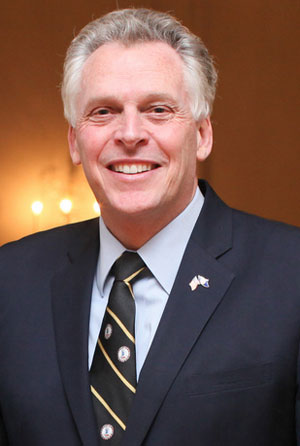 Virginia Gov. Terry McAuliffe
(Photo via governor.virginia.gov)
"Governor McAuliffe believes the next state party chair should be a leader who will grow the party, manage the organization effectively and win elections," Coy wrote in response to WTVR's inquiries. "That is why he fully supports his good friend Mayor Dwight Jones. Mayor Jones has spent his life fighting for civil rights and for equal treatment for all Virginians under the law. He is a great Mayor for Richmond and he will be a strong leader and voice for progress as chair of the Democratic Party of Virginia."
Michael Paul Williams, a columnist for The Richmond Times-Dispatch, penned a March 7 column in which he called for Jones to take a stand on same-sex marriage, accusing him of "equivocating" by saying he supports equal treatment under the law, despite the fact that Virginia's laws treat same-sex couples differently from heterosexual couples.
"[Jones] is ensnared in the inherent conflict that faces a faith leader when he moonlights in the secular world of politics," Williams wrote. "But if he wants to lead his party in Virginia, Jones has a conundrum. … He'd be the titular head of a party whose ranks include the religiously unaffiliated, Jewish Americans, white mainline Protestants, and white and Hispanic Catholics. The majority of each of those groups supports same-sex marriage. … If his conscience or his congregation won't allow him to support marriage equality without equivocation, Jones and Virginia Democrats have an irreconcilable difference."