D.C. Mayor Vincent Gray (D) last week announced that the District of Columbia's Department of Insurance, Securities, and Banking (DISB) would be advising health insurance companies operating in the District about the application of nondiscrimination provisions and recognizing gender dysphoria as a medical condition.
The Feb. 27 announcement clarifies the District's position, as stated in a March 2013 bulletin issued by DISB, that health insurers must remove policy language that discriminates on the basis of gender identity and provide those with gender dysphoria access to medically necessary benefits. Those benefits range from hormone therapy to gender-reassignment surgeries. Previously, most people seeking such treatments for gender dysphoria had to pay out-of-pocket for care.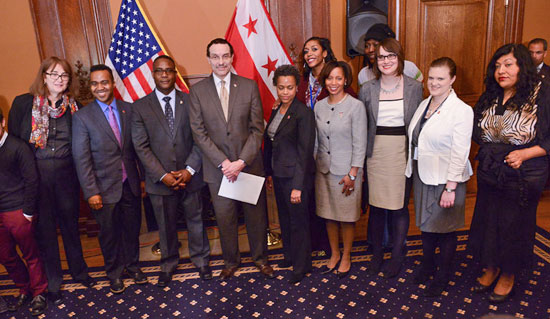 D.C. Mayor Vincent Gray announces steps to protect GLBT community from discrimination in health care, Feb. 27, 2014
(Photo by via Mayor Gray Flickr)
"Last March, the District began the process of removing exclusions in health insurance on the basis of gender identity or expression," Gray said in a prepared statement. "Through the hard work of my Office of GLBT Affairs and a multi-agency working group headed by my Chief of Staff, Chris Murphy, we have today taken the necessary steps to completely eliminate these exclusions.
"Today, the District takes a major step towards leveling the playing field for individuals diagnosed with gender dysphoria. These residents should not have to pay exorbitant out-of-pocket expenses for medically necessary treatment when those without gender dysphoria do not. Today's actions take us closer to being One City that values and protects the health of all our residents."
The rule states that in determining the medical necessity of services and benefits provided to consumers, insurance providers must refer to the World Professional Association for Transgender Health Standards of Care (WPATH), the recognized standard of medical care for transgender people suffering from gender dysphoria. The benefits are not newly mandated, but only clarify that insurance companies offering coverage in the District of Columbia must take into account the District's Human Rights Act, which prohibits discrimination based on gender identity and expression. That means that any service that would be provided to a cisgender – meaning someone who identifies with the sex assigned them at birth – woman having a mastectomy, for example, must also be provided to a transgender woman.
"This action places the District at the forefront of advancing the rights of transgender individuals," Gray said. "It also fully implements the District's Human Rights Act by incorporating gender identity and expression as protected classes in the District's health insurance laws."
One of the people hoping to benefit from the DISB clarification is Bobbi Strang, the first openly transgender person to work at the District's Department of Employment Services (DOES). By her own language, Strang says she underwent gender-confirmation surgery last April, about a month after DISB issued its initial bulletin, which encouraged District insurance plans to comply with the city's Human Rights Act. Strang said she tried to get surgery and hospitalization costs covered by her government-sponsored health plan, to no avail. Instead, she ended up fighting with her insurance company to prove that her treatments were medically necessary.
"I was fortunate and blessed that I had the funds to pay," Strang said. "I used up all my savings to cover the cost, and then cashed out my 401K plan to cover any emergency expenses."
Strang said the most frustrating part is that her government-employee health plan should have covered her medical needs since 2006, after the District's Human Rights Act was amended to include protections for gender identity.
"The mayor's announcement is a significant step for addressing that disparity," says Strang.
With the DISB ruling retroactive to March 2013, Strang is hopeful she will be eligible to recoup some of her costs and restore her savings.
"Insurance companies typically like to argue that these surgeries are experimental or elective," she says. "But that's not true. The first gender-change surgery occurred in 1919 and, clearly, it's gotten better since then. But insurance policies typically cover childbearing expenses or joint replacements, even though they aren't considered life-saving treatments."
Another District government employee who hopes to benefit is Julius Agers, a transgender man who has suffered health problems due to denial of benefits.
"When I came out as transgender several years ago, I never thought that I would have to wait so long to get medical treatment for my needs," Agers says.
"At that time, I started binding myself with the hope that I could save the money for surgery within a few years," he says, referring to the practice of compressing breast tissue. "Unfortunately, my health took a turn for the worse due to long-term chest binding. I have had increased difficulty with breathing, like I am slowly suffocating. I suffer from persistent insomnia from the breathing difficulty and discomfort, as well as frequent headaches. The situation has become almost unbearable."
Agers says he's been unable save enough money for a bilateral mastectomy, often referred to as "top surgery," as he had to use those funds to treat more urgent health problems. He adds that his surgery could cost almost twice as much as other trans men because of his size, as the surgical procedure he would have to undergo would require a double incision. Agers estimates a surgical expense of $15,000 without insurance.
Agers, who supports Gray in his re-election bid, though not in any official capacity, spoke highly of the mayor's efforts to clarify and enforce the District's nondiscrimination law and make it apply to health care.
"Thanks to Mayor Gray's recent actions, I can finally see light at the end of the tunnel," he says. "I will be able to get access to medically necessary care that will literally save my life. The mayor's leadership on transgender issues has simply been outstanding. For too long, our community has been marginalized by leaders that refuse to take the necessary steps to help us live healthy and productive lives. But not any longer in our nation's capital."
Andy Bowen, a local transgender activist who has worked on health care issues with the District government, and who is a policy associate at the National Center for Transgender Equality, called the District's new policy one of the "most comprehensive" health care plans in the entire county.
"What we've seen from other places that have instituted these reforms is that it is of minimal cost to insurers," says Bowen. "There's no need for a premium increase."
Bowen cites a study by the California Department of Insurance released last year to support that point. That study concluded in its analysis of economic impact that "the adoption of the proposed regulation would have an insignificant and immaterial economic impact on the creation or elimination of jobs, the creation or elimination of new businesses, and the expansion of businesses in the State of California."
Bowen adds that the policy could be a boon to insurers, as it can be considered a form of preventative care. If transgender people are able to access medically necessary services, they tend to have better health outcomes. The California Department of Insurance study states: "[T]he Department's evidence suggests that benefits will accrue to insurance carriers and employers as costs decline for the treatment of complications arising from denial of coverage for treatments. The evidence suggests that there may be potential cost savings resulting from the adoption of the proposed regulation in the medium to long term, such as lower costs associated with the high cost of suicide and attempts at suicide, overall improvements in mental health and lower rates of substance abuse."
Bowen also points out that she has personally spent "several thousands of dollars" on laser surgery related to her own treatment for gender dysphoria.
"This is a win for the public. It's, frankly, a win for insurers," says Bowen. "It's a smart government decision, and it's good for human beings."
The District's Department of Health Care Finance and Department of Human Resources has also further clarified its policies to be in compliance with the DISB bulletin. Under the bulletin, all private plans offered in the District, as well as government employee health care plans and D.C. Medicaid, must cover any medically necessary health services for transgender people. Any plans currently requiring insurance riders or supplements for an additional charge must be eliminated by the next renewal period.
[Editor's Note: As originally posted, this story made mention of the D.C. Human Rights Act being amended in 2007. That gender-identity/expression addition actually took effect in 2006.]