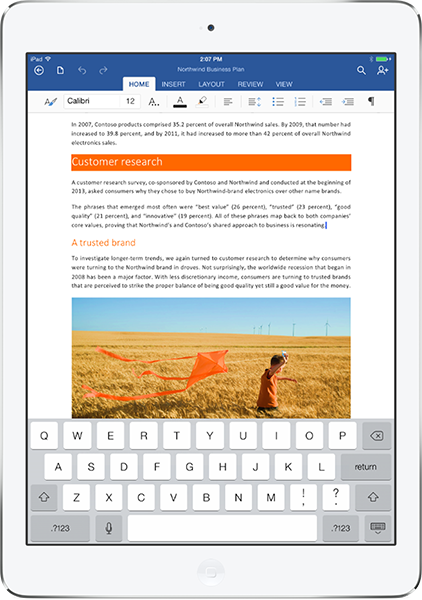 It's been a long, long time coming but Microsoft's Office suite of apps are finally available on Apple's iPad. At a private event in San Francisco, newly-appointed CEO Satya Nadella made his first public appearance to announce the release of iPad-specific versions of Office stalwarts Word, PowerPoint and Excel.
Available in the app store now, the trio of apps distill all of the features users currently enjoy in Microsoft's desktop apps, wrapping them in a touch-friendly UI that should make navigating with a finger a stress-free affair.
"They look just as they do on your PC or Mac," Microsoft said in a statement. With Word, every formatting and annotation feature is in place — "images, tables, SmartArt, footnotes, equations are all there, perfectly formatted." Excel users can revel in all of the "formulas, charts, sparklines, conditional formatting, and filters" they've likely become accustomed to, while PowerPoint brings the usual "transitions, animations, speaker notes and much more." An added bonus, users can also appropriate a built-in laser pointer  to highlight specific things when their iPad is connected to a bigger screen. For business users and those synced with Microsoft's cloud storage, OneDrive and OneDrive for Business are both onboard, offering up-to-date documents and easy sharing.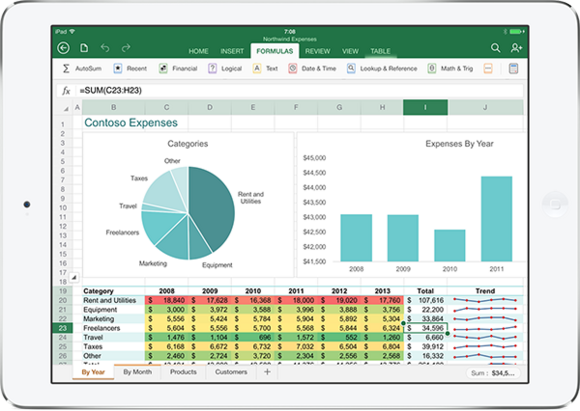 Of course, to actually edit any documents or create new ones, as opposed to just viewing them, users will need to already have — or purchase — an active Office 365 subscription. Office 365 allows for installation on up to 5 tablets, as well as 5 installations on PC or Mac — which makes it something of a steal for a connected small business. The apps themselves are free, and there is a free 30-day trial for Office 365, available at office.com/try. Office 365 is available for $99 upfront, or $9.99 per month.
As a further bonus, the Office apps for iPhone and Android are now free, matching their Windows Phone counterpart.
However, today's announcement poses an interesting question: what about Windows 8? Microsoft has long-faced criticism for the split-personality of its latest desktop OS, with the modern UI and its touchable apps contrasting with the traditional desktop. It's more of an issue on tablets, however, where the need for a mouse and keyboard can be an irritatingly frequent occurrence. Microsoft is rumored to be considering touch-friendly versions of its Office software for Windows 8 devices, but the fact that such an interface launched on the iPad first begs the question of how committed to their own OS Microsoft are. One of my personal complaints with the original Surface RT was the necessity to open the desktop interface to use Word, Powerpoint and Excel, all Microsoft products, despite the fact that the Surface RT couldn't run any other apps in the classic desktop. A touch-friendly version of each was a no-brainer.
Whether they eventually port a version of their iPad app over to Windows 8 — and hopefully Android, too, which now has the lion's share of the tablet market — or not, the release of Office for iPad is sure to be welcomed by many who use Microsoft products at work but carry an iPad with them instead of a laptop.