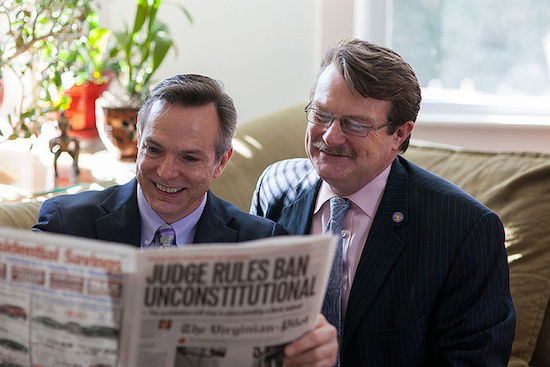 A new poll by Quinnipiac University finds that half of all Virginian voters support allowing same-sex couples to marry, with marriage equality supporters leading opponents 50 percent to 42 percent. 
The Quinnipiac poll, which surveyed 1,288 Virginia voters via land line and cellular phones from March 19-24, found that women overwhelmingly support allowing same-sex couples to wed in the commonwealth, 54 percent to 38 percent, while men are split on the issues with only 46 percent in favor and 48 percent opposed. The poll has a margin of error of 2.7 percentage points. 
Support for marriage equality breaks down largely along party lines and age. Democrats support allowing same-sex couples to marry, 69 percent to 22 percent, while indpendents support the idea by a 52-42 margin and Republicans oppose allowing same-sex nuptials by a 70-23 spread. Nearly seven in ten voters under 30 years of age support marriage equality, with only a quarter opposed. Those ages 30 to 49 support allowing same-sex marriage, 53 percent to 40 percent; those ages 50 to 64 also support it, 50 percent to 44 percent. Voters over the age of 65 overwhelmingly oppose same-sex marriage by a 56-35 spread. 
"Support for same-sex marriage in Virginia shows a similar pattern to support for use of marijuana: The younger you are, the more Democratic you are, the more likely you are to support both of these social issues," Peter Brown, the assistant director of the Quinnipiac University poll, said in a statement. The same poll had asked voters opinions about medical marijuana and legalizing the use of marijuana, with more than 4 our of every five Virginia voters supporting medical marijuana, but support for legalization split, with younger voters highly supportive. 
The Quinnipiac numbers on marriage equality are released against the backdrop of ongoing legal challenges to Virginia's constitutional amendment banning any form of recognition or contract between same-sex couples, also known as the Marshall-Newman Amendment, which was approved by voters in 2006. The Fourth Circuit Court of Appeals is scheduled to hear an appeal in May of a Feb. 13 decision by U.S. District Court Judge Arenda L. Wright Allen, who ruled in Bostic v. Rainey that Virginia's ban on same-sex marriage is unconstitutional. Allen stayed her ruling pending an appeal, meaning same-sex marriages may not be performed in Virginia until the Fourth Circuit issues its ruling. 
The Fourth Circuit has also given permission to the plaintiffs in the class action suit Harris v. Rainey (formerly Harris v. McDonnell), which is pending in U.S. District Court for the Western District of Virginia, to intervene in the Bostic case, thereby allowing the Harris plaintiffs to file their own brief with the Fourth Circuit arguing that Allen's ruling should be upheld, at the same time as the Bostic appellees. 
[Photo: Tim Bostic (left) and Tony London, two of the four plaintiffs in the Bostic v. Rainey case. Credit: American Foundation for Equal Rights.]