"My show is really high-energy, a lot of dancing — Baltimore club dancing," Rye Rye says. Anyone who's seen the Charm City rapper perform knows she speaks the truth. It was Rye Rye, after all, who stormed the stage and fired up the crowd at the 9:30 Club in 2012 as opening act for the Scissor Sisters. She was a similarly irrepressible dancing/rapping dynamo at last year's SMYAL benefit at U Street Music Hall and at Capital Pride's party at the Wonder Bread Factory.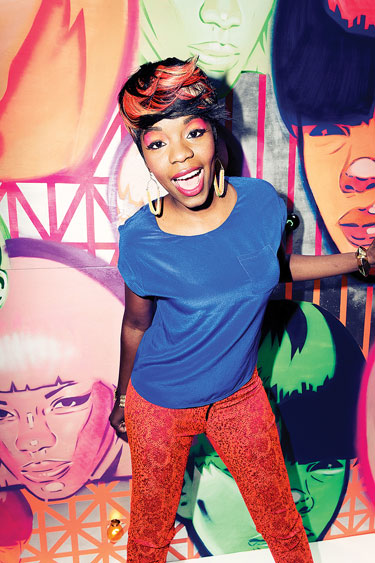 Rye Rye
(Photo by Rony Alwin)
This Friday, March 7, Rye Rye makes her debut at the Mansion at Strathmore. The 23-year-old artist will perform from her frenetic 2012 debut Go! Pop! Bang!, which merged hip-hop with club and dance/EDM sounds, and featured guest contributions from Akon, Tyga and Robyn. Also featured on a couple tracks: M.I.A. One of Rye Rye's biggest influences, the international electro-rapper even released the set on her own major-label offshoot.
A dancer since childhood, Rye Rye, born Ryeisha Berrain, opted to make music her focus after a teenage chance meeting in 2006 with Blaqstarr, a fellow Baltimore rapper/producer who was friends with Rye Rye's sister. "He asked me did I know how to rap?" recalls Rye Rye, who until then had only ever written poetry. "Once he asked me that, I just decided to write a song. And then I rapped it to him, on his answering machine." Rye Rye laughs when asked if she ever performs what was essentially her first recorded rap: "I can't! I forgot the words!"
These days Rye Rye, who is working on a new mixtape, has her hands full beyond music and performing. In addition to raising Kenden, her 4-month-old son, the artist continues to dabble as a film actor, with a couple projects in the works. She just wrapped scenes for a role in 22 Jump Street — the sequel, expected this summer, to 2012's 21 Jump Street (based on the '80s TV series). Rye Rye had a small role in that 2012 movie and also recorded its theme song with Esthero.
I'm going to continue with music and movies," she says, adding, "I just want to do all that I can do to be successful." — Doug Rule
Rye Rye performs Friday, March 7, at 9 p.m., at the Mansion at Strathmore, 10701 Rockville Pike, North Bethesda. Tickets are $15. Call 301-581-5100 or visit strathmore.org