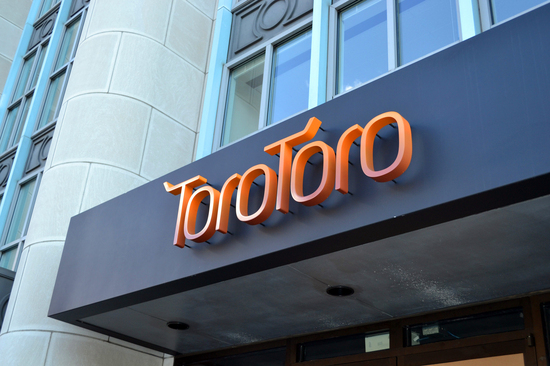 Chef Richard Sandoval, the mastermind behind D.C.'s Zengo, Masa 14 and the duo of El Centros, is soon to add to his culinary empire, which also includes another two dozen restaurants across the U.S. and the Middle East. On March 31, he will open Toro Toro, a pan-Latin steakhouse.
"Approachable" is how chef de cuisine Steve Hartzell describes Toro Toro's menu that features a variety of hot and cold small plates including arepas and ceviches, steaks served a la carte and savory side dishes meant for sharing. Parties will also be able to enjoy Toro Toro's "Rodizio Experience," where a selection of meats can be carved tableside.
Hartzell is particularly excited about the show kitchen in the middle of the restaurant that will allow him and his team to display Toro Toro's meat options, which will be sourced locally when possible.
"It's a marrying of North meets South — your North American steakhouse verses your South American steakhouse. We have the Brazilian Rodizio churrascaria experience with everything done on a spit. And right next to it, you get your prime strip loin…dry aged pork rib chop…veal porterhouse…," says Hartzell, who previously worked at Zengo and El Centro in Georgetown.
Toro Toro will initially be open for lunch and dinner, and a Saturday and Sunday brunch will eventually be introduced and include an all you can eat menu and bottomless drink options.
LW Design Group of Dubai is responsible for designing the 12,400 square foot space, which draws inspiration from Japanese and Latin interior design elements. Firery red and orange accents surround the bars and the show kitchen, animal hides are used throughout from the lounge bar stools to the bathroom stall doors, and creative ironwork helps seperate space.
The main 140-seat dining room is open and organized into distinctive sections, making the space feel intimate and inviting. The high-backed chairs and family-style dining tables give the room a comfortable, homey feel and are a striking contrast with the cool lower level 70-seat lounge space, which features a raised DJ booth.
Toro Toro is located at 1300 I (Eye) Street, NW. Call (202) 682-9500.