The theatre season may be half over, but that doesn't mean there isn't plenty left to see on D.C. stages, starting with the Kennedy Center, whose impressive World Stages: International Theater Festival kicked off this week (see page 44). If you desire some political high drama, head over to Arena for Camp David. Crave a bit of sexual rompery? No Rules is happily going Boeing Boeing. Fancy a little Falstaff? Shakespeare is presenting both Henrys in rep. What about a macabre musical? Look no further than Signature's Threepenny Opera. Are foul-mouthed puppets your thing? Olney takes us for a spin on Avenue Q. And for those who crave a silence with their Shakespeare, Synetic is reviving its acclaimed Hamlet. Prepare to be thespianized.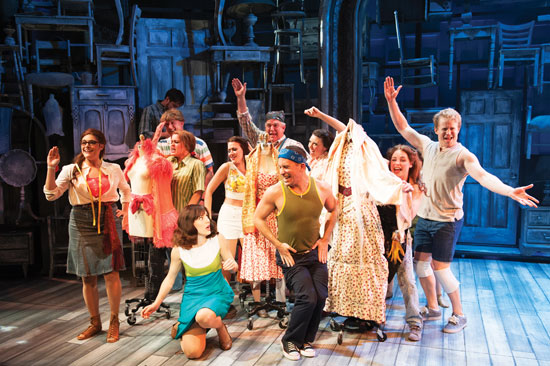 Beaches
(Photo by Margot Schulman)
ADVENTURE THEATRE MTC
7300 MacArthur Blvd.
Glen Echo, Md.
301-634-2270
adventuretheatre-mtc.org
· The Jungle Book – Based on the story by Rudyard Kipling, follow the adventures of boy-cub Mowgli and his animal pals (4/4-5/25)
· Pinkalicious – A girl with an affinity for pink cupcakes turns pink from head to toe and surprisingly does not launch a pop music career (6/20-8/31)
AMERICAN CENTURY THEATER
Gunston Theater II
2700 South Lang St.
Arlington
703-998-4555
americancentury.org
· Oh Dad, Poor Dad, Mama's Hung You in the Closet and I'm Feeling So Sad — An absurdist black comedy by Arthur Kopit (3/21-4/12)
· Judgment at Nuremberg –– A stage version of the acclaimed live TV drama from the '50s (5/30-6/28)
· The Great American Century Songbook – A cast of seven present an evening of American folk, popular and stage music from the first third of the 20th century (7/18-8/16)
ARENA STAGE
Mead Center for American Theater
1101 6th St. SW
202-488-3300
arenastage.org
· Loveland — Ann Randolph's one-woman comedy (3/18-4/13, Kogod)
· Camp David — Pulitzer Prize-winner Lawrence Wright pens this dramatization about the historical meeting between President Jimmy Carter, Israeli Prime Minister Menachem Begin and Egyptian President Anwar Sadat. A world premiere directed by Molly Smith (3/21-5/4, Kreeger)
· Smokey Joe's Cafe — Randy Johnson stages this rock classic celebrating the songs of Jerry Lieber and Mike Stoller, including "Jailhouse Rock," "Hound Dog," "Stand by Me" and "On Broadway" (4/25-6/8, Fichandler)
· Healing Wars — Bill Pullman stars in Liz Lerman's piece combining dance and narrative and exploring the healers who treat the physical and psychological wounds of battle (6/7-29, Kogod)
CENTER STAGE
700 N. Calvert St.
Baltimore
410-986-4000
centerstage.org
· Vanya and Sonia and Masha and Spike — A co-production with Kansas City Repertory Theatre of Christopher Durang's hilarious look at a very odd set of siblings (4/16-5/25)
· Wild with Happy — Colman Durango's wild comedy focuses on Gil, who's boyfriend has just left and mother has passed away. Enter boisterous Aunt Flo, who pulls him out of his funk (5/28-6/29)
CONSTELLATION THEATRE
1835 14th St. NW
202-204-7741
constellationtheatre.org
· The Love of the Nightingale — Playwright Timberlake Wertenbaker adapts Ovid's myth about Philomele, Procne and Tereus, in which family loyalties, desire and violence merge and erupt (4/24-5/25)
FOLGER THEATRE
201 East Capitol St. SE
202-544-7077
folger.edu
· Fiasco Theater's The Two Gentlemen of Verona — New York's inventive theater company brings its whimsical version of Shakespeare's light comedy (4/17-5/25)
FORD'S THEATRE
511 10th St. NW
202-347-4833
fordstheatre.org
· The 25th Annual Putnam County Spelling Bee — William Finn's delightful crowd-pleasing musical is a natural, obvious fit for Ford's (3-5/17)
GALA HISPANIC THEATRE
3333 14th St. NW
202-234-7174
galatheatre.org
· Living Out — A lawyer and her Salvadoran nanny, both mothers, struggle to make better lives for their children in this play by Lisa Loomer. Directed by Abel Lopez (4/24-5/18)
KEEGAN THEATRE
1742 Church St. NW
703-892-0202
keegantheatre.com
· Hair — The classic rock musical lets the sun shine in at Church Street (3/15-4/12)
· Things You Shouldn't Say Past Midnight — A loud, boisterous screwball comedy by Peter Ackerman. Directed by Colin Smith (5/3-24)
· A Midsummer Night's Riot — A one-man tour-de-force from Irish playwright Rosemary Jenkinson (5/6-25)
KENNEDY CENTER
202-467-4600
kennedy-center.org
· World Stages: International Theater Festival — Works from 20 countries, including staged readings and installations (Now to 3/30; see page 44)
· Side Show — Directed by Bill Condon, this is a Kennedy Center-produced revival of the hit musical about conjoined twins (6-7/13, Eisenhower)
· Disney's The Lion King — Julie Taymor's lavish, inventive adaptation of the popular animated film returns with a roar (6/17-8/17, Opera House)
METRO STAGE
1201 North Royal St.
Alexandria
703-548-9044
metrostage.org
· Ella Fitzgerald: First Lady of Song — Maurice Hines directs and choreographs this celebration of the legendary jazz singer (Now to 3/16)
· The Thousandth Night — An actor is arrested and avoids his fate by playing 38 characters from the Arabian Nights. Directed by John Vreeke (4/3-5/18)
· Underneath the Lintel — Glen Berger's play concerns a Dutch librarian, a returned library book 113 years overdue and the obsession to locate its owner (4/17-5/25)
NATIONAL THEATRE
1321 Pennsylvania Ave. NW
202-628-6161
nationaltheatre.org
· Hal Holbrook in Mark Twain Tonight — Yes, he's still doing it, and nope, there's no finer personification of Twain (4/4-5)
· West Side Story — One of the greatest musicals of all time in a new revival (6/3-8)
NO RULES THEATRE CO.
4200 Campbell Ave.
Arlington
571-527-2159
norulestheatre.org
· Boeing Boeing — A playboy juggles three fiancées, all of whom are flight attendants. Chaos ensues when there's a weather delay (6/4-29, Signature Theatre)
OLNEY THEATRE CENTER
2001 Olney-Sandy Spring Road
Olney, Md.
301-924-3400
olneytheatre.org
· I and You — Two students unravel a Walt Whitman poem and find romance (2/26-3/23, Theatre Lab)
· Once On This Island — A jubilant musical set in the Caribbean (4/9-5/4, Mainstage)
· The Piano Lesson — The August Wilson classic (5/7-6/1, Theatre Lab)
· Avenue Q — Puppets say the most adult things (6/11-7/6, Mainstage)
POINTLESS THEATRE
Mead Theatre Lab
916 G St. NW
202-733-6321
pointlesstheatre.com
· Sleeping Beauty — A puppet ballet (4/9-5/3)
REP STAGE
10901 Little Patuxent Parkway
Columbia, Md.
443-518-1500
repstage.org
· The Fantasticks — The Tom Jones-Harvey Schmidt musical still enchants after all these years. Features the classic song, "Try to Remember" (4/30-5/18)
ROUND HOUSE THEATRE
4545 East-West Highway
Bethesda
240-644-1100
roundhousetheatre.org
· Two Trains Running — August Wilson's portrait of African-American life in the '60s (4/2-27)
· Ordinary Days — Adam Gwon's musical is about "growing up and enjoying the view" (5/28-6/22)
SHAKESPEARE THEATRE COMPANY
Harman Center for the Arts
610 F St. NW
Lansburgh Theatre
450 7th St. NW
202-547-1122
shakespearetheatre.org
· Henry IV, Parts 1 and 2 — Michael Kahn directs the epic history plays, running in rep and starring Stacy Keach as Falstaff (3/25-6/8, Harman Hall)
· Private Lives — Maria Aitken directs Noel Coward's sublime comedy of manners (5/29-7/13, Lansburgh)
SIGNATURE THEATRE
4200 Campbell Ave.
Arlington
703-820-9771
signature-theatre.org
· Beaches — Eric Schaeffer directs this musical adaptation of the beloved book by Iris Rainer Dart (2/18-3/23, Max)
· Tender Napalm — Matthew Gardiner directs this edgy, new battle-of-the-sexes drama by Philip Ridley (3/18-5/11, Ark)
· The Threepenny Opera — Matthew Gardiner directs the audacious Bertolt Brecht-Kurt Weill musical (4/22-6/1, Max)
STUDIO THEATRE
1501 14th St. NW
202-332-3300
studiotheatre.org
· Water by the Spoonful — In this 2012 Pulitzer Prize-winner, the lives of four addicts collide with an ex-Marine in North Philly (3/5-4/13)
· Moth — The friendship between an anime-obsessed teenage boy and an emo-Wiccan girl is forever changed by a huge event on the athletic field (4/9-5/4, 2ndstage)
· Cock — A gay man on break from his boyfriend meets the woman of his dreams in Mike Barlett's provocative work (5/14-6/22)
· Beats — Kieran Hurley performs his one-man show about a teen sneaking off to a rave. A hit at the Edinburgh Fringe Festival (6/11-29)
· classic about a playwright and his complicated relationship with his wife. Directed by David Muse (Opens 5/22/13)
· Carrie: The Musical — Keith Allen Baker directs this over-the-top musical (that failed spectacularly on Broadway when it first debuted) with a (hopeful) eye toward extreme camp (7/9-8/3, 2ndstage)
SYNETIC THEATER
1800 South Bell St.
Crystal City
Arlington
800-494-8497
synetictheater.org
· Hamlet — A revival of the production that started it all for Synetic (3/14-4/6)
· Three Men in a Boat — Three men take a holiday from work and encounter all manner of misadventures. Directed by Derek Goldman (5/8-6/8)
THEATRE J
1529 16th St. NW
800-494-8497
theaterj.org
· The Admission — An Israeli homage to All My Sons set in Haifa during the first Intifada. Directed by Sinai Peter (3/20-4/27)
· Freud's Last Session — Serge Seiden directs Mark St. Germain's play in which Freud engages with C.S. Lewis in an exchange about God, love, sex and life (5/14-6/29)
· The Prostate Dialogues — John Spellman performs his own work, commissioned by Theater J, in which he explores masculinity and mortality in the face of cancer. Directed by Jerry Whiddon (5/30-6/29)
WASHINGTON STAGE GUILD
Undercroft Theatre
900 Massachusetts Ave. NW
stageguild.org
· Elling — Oddly matched roommates must cope with the real world and each other (4/24-5/18)
WOOLLY MAMMOTH
641 D St. NW
202-393-3939
woollymammoth.net
· Arguendo — The innovative company Elevator Repair Service applies its unique theatrical style to the Supreme Court, tackling the 1991 First Amendment case where a group of go-go dancers petitioned for their right to perform completely naked (3/31-4/20)
· The Totalitarians — The ambitious speechwriter for a rich housewife's vanity campaign for public office stumbles upon a perfectly patriotic slogan and it produces campaign gold. Directed by Robert O'Hara (6/2-29)
For more listings, visit MetroWeekly.com.
Spring Arts Preview 2014