There is no argument: Lily Tomlin loves show business. And that love has driven her from stage to screen and back again, countless times.
With her partner — in life and profession — Jane Wagner at her side, Tomlin has earned an Oscar nomination, multiple Emmys and Tonys, and so many more accolades. She's played characters from silly — many of whom are her own creations — to serious. There's the young Tomlin of Laugh-In yuks, or the grittier Linnea of Nashville. She's shared the screen with Cher, Bette, Jane and Dolly, to name a few. From the frantic battle to grasp the dawn of the AIDS epidemic as Dr. Selma Dritz in the movie version of And the Band Played On, to animated voiceovers, there is range, there is talent and there is dedication.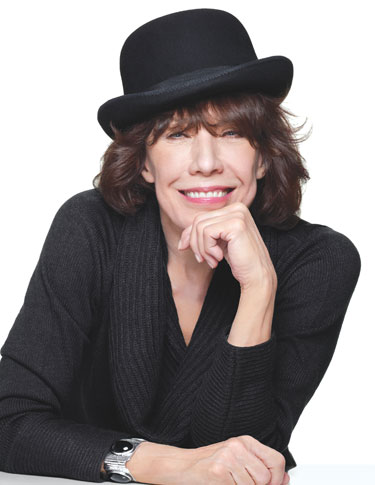 Lily Tomlin
(Photo by Jenny Risher)
"We're forever wanting to make something," she says of Wagner and herself, offering as an example an effort to produce a show based on Tomlin's precocious 5-year-old persona, Edith Ann. "One time we really wanted to get a series together for Edith Ann, and we wanted to do it in claymation. This was — oh, God, I don't even know — before claymation was very popular. And 3D was really prohibitive. We built Edith Ann's whole neighborhood in our garage with clay animators. We could not convince anyone to do dimensional animation like that at the time. It must've been 30 years ago or more.
"And we've done that many times. It didn't matter. You're just so mad to make something that you don't think twice about it."
It's been like that since Tomlin, 74, was not much older than Edith Ann, trying — unsuccessfully — to corral her neighborhood peers of inner-city Detroit to put on a show. With an Edith Ann-inspired raspberry to whatever stands in her way, Tomlin has not been deterred, which is why she'll soon be back in the D.C. area for a show. And in Florida for two. And Las Vegas. And an Olivia cruise. Tomlin long ago found the secret to making magic, and she's not about to stop.
METRO WEEKLY: You're back in L.A. for a few days? I'm told you've been doing some filming. Can you tell me what you're working on?
LILY TOMLIN: I was doing a thing for a friend that was just sort of fun. Rocco Urbisci was the producer on a couple of my specials years ago, for one of which we won an Emmy. Anyway, Rocco manages these two young girls that are really interesting. They do kind of satiric songs and comedy. Their names are Carlie and Doni. They'd written a song called "Gangsta Waitress." It's really funny, and they were making a music video of it. I played their, like, top waitress.
MW: A recurring role for you.
TOMLIN: Oh, yeah, right! [Laughs.] But just for this little video. It was hip, dirty, campy and all of that.
MW: But early on, you actually worked as a Howard Johnson's waitress?
TOMLIN: Oh, God, yeah, I did. I worked at the old original one at 49th and Broadway, which was like the first Howard Johnson's in New York. It was a little, tiny, narrow storefront. It wasn't very big. Their bigger one was down near 52nd Street and Broadway, then the big one across town was the HoJo hotel. Mine got shut down. We were not even on the circuit. I don't think the Howard Johnson's people who came to inspect even came to our restaurant. We had really old uniforms, like from the '30s, that were so starched. Their uniforms would stand on their own because of so much starch. We were all wannabe actresses and everybody wanted to be really attractive, so the other girls would hem 'em up real fast every morning, so they could be wearing miniskirts. [Laughs.] I always wore mine totally regulation. Tall and lanky. But those uniforms were cut on the bias and you were supposed to have a lot of hips. Of course, I didn't. You had these big, puffy sleeves and your little arms are hanging out. It was like playing a role. I wanted to be a real Howard Johnson's waitress. I'd wear a hairnet and a paper hat.
I used to duck down behind the counter with a microphone and I'd say, "Attention, diners. Your Howard Johnson's 'waitress of the week,' Lily Tomlin, is about to make an appearance on the floor. Give her a big hand!" And then I'd come out from behind the counter and they'd applaud me. I just used to have fun. Whenever I was doing something, I used to make it into theater.
MW: With your career, and life that's moved from the South to the Midwest, to both coasts, you seem so all-American. You are such a strong piece of our culture. Do you have a strong identity as an American?
TOMLIN: I feel like I'm a human being. I don't have any overly nationalistic pride. I want the nation to be what we have believed in the past, when people were really in love with Americans — especially after World War II. We seemed special. Maybe we weren't, even then, but we thought we were. We thought we were really good people, a good race of humans. I really identify with just humanity in general.
I was lucky enough to have Southern parents and spend every summer in rural Kentucky. I grew up in inner-city Detroit, grew up in a predominantly black neighborhood. At that time in American society there was more ethnicity. There was a bigger mix of humanity. We lived within blocks of people who were fairly well off, professionals. The streets were very wide and the houses were very large, and I went to school with those kids, too. I'd go to their houses and they were larger, better furnished. We didn't even have a car in our family.
MW: All this before Americans were more mobile, better able to segregate themselves socially?
TOMLIN: Exactly. And that's what happened in poor old Detroit. All the "white flight" left the city destitute, no tax base. It was a fantastic city, a great city. And I think it will be again. It's like a template for a city of the future, because it has hit rock bottom so hard. More and more artists are being drawn there because housing is inexpensive. It's just alive, vibrant — even now. As bad off as it is, there's a vibrant niche culture there that will spread and spread, I hope.