Have you ever nodded off at the theater? Do you worry that you might be particularly prone to doing just that during Shakespeare, the bard of long, complicated, verbose plays?
Well, especially if you manage to snag front-row orchestra seats, you don't have to worry with Folger Theatre's new well-staged production of Richard III. Director Robert Richmond has aimed to please by bucking tradition and offering an in-the-round staging of Shakespeare's epic history play. In an unprecedented move, he had the seats in Folger's Elizabethan Theatre unbolted from the floor and put in storage, so that, in their stead, he could place a central stage with several trap doors leading to tunnels underneath. And because the wretched Richard was a maniacal killing machine, those trap doors serve as graves here, and are opened and closed plenty during the production.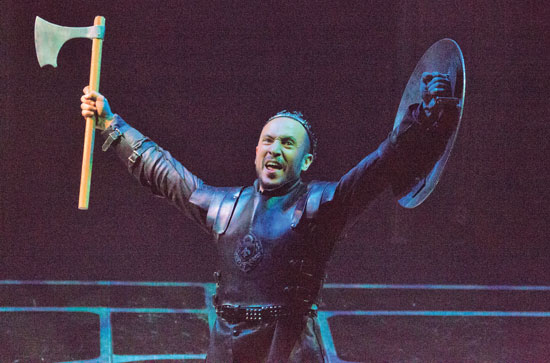 King Richard Drew Cortese in Folger Theatre's Richard III
(Photo by Jeff Malet)
The result is an immersive experience, one in which you're frequently mere inches away from an actor or two in the show's large cast, which helps keep you on your toes — and with your eyes wide open. Of course, Richard III is as action-packed as it is discursive, so the 16 castmembers are constantly moving about the stage and getting to and fro from all directions. But it's not just their way with movement — the acting ability of this fine cast further helps in the wide-awake patron cause.
Leading the charge is Drew Cortese as the titular twisted tyrant, who gleefully removes those who threaten his ascendancy to the throne, even his school-aged nephews. Cortese offers a commanding portrayal that is slightly more nuanced than others you may have seen — but one that is still far from sympathetic. In his hands, you get a glimpse into Richard's psychological shortcomings, not just the physical ones of this so-called "poisonous hunchback'd toad." In fact, while Richard still has a severe limp, he's otherwise the opposite of physically unattractive as he is most often portrayed. As such, we get a fuller image of Richard: a man with a humble yet inoffensive appearance, a charming, falsely modest disposition, and a brilliantly conniving mind. It's easier than ever to see just how he might have won over subjects and became such a force to be reckoned with.
Naomi Jacobson, one of Washington's keenest actors, is magnificent as Richard III's chief antagonist, Queen Margaret, the widow of King Henry VI, who dies as the play begins. Alyssa Wilmoth Keegan as Lady Anne, Julia Motyka as Queen Elizabeth, wife of King Edward IV, and Nanna Ingvarsson as the Duchess of York — aka Richard's loathing mother — are three more female standouts.
Richard III




To March 16
Folger Shakespeare Theatre
201 East Capitol St. SE
$40 to $72
202-544-7077
www.folger.edu
Richmond also tapped a sharp creative team, including set designer Tony Cisek and costume designer Mariah Hale, to further realize the immersive abilities of an in-the-round stage. Jim Hunter on lights, Eric Shimelonis on sound and Casey Kaleba on fight choreography work well together to make each of the show's seven onstage murders evocative, stylized affairs, none more so than the duel that finally does in Richard. This is not a Richard III that is graphic or even bloody. In fact, the murders here are generally carried out without use of weaponry and instead with mere, quick twists of victims' heads — half at the hands of Richard's dutiful assistant Ratcliffe, convincingly portrayed by bodybuilding hunk Andrew Criss.
The production's creative team also deserves commendation for the skill in which it pulls off the Poltergeist-esque moment when all of Richard's victims rise spectrally from the dead to give Richard fits during a nightmare. It's a rare moment when Richard shows any sign of remorse for his power-mad rampage.