A transgender woman was arrested Friday night in the city's 16th Street Heights neighborhood after police pulled her over for an apparently over-crowded SUV and charged her with driving on an expired license.
The incident occurred around 10 p.m. close to Kennedy and 13th Streets NW. The passengers in the car included three transgender women, two males and local transgender activist Ruby Corado, founder of the LGBT community resource center Casa Ruby. The seven were departing a support-group meeting that had been held at Casa Ruby, 2822 Georgia Ave. NW, that evening.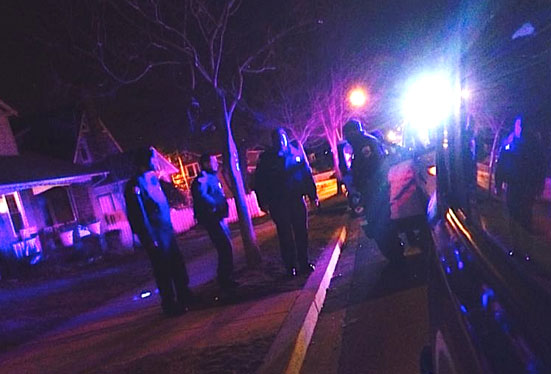 (Photo by Ruby Corado)
Corado tells Metro Weekly that she had asked the woman who was later arrested to drive the others home as she didn't want them to have to wait outside for a bus due to the below-freezing temperatures. Corado says she noticed a police car following the group immediately after they left Casa Ruby, and advised the driver to continue on their route. The group traveled up Georgia Avenue NW before turning onto Kennedy Street with the police car following. When the police officer eventually turned on his lights, the driver immediately pulled off to the side of the road.
Corado says the police officer came up to the SUV and asked the driver for identification, saying he had stopped her because of an overcrowded car. But when the driver offered her ID, which lists a male name, Corado says the officer's attitude changed and he began asking a lot of questions about her gender and even "what color she was." According to Corado, the officer then became agitated and pulled the driver out of the car.
One of the passengers in the back then jumped out of the car and began crying, while another suffered a minor panic attack. Other passengers tried to call for an ambulance as Corado attempted to contact the Metropolitan Police Department's (MPD) Gay and Lesbian Liaison Unit (GLLU) to request an affiliate officer trained in dealing with LGBT issues come to the scene. Corado says an officer at the GLLU told her that someone would be directed to the scene, but that no GLLU-affiliated officer arrived.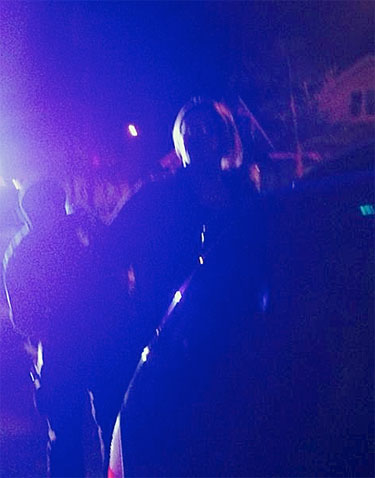 (Photo by Ruby Corado)
The passengers were ordered to exit the vehicle and stand outside as police continued interrogating the driver, yelling at Corado, she says, when she asked for their names and requested they show greater sensitivity to the other passengers, who were scared, crying and shivering from the cold. Corado also noticed that there were four police cars on scene, with at least seven other officers joining the arresting officer.
"I'm used to dealing with the police," Corado says, nearly in tears as she recounts the night's events. "But why put other people who are already vulnerable through this? It was freezing cold. Why do they have to traumatize the others? That's what really bothers me. I respect the law. I respect power. But don't abuse your power."
Corado says the arresting officer would not give her his name, though she attempted to take pictures of him and the other officers present. One of the other officers did give Corado a business card, listing him as Ronald L. Carroll Jr. of the MPD's 4th District. Corado says she was eventually advised that the driver was being arrested for driving with an expired license. The officers then told Corado to drive away with the remaining passengers or risk facing arrest.
Jason Terry, of the DC Trans Coalition (DCTC), says he's been talking to some police officers since last night's incident who have never heard of a charge of driving an overcrowded car.
"It's profiling," Terry insists. "There are some people who can get away with things, and some people who can't, and certainly, a trans woman of color is among the people who can't."
Further, Terry says the charge of driving with an expired license is a "61-B," meaning a paper arrest, which requires a citation, not jail.
Sgt. Matthew Mahl, the head of the GLLU, says he received a call Friday night from Corado, and had contacted the GLLU office to have an officer dispatched. Corado and the others had left the scene by the time that officer arrived, he says, but adds that the GLLU officer did speak with both the arresting officer and the driver before she was taken away.
"We give everyone 90 days of leeway for an expired license, in time for them to get a new one," says Mahl. "It is my understanding that the driver's license has been expired for more than a year, at which point it is considered driving without a permit."
Unlike an expired license, which merits a citation, driving without a permit requires an arrest, Mahl says.
Mahl declined to comment on the behavior of police at the scene, saying only that he encourages Corado or any of the other witnesses to file a complaint through MPD's Internal Affairs Office or the Office of Police Complaints if they believe officers acted improperly or unprofessionally.
Mahl confirms that an officer must have their name or badge number clearly displayed and must supply both their name and badge number if asked. As to whether the officers were wearing tape over their nameplates and badges and refused to identify themselves, as witnesses claim, Mahl says, "If that's true, that's just absolutely inappropriate."
The incident occurs just days after the MPD released its response to the recommendations of a Hate Crimes Assessment Task Force organized by the Anti-Defamation League. In the report, the task force made specific recommendations, among them the need for MPD to "build trust" with members of the transgender community.
In her response to the task force's recommendations, MPD Chief Cathy Lanier said, "Unfortunately, the report reinforces that some members of the transgender community have had – and apparently continue to have – very negative interactions with individual police officers. This is unacceptable. In order to identify and root out this behavior, we must implore the community to report complaints on individual officers to one of a number of options. Given their lack of trust in MPD, we can understand that they may not want to contact MPD's Internal Affairs Division. Therefore, we will ask the Office of Police Complaints (OPC), an independent civilian oversight board that hears and considers complaints of police misconduct, to partner with advocates in the transgender community in a campaign to ensure that individuals know there is another option. The OPC review carries significant weight in the law. In the past seven years, MPD disciplined officers in 97 percent of the cases for which OPC sustained misconduct."
Some of the other recommendations in the task force's report included reviewing the GLLU structure, personnel and resources; increasing awareness of the GLLU among officers within MPD; and improving training for officers on transgender-related issues.
Terry says that DCTC and other community groups were working on a formal response to the task force's report and will be releasing it soon.
UPDATE, Sunday, March 2, 11:57 a.m.:
The driver of the car, Kaprice Williams, told Metro Weekly in a Sunday-morning interview that she was "shocked" by her arrest and that she's never experienced such treatement from police during her 50 years in D.C.
"I gave them my ID, and they were just being rude," Williams says. "They kept asking me, 'Are you white?' I said, 'No, I'm black.'"
Williams says she was being interrogated by a younger African-American officer when a white female officer wearing a face mask and a piece of tape over her name plate came around the car, opened the door and pulled her out.
"My arm was grabbed, she twisted my arm, pulled me, pushed me up against the car and pulled my hands back," Williams says. "When Ruby tried to take photos, five officers rushed her, with their hands on their guns, yelling, 'Get back in the car!'"
Williams insists she was not read the Miranda warning when she was initially handcuffed.
"They took some time," she says of the officers. "They were huddled in a group together, and I just heard them talking amongst themselves, mumbling about 'these faggots.' I just thought, 'What can I do? These people have guns.' So I couldn't say anything."
Williams says she was transported to the MPD's 4th District substation and kept in a cell until 4:30 a.m., when she was released. She said police told her she had been charged with "no permit."
According to Ruby Corado, Casa Ruby hosted a community meeting Saturday with representatives from DCTC, Queer Undocumented Immigrant Project (QUIP DC), and other local community groups to discuss the incident.
"We want [MPD Chief] Cathy Lanier to make a statement against profiling LGBT people," says Corado, speaking on behalf of the groups at the meeting. "We want to get her involved so she can explain why her officers act this way."
[EDITOR'S NOTE, Monday, March 3, 5:43 p.m.: This story has been amended to add comment from Sgt. Matthew Mahl.]