Ed Bailey can't say for certain that Thunderpuss's monster '90s-era club jams were first played publicly at D.C.'s Velvet Nation. "I think that that's what happened, but I don't really remember — and I was the sober person," laughs Bailey, the promoter and producer for Velvet, the mega-popular Saturday night gay party at the former Southeast mega-club Nation.
Victor Calderone and the late Peter Rauhofer are among the DJs who performed at Velvet the most. The Velvet Top 5 DJs list also includes Chris Cox, who DJ'ed regularly as both a solo act and as Thunderpuss, his DJ/production duo with Barry Harris. All of Velvet's most popular DJs regularly debuted original songs and remixes at the party, which became one of the nation's most popular and a regular weekend getaway for gays from all over. "There were so many of those moments at Nation, with so many of those DJs, because music didn't leak out back then," Bailey says.
"Back then," of course, wasn't really all that long ago. "It's not like it feels like Nation was yesterday," Bailey says, "but I guess it feels like maybe it wasn't 15 years ago." But in fact, it was 15 years ago this month that Velvet launched at Nation, a few months after the nightclub opened in a former warehouse in the then-derelict Navy Yard neighborhood, now home to Nationals Park. That first Velvet featured Abel Aguilera, otherwise known as DJ Abel, the gay circuit's longest-lasting and most popular DJ, as well as stage performances by female club vocalists Vernessa Mitchell and Veronica.
A little over three years ago Town Danceboutique, run by the same team behind Velvet, including Bailey, hosted its first-ever Nation Reunion Party. The party featured music by Manny Lehman, the DJ who spun the most at Velvet and was billed as the party's resident DJ. "That was a remarkably successful event," Bailey says, about the first reunion. Next Saturday, March 15, Town will host its second reunion, in honor of the crystal anniversary. "Fifteen years seems like a good occasion to pay a little tribute to it," Bailey says. "Another event to celebrate the music and the memories."
Chris Cox will helm the music upstairs, while DJ Wess, who was the DJ in Velvet's small Blue Room, will spin downstairs. The evening will include performances by club singer SK8, known for the song "Just Another Night at Nation," as well as local dance troupe The Firm, an offshoot of Velvet's dance troupe X-Faction. Kidd Madonny will decorate Town with some of the decor he used at Velvet as part of the former production/performance duo RKM.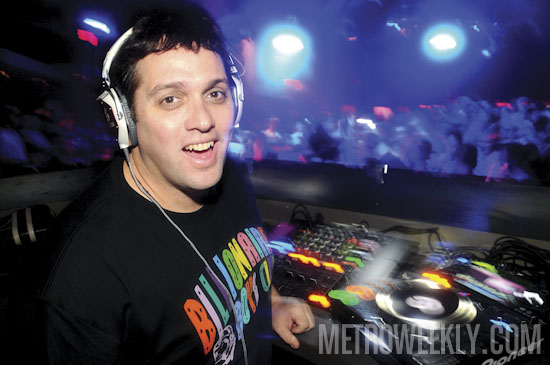 Also notable is the crew of Velvet veterans who now manage Town, including the club's general manager, bar manager and head doorman. And then there's John Niederhauser, who returned to the fold last year to become Town's head lighting director. Niederhauser will handle the lightshow upstairs just as he did at Velvet. He's also working with Bailey to revamp Town's lights, drawing some inspiration from, as well as paying small homage to, Nation's lights.
Bailey is the first to admit that a night at Town can never be like another night at Nation. "I'm very cautious about managing the expectations," he says. "We can't recreate Nation, we can't make Town into Nation. You can't pay tribute to a lightshow where you had 35-foot ceilings when you only have 14-foot ceilings. So we're going to do what we can."
The Nation Reunion is Saturday, March 15, at 10 p.m., at Town Danceboutique, 2009 8th NW. Cover is $8 before 11 p.m., or $12 after. Call 202-234-TOWN or visit towndc.com.