Earlier this month, I shared a post on my Facebook wall regarding Dmitry Kiselyov. The post was critical of the anti-Western, anti-LGBT Kiselyov, taking what appeared to be a family holiday in Amsterdam.
I found Kiselyov's Amsterdam outing of interest in that some have called for the Magnitsky Act to be applied to those Russian politicians behind the country's vague 2013 law banning "propaganda of nontraditional sexual relations," blocking their access to Western fun and funds. Since Kiselyov's visit, the Obama administration has actually turned similar screws on some Russian officials — though not Kiselyov, sadly — for the sake of Crimea.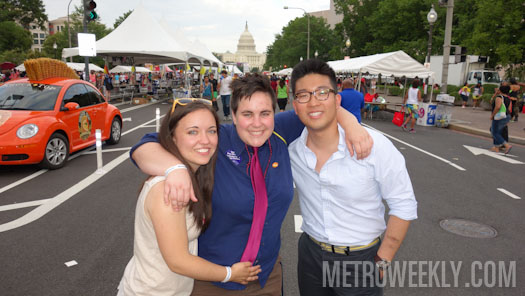 Capital Pride 2013 / File photo
Still, seeing an elite, Putin-backing mouthpiece enjoy the dirty West warms my heart, comforting me that they've already lost this global version of our own so-called "culture war."
While some of my Facebook friends took issue with making anything of the Kiselyov clan's Western European vacation, they also took issue with the original post's characterization of Amsterdam as "the world's gay capital."
I've heard the phrase applied to Amsterdam before, but I suppose I'd agree it's time to move on. Not that I don't love Amsterdam. I do! But the world's gay capital in 2014?
Amsterdam is one of my favorite cities for too many reasons to count in limited space. But after a visit, I appreciate returning to Washington. Not only is home where the heart is, it's gayer.
So, as I considered what some posted about Amsterdam, I wondered just which city might be the "world's gay capital."
Though my bias is obvious, I figured it's D.C. Not in a flashy, Sydney Mardi Gras sort of way, or with much Folsom Street flair. But there are arguments to be made.
What a "world's" anything needs is a sense of the global. From embassies to airports, Chinatown to the de facto Little Ethiopia, check.
In the institutional sense, there's the hard-to-miss Human Rights Campaign headquarters. Less visible are the D.C. offices of the National Gay and Lesbian Task Force, the National Center for Transgender Equality, Immigration Equality, The Council for Global Equality, the Center for Black Equity, the Mautner Project, and the National Gay & Lesbian Chamber of Commerce. Just to scratch the surface.
More grassroots, the Gertrude Stein Democratic Club holds its own. The Gay & Lesbian Activists Alliance of Washington, D.C., is one of the nation's — and the world's — longest-operating LGBT organizations. D.C. is home to LGBT people of every political stripe — think Goldwater to Gandhi. But we've also got a gay imam and any number of religious institutions celebrating the spiritual journeys of LGBT people. Our primary LGBT center, The DC Center, is joined by Casa Ruby, Us Helping Us, Khush DC, the Latino GLBT History Project and Asian Pacific Islander Queer Sisters. Again, that's just for starters. Want to play kickball in a gay league? We've got you covered.
What really makes D.C. the world's gay capital is that Center Global, a program of the aforementioned DC Center, has had to quickly find a way to support LGBT refugees seeking asylum here. Because they're coming.
I may not have thought much of Ronald Reagan's application of the "shining city" metaphor, but I see it now in D.C. Despite its faults, it is a beacon for LGBT people. If D.C. is once again a cold war capital, I'm proud to call it home. And to those arriving to make it even better, whether you're from Lubbock or Lagos, as you navigate your new home pay special attention to that voice on the Metro that cautions us to "Step back." Yep, she's family.
Will O'Bryan is Metro Weekly's managing editor. Contact him at wobryan@MetroWeekly.com or follow him on Twitter @wobryan.