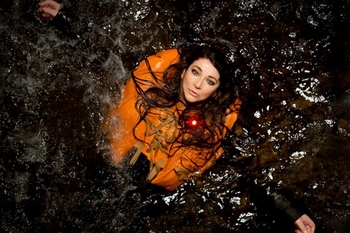 On Friday, March 21, 2014, British musical icon Kate Bush made a casual announcement on her website that caused shockwaves of disbelief and feverish anticipation within the music industry and her devoted fan-base: after a 35-year absence from touring, she will return to the stage this coming August for a series of shows entitled Before the Dawn at the London Eventim Apollo in Hammersmith. Apart from a couple of brief charity appearances, she hasn't performed live since she was 20 years old. For many years, the notion that Kate Bush would ever perform on stage again was a fond dream that nobody ever really could have expected would come to pass.
And now this. Tickets went on sale to the general public this past Friday, and the entire series of 22 shows — approximately 80,000 tickets — were snatched up in minutes. Twitter and Facebook were immediately ablaze with fans expressing dueling emotions — frustration and despair for those unable to snag a ticket, and almost unbearable elation for those fortunate enough to grab one. Strict measures have been adopted in an attempt to limit scalping, but that hasn't stopped tickets from showing up on third-party sites for exorbitant sums. The outpouring of excitement and the frenzied rush to score a ticket vividly illustrate the pent up demand to see Kate Bush live — a truly once-in-a-lifetime prospect for a music fan.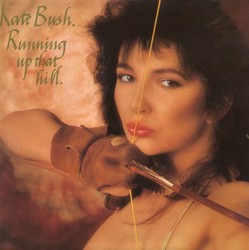 Folks who aren't all that familiar with Kate Bush expressed general bemusement at all the hysteria. They are no doubt wondering: why the fuss? Who the hell is Kate Bush anyway? She is a deeply beloved artist worldwide, particularly in Britain. While her fan-base in America has grown over the years, and she is widely regarded by critics and other musicians as one of the most pivotal and visionary artists of this generation, she has never broken through into the mainstream here like she has elsewhere. The casual American music fan generally unfamiliar with her work might know her lone Top 40 hit in the U.S. — "Running Up That Hill" peaked at #30 in 1985 — and perhaps her stunning duet with Peter Gabriel from his So album, "Don't Give Up." Some might be familiar with her classic "This Woman's Work," which was notably featured in the John Hughes film She's Having a Baby, and was covered with exquisite feeling and beauty by R&B artist Maxwell in 2002. Another possibility is "Love and Anger," a more rock-edged track from her 1989 album The Sensual World that became a substantial hit on college radio — but that's probably about it. Some background about her career might be helpful for those who are wondering why Kate Bush's return to the stage has generated such a whirlwind of giddiness, and is in fact music history about to be made.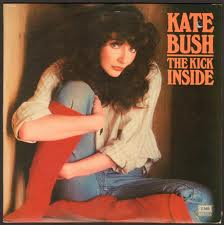 Kate Bush burst onto the music scene in the U.K. at a very young age. A prodigious pianist, vocalist and songwriter, Bush first shopped around a roughly-recorded demo tape of her own compositions at age 16. Initially refused by record labels, the tape landed in the hands of Pink Floyd guitarist David Gilmour, who was impressed enough to help Bush put together a more polished demo. Gilmour's nudge and support helped land her a deal with EMI Records. Her first album, The Kick Inside, was released in February 1978 when Bush was only 19. The album became a smash in Europe and Australia, while the unabashedly romantic lead single "Wuthering Heights" spent a month at #1 in the U.K. (American radio programmers, where sedate singer-songwriters, disco and classic rock-bands like Fleetwood Mac and the Eagles ruled the airwaves, just shrugged in bewilderment over the epic piano-ballad sung by a teenager with a child-like voice from somewhere above the clouds, and ignored it. Despite being a smash around most of the world, "Wuthering Heights" didn't even dent the U.S. Top 100, although it did capture the attention of rocker Pat Benatar who recorded it for her 1980 album Crimes of Passion). Bush firmly grabbed the reins of creative control for every aspect of her music and career from the very start, and has never let that grip falter for an instant.
Kate was a true original from day one. The inspiration for her songwriting could be anything, but she drew especially from literary and cinematic sources. She wasn't in the class of staid singer-songwriters so prevalent in the '70s, nor was she part of any other musical movement. From the very beginning of her career, she was a genre unto herself. Kate's sound on The Kick Inside is like absolutely nothing else that had ever been heard. It's a mixture of strongly theatrical pop, with Kate's piano at the core, but with influences as diverse as classical and progressive rock, all sung in a crystalline soprano. There was an innocence in those wide, guileless eyes both moving and endearing. She wasn't particularly commercial in the traditional sense, and at first some in the British press considered her something of a novelty, destined to be a one-hit wonder. Kate Bush quickly proved doubters wrong as her second single, another piano ballad she wrote when she was barely an adolescent called "The Man with the Child in His Eyes," became another Top 10 hit. 
To capitalize on her mounting popularity, Kate's second album Lionheart was recorded quickly, and it appeared only 9 months after The Kick Inside. It spawned two more hits — "Hammer Horror" and "Wow." In the spring of 1979, not long after the release of Lionheart, Kate Bush launched her one and only tour. At age 20, she brought her heavily theatrical show to the U.K. and parts of mainland Europe. The widely-acclaimed outing lasted only about 5 ½ weeks, and that was it. Until this past Friday (well, Wednesday if you want to count the pre-sale only available to members of her mailing list), her brief tour in support of Lionheart was the last time her fans were able to purchase tickets to see Kate Bush in concert.
As the years passed, Bush's stature in the music industry has only increased. Her studio albums became increasingly idiosyncratic as she grew more confident as a songwriter and vocalist. The stunning Never for Ever was released in September, 1980, and marked a major leap forward artistically as she began working more with synthesizers and even more complex and powerful studio arrangements. Never for Ever became the first ever album by a female artist to debut at #1 in the U.K., and it spawned three classic singles: "Army Dreamers," "Breathing" and "Babooshka." Once again, she was largely a European phenomenon (although she also did very well in Australia, and was starting to pick up some commercial momentum in Japan and Canada).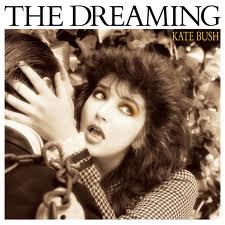 Bush became increasingly perfectionist and expansive in her studio work. Her fourth album, The Dreaming, was released in September 1982. It's at once utterly brilliant and damnably difficult to penetrate. Kate herself once wryly called it her "I've gone mad" album, and with good reason. The Dreaming is like the sonic version of a book of magical fables with moments of wonder, terror, and astonishing beauty. The songs are dark and evocative, with complex arrangements that have little to do with standard pop music. Perhaps the closest description would be a hybrid of progressive rock and new wave. For The Dreaming, Kate paired piano and synthesizers with heavy, almost tribal rhythms. The album features intricate, multi-layered vocals in which Bush sometimes goes completely unhinged. She occasionally reverts to throat-shredding screams and howls, like she's tapping a primal reserve from deep within her psyche. Bush inhabits these songs completely. You can hear the desperation, the innate need to survive as she screams out repeatedly "But I love life!!" in the epic war drama "Pull out the Pin." To state it mildly, The Dreaming is not an album designed to sell tons of records.
The stark and brilliant "Sat in Your Lap" (released over a year before the rest of the album) managed to reach #11 in the U.K., but subsequent singles like the wonderfully demented title track (inspired by Australian aborigines), "There Goes a Tenner" and "Suspended in Gaffa" all missed the Top 40. As Bush's artistic drive became more obsessively theatrical and unconventional, her commercial fortunes waned.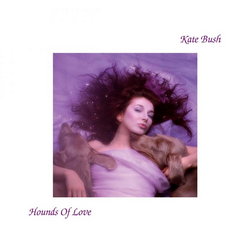 That changed in a hurry with her next album. After The Dreaming, Bush took the time to build her own recording studio, and then proceeded to meticulously record what would become her masterpiece: Hounds of Love. Released in September, 1985, the album was preceded by its lead single, the lush, epic masterpiece "Running Up That Hill." It became a massive hit in the U.K. and finally gave Bush her one and only Top 40 hit in America. Other singles like the title-song, "Cloudbusting" and "The Big Sky" also performed well. Hounds of Love is a culmination of everything that makes Kate Bush so vital — the tense drama and theatricality, her spellbinding voice which is capable of an incredible range of emotion and sound, the inventive vocal arrangements, the astonishing depth and beauty of her lyrics, and the combination of a disparate array of musical and thematic influences. By no means did she abandon the experimentation that was the hallmark of The Dreaming, but on Hounds of Love she reins it in and marries it with more accessible material. Hounds of Love is routinely cited by music critics as one of the great albums of the decade, and indeed it is. It remains arguably her greatest single achievement as a recording artist.
After Hounds of Love cemented her already impressive stature, Kate Bush continued to record, but her albums appeared with much slower frequency. In October 1989, she released her sixth album, the acclaimed The Sensual World. It features the singles "Love and Anger" and the utterly sublime "This Woman's Work." Four years later, in November 1993, The Red Shoes appeared, featuring the singles "Rubberband Girl," "And So is Love" and "Eat the Music." She released an elaborate set of videos to accompany the singles, but still no live performances.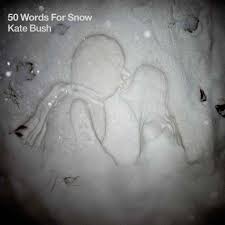 Following The Red Shoes, Kate became largely reclusive as she raised her son Bertie. At the start of each year fans wondered: will Kate Bush finally release a new album? After a long 12-year wait, she emerged in 2005 with the marvelous Aerial, led by the single "King of the Mountain." Her next album took half that long — in May, 2011 she released Director's Cut, a collection of re-workings of older songs. Only 6 months later, in November 2011, she followed with a new album of original material, 50 Words for Snow, a collection of long and delicate pieces all centered on snow as a backdrop.
Over the course of her career, Kate Bush has generally been exceptionally private, granting few interviews. Her refusal to play the standard media and music industry games, her iron-willed insistence on staying true to her artistic vision, her absence from live performance — and, most importantly, the vital importance and stunning quality of her recorded work — have all contributed to an almost mythic aura and mystique surrounding her. Her fans have played and dissected her music over and over for decades, cherishing every song — the vast majority of which have never been performed live. It is impossible to understate Kate's influence. It's become almost obligatory for any female artist who isn't mainstream, who writes her own material and has anything to do with a piano to be compared to Kate Bush. Although she has built a substantial fan-base in America and worldwide over the years, she remains first and foremost an iconic figure in Britain. Thus, with the 2012 Summer Olympics in London and a cavalcade of famous British artists tapped to perform for the opening and closing ceremonies, rumors circulated that Kate Bush would — possibly, maybe, hopefully — perform. In the end she did not (she instead recorded a new version of "Running Up That Hill" which was featured prominently during the closing ceremonies) but even the hint that Kate Bush might perform one song was enough to send ripples of excitement and speculation through the media and her fan-base. Nobody was really shocked when it didn't happen, even for the London Olympics.
Fast-forward to the present. With not so much as a hint of prior warning, Kate Bush announces her first series of full shows since 1979, when she was 20 years old and still singing in that sprightly soprano. The idea of Kate Bush playing a series of shows was something that only the most fervent optimist (or dreamer) could ever think would happen. Bush has never said she'd never perform again, but as the years have gone by, hope waned. The very idea seemed impossible, and yet so very enticing… to imagine how she might translate songs like "Sat in Your Lap," "Jig of Life" or "Breathing" on stage. To imagine her delicate voice chiming the gentle opening lines of "This Woman's Work," and to hear it build in power as the song reaches its intensely emotional climax. It's been such a foregone conclusion that she'd never play live that these thoughts have never been in the serious vocabulary of discussing her music — it's the musical equivalent of saying one day a unicorn might trot over the wooded hill behind your house. Possible, perhaps, but more in the realm of fantasy than reality.
Thus the enormity of the reaction when she announced the upcoming live dates, and the alternating expressions of euphoria and crushing disappointment that flooded social media when tickets to the shows went on sale this past Friday and disappeared at the snap of a finger. Fans are keenly aware that the chance to see her perform live may never come around again. As Bush has been completely unpredictable her entire career, it's impossible to imagine what the show might look like, although the promotional photo — with Kate surrounded by dark waters, a life-vest with a tiny red beacon around her neck  — is an image from "And Dream of Sheep" come to life, leaving fans with the enticing prospect that The Ninth Wave (the stunning song-cycle that makes up the second half of the Hounds of Love album), might be featured prominently. The name Before the Dawn hints at that as well. Beyond that, nobody knows. One can probably assume that "Running Up That Hill" will be part of the set, perhaps "This Woman's Work," and she couldn't possibly go without doing "Wuthering Heights" — could she? Her voice has changed over the years, from album to album, as she has aged. The ethereal soprano of The Kick Inside and "Wuthering Heights," recorded when Bush was a teenager, has slowly morphed into a huskier, deeper tone that is still capable of astonishing beauty (as she proved beyond any doubt on 50 Words for Snow). But can she still belt out "Heathcliff… it's me, Cathy, Come home. I'm so cold, let me in your window"? Perhaps we will soon find out.
Now fans have a scant five months before the shows start to speculate and imagine what they might entail. Surely she'll at least put out a live album/DVD set for fans unable to attend the shows. And who knows… maybe once she has the taste of live performing, she'll do it again; with Kate Bush you just never know.
It's still a bit surreal that it's happening at all.