It's not often that New York City, a global center of fashion, culture, knowledge, politics, economics and commerce, would compare unfavorably to Detroit. But if you want to find one area in which the Big Apple can't match Michigan's largest city, look no further than Detroit's nickname: Motor City. Cars are the lifeblood of Detroit, whereas New York is little more than a skyscraper-lined traffic jam, filled with angry taxi drivers and overflowing parking garages. This could explain, then, the relatively tepid New York Auto Show, which pales in comparison to its Detroit compatriot. It offered few surprises and even fewer standout autos, but we've hand-picked six that did manage to rise above the humdrum banality of most of the manufacturers present — for better or worse.
Alfa Romeo 4C Launch Edition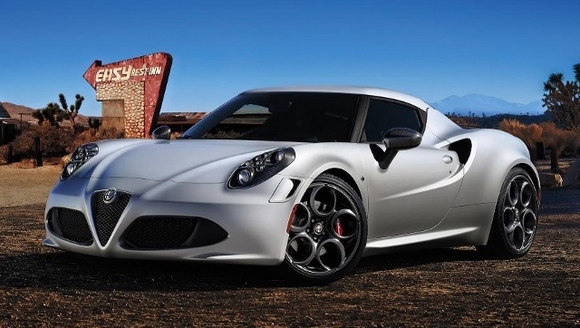 We start with something guaranteed to get any auto nut's blood pumping: Alfa Romeo is officially back on U.S. soil. Yes, the Italian brand, revered by car-lovers the world over, will make its grand — though consistently delayed — re-entry to the American market this summer, and its doing so with one hell of a car. The 4C, Alfa's stunning, bespoke coupe, will be the marque's first model offered for sale since the 164 sedan left these shores in 1995 (a handful of its stunning, limited-run 8C sports cars in the late '00s notwithstanding).
The nimble coupe will be offered to the first 500 customers in a Launch Edition (European spec shown above) guise, which sees it wearing one of three colors: Alfa Red, Rosso Competizione or Madreperla White. Outside, new, clear bi-xenon headlights replace the cheap-looking plastic covers of European models, while a carbon-fiber spoiler and mirror caps complement all-new forged wheels. Underneath, there's firmer suspension, stiffer sway bars, retuned shock bars that should offer better performance, and a new racing exhaust to better help the 4C's 240hp, 4-cylinder engine sing.
The tiny, Italian pocket rocket will reach these shores in June. Better get that checkbook ready.
BMW X4
BMW is something of a marvel. The German marque seems perfectly content plundering every niche possible with its vehicle range. It takes a standard sedan and turns it into a convertible, a coupe, a hatchback GT model and an SUV. What's more, BMW makes these niche models profitable. It does, however, beg the question of when enough is enough — and BMW may finally have answered that with the introduction of the X4.
Styled after the X6, itself a niche vehicle, it takes the standard BMW X3 SUV and cuts the back off, turning the X4 into a coupe/hatchback hybrid on stilts. Ignoring that it'll likely be impeccable to drive and offer BMW's excellent Xdrive AWD system and a nicely appointed interior, let's examine the need for this vehicle to exist in the first place. The X4 starts at $46,000. If you want 6-cylinders powering it, that number will be closer to $50,000. The X3, which is a perfectly fine SUV, starts at $40,000. Want more style in a crossover-esque body? The 3 Series Gran Turismo is available. Want more practicality? The 3 Series Sports Wagon offers better versatility. Like a hatch but don't want to sacrifice looks? Get the 4 Series Gran Coupe.
With so many models offering a variation of the X3 SUV, what, exactly, is the point of the X4's existence?
Dodge Charger

When Dodge reintroduced the Charger in 2006, it brought muscle-car good looks to the full-size sedan segment. Those looks, though, have somewhat faded over the years, which is why Dodge looked at both its past and present for the 2015 redesign. Taking inspiration from the classic 1969 Charger and borrowing liberally from its handsome new Dart, the latest Charger offers a modern slant on old-school good looks. It's a mean, rippling beast.
LED head- and tail-lamps; a blacked-out, crosshair grille; and muscular, bulging bodywork give the Charger a stance few cars in the segment can match. Inside, the Dart's fresh interior has been upgraded to suit the Charger's price point, with an 8.4-inch screen in the center stack and a 7-inch display behind the wheel, more premium materials and a steering wheel lifted straight from the Jeep Grand Cherokee. Under the hood, Chrysler's venerable 3.6-liter V6 is offered, but you'd be remiss not to consider the 5.7-liter Hemi V8, which should offer a 370-hp growl worthy of the Charger's new face.
It's a bold reworking of a car that already stood out from the full-size pack. Alongside the Durango, Dart and a refreshed Challenger, Dodge has one of the most masculine, attractive fleets on the road.
Nissan Versa

It's hard to tell what Nissan was thinking with the 2015 Versa Sedan. For a car that has always put space and cost ahead of its looks, it would have been foolish to expect a drastic redesign to better aid the Versa's exterior appeal. It has been redesigned, but instead of making the Versa attractive, Nissan have transformed an insipid car into one that's just plain ugly.
A bulbous, awkward new front end borrows the grille from its Altima brother. The rear has been reworked to feature a lip spoiler. Neither is welcome, but its the sporty pretensions of the latter which draws the most confusion in a car powered by a 109-hp, 1.6-liter engine. Still, for under $12,000, perhaps it's wrong of us to expect a little style for little money.
Toyota Camry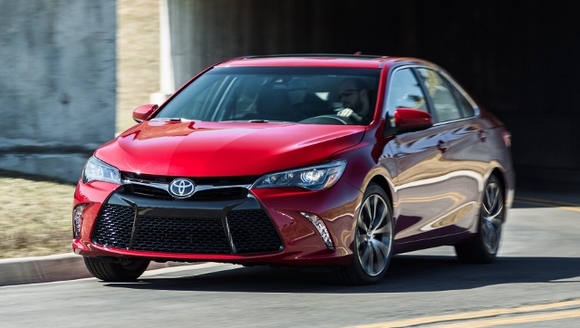 It's hard to tell what Toyota was thinking with the 2015 Camry. For a car that has always put reliability and comfort ahead of its looks, it would have been foolish to expect a dra- wait. What?
Yes, that dramatic, almost sporty, sedan is in fact a Toyota Camry. America's best-selling sedan, famed for its bland driving characteristics, bland interiors and bland styling, has finally been given something of a shake-up. Coasting for years on rock-solid reliability and dependable usability, Toyota's sales aren't quite as strong as they used to be, which has clearly inspired the company to make this welcome change.
With a sharply styled front end, an attractive rear, stiffened chassis, retuned suspension, tweaks to the power steering and better braking, the Camry should drive as well as it now looks. It's not going to set pulses racing, but anything is better than its predecessor. Inside, there's a new interior, with better sound insulation, a revised center stack, redesigned instrument cluster and even wireless charging for devices that support it. A new, sportier trim, XSE, adds specially tuned shocks, springs, bushings and 18-inch wheels to further improve the new model's driving characteristics.
Touché, Toyota. You may finally deserve to top those sales charts.
Land Rover Discovery Vision Concept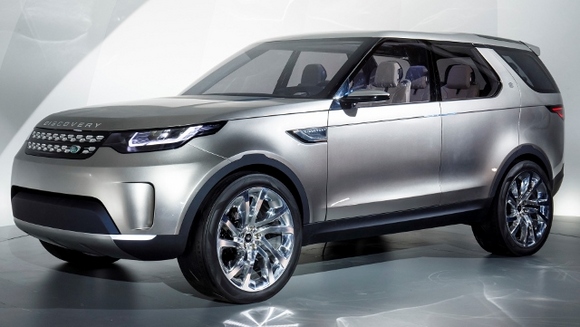 This was it, the highlight of the New York Auto Show. Land Rover swooped in and stole everyone's thunder with its Discovery Vision Concept. With a glitzy, confident launch atop the USS Intrepid, it offers two things in one: a strong hint at the design direction of the Land Rover brand and the return of the Discovery nameplate to the United States.
The Land Rover Discovery entered the U.S. market in 1994, a mid-size SUV offering seven seats and Land Rover's go-anywhere versatility. When it was redesigned in 2004, the Discover nameplate was dropped in North America, becoming the LR3 and, later, the LR4 for the 2009 refresh. With Land Rover's Range Rover badge becoming a family of vehicles, its lagging LR2 — known as the Freelander outside North America — and LR4 needed their own design direction. Thus, the Discovery brand. It is intended to become its own family of vehicles, much like Range Rover has become three luxury-focused models, here focusing on leisure. Land Rover intends to "redefine its territory in the leisure category".
The seven-seat Discovery Vision Concept aims to exemplify future Discovery vehicles, which will borrow heavily from its design language. It's a working concept, too, which showcases some impressive technologies. Land Rover, whose pioneering Terrain Response off-road system has been liberally copied by Jeep (Selec-Terrain) and Ford (Terrain Management) for their SUVs, debuted several new ideas designed to make driving and off-roading much easier. Smart Glass can be used to display information on the windscreen, sunroof and side windows, but is otherwise transparent. Transparent Bonnet uses cameras and Smart Glass to let drivers "see" through the hood of the car, overlaying an image of the terrain in front onto the windscreen — which should help visibility when negotiating obstacles or parking. Laser Terrain Scanning does exactly what it says on the tin, letting the car better anticipate the terrain ahead and notifying the driver of upcoming obstacles.
On top of all that, the Discovery Vision Concept is itself a very handsome car. There's no word when the production Discovery will hit the road, but the smaller Discovery Sport model is expected to launch in 2015, replacing the LR2 in North America. Land Rover may have "won" the New York Auto Show, but it's consumers who will be taking home the glory if the production models match the style of the Vision Concept.