The 25th Annual Putnam County Spelling Bee is as American as apple pie — especially as portrayed in the new production at Ford's Theatre. The musical about contestants and characters at a fictional regional spelling bee is also as American as its producing local theater company, based in the Civil War-era historical venue. Though director Peter Flynn could just as easily have created this for the Walt Disney Company. It's all wholesome, unobjectionable, feel-good fun, with light humor and even lighter drama, hardly any edge and a bit too much charm. Ultimately, if Flynn hadn't done such a sharp job casting a talented crew of local singing actors, there would be little to commend the whole shebang.
Particulary so, given the frequency with which composer/lyricist William Finn and book writer Rachel Sheinkin's musical is staged. You wouldn't know the show registered as barely a blip on Broadway nearly a decade ago, when the original production ran for less than two years. Since then, Spelling Bee has become one of the most produced stage shows in the country, with school theater departments and local theater companies regularly tripping over themselves to offer competing productions in the same market.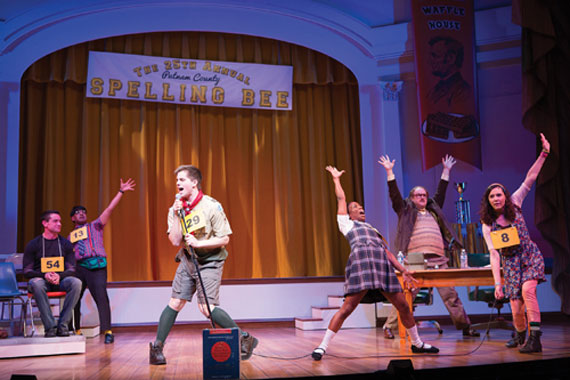 Spelling Bee
(Photo by Scott Suchman)
It's easy enough to understand the show's mass appeal, which is not principally the spelling competition itself or even its quirky, colorful cast of characters. No, the gimmick is the ingenious idea of recruiting — for every show — four theater patrons to sit for a spell as contestants at the bee. The result is a more engaging show, as each regular-Joe contestant comes in for light, impromptu-style ribbing every time they approach the mike to spell a word. The ribbing comes mostly courtesy of Matthew A. Anderson, playing the sad-sack Vice Principal at the bee's hosting school; and Rachel Zampelli as the competition's stage-mom emcee. Zampelli gives a knockout performance as the sassy but slightly sweet emcee, whose everyday ordinariness transforms into a show-stopping superstar every time Zampelli belts another of her character's big numbers.
The six scripted contestants in the show's competition are a multi-culti mix of American word nerds, filled with quirks and eccentricities far beyond their uniting affinity for orthography. Flynn and veteran Ford's costume designer Wade Laboissonneire hired and attired six adult actors, managing to make them look almost like the teenagers they portray, yet not enough to disguise the sense that awkward adolescents and angsty adults are cut from the same cloth. Among these adult children is a jock-in-development (played by Vincent Kempski) who loses his mojo, and the competition, after the public humiliation of being exposed with tented pants. Naturally, I'm referring to "My Unfortunate Erection" — though Ford's dumps that original title to his number in favor of "Chip's Lament," and opts for sanitized alternate lyrics too. This dulling of edge is a serious strike against Ford's production, making it safe for Middle America's legion of visiting tourists.
But Kevin McAllister is yet one more reason this cast makes Ford's version worth seeing. The local actor was the secret weapon in Ford's February musical production, Violet, but even those who saw Violet will be again awed by McAllister, an impressively un-showy, power-piped vocalist. The actor takes on two roles here: a minor part as one of the gay stage-dads, which he performs during the rare offstage moments of his primary character, the bee's counselor, a thuggish ex-con. The range he displays here is on a level that is rare — even unmatched — around town. McAllister's acting chops are so fine-tuned to character that he pulls off the feat of convincingly playing two diametrical characters here. Now that's a champion.
KEEGAN THEATRE'S CURRENT PRODUCTION OF HAIR also features an acting champion — specifically the entire ensemble cast of 20-something actors. Surely, many of the 22 singing actors just starting their careers here will become champions — and stars — in their own right, but here they're essentially playing older-generation variations of themselves. Where they've succeeded as an ensemble, guided by directors Mark Rhea and Susan Rhea, is in the natural ease and rapport they convey even in the subtlest of gestures, to say nothing of their rich harmonies in song. They're as unified as the show's Vietnam War pothead protesters, and they wholly convince you that this show dating to 1968 still has legs and relevancy today — and not just because of the incredibly pro-pot sentiments conveyed in James Rado and Gerome Ragni's story and lyrics. The show's themes critiquing faraway wars and exploring teenage angst and listlessness are still common today.
But the best argument for Hair in 2014 is the fact that Galt MacDermot's rock score still moves you. No matter how many times you've heard the song or seen it staged, "Let the Sunshine In" still surprises you with its emotional complexity and power. Musically, it's a force that dawns slowly until it becomes a rallying anthem for the lost. And the whole tribe sings in tear-inducing unison.
The 25th Annual Putnam County Spelling Bee (



1/2) runs to May 17 at Ford's Theatre. Tickets are $18 to $52. Call 800-982-2787 or visit fordstheatre.org. Hair (





) runs to April 27 at Keegan Theatre. Tickets are $37 to $42. Call 703-892-0202 or visit keegantheatre.org.