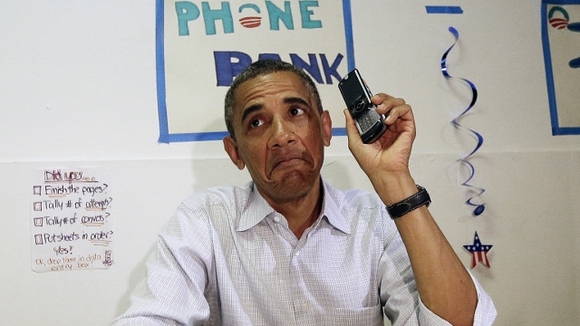 BlackBerry has been on a steep, slippery slope for the past few years. The struggling phonemaker, formerly known as Research In Motion, has fallen from grace as the smartphone of choice for business professionials, politicians and texting youth. In a world of iPhones, Androids and Angry Birds, BlackBerry's core tenants of physical keyboards, secure email and robust handsets haven't been enough to hold onto its customers or its profits.
CEO John Chen is determined to reverse the company's current misery. He told reporters in December he intended to make BlackBerry profitable by 2016, stating "step one [is] to have the company financially out of harm's way." That may be tougher than it seems, given his company's fiscal Q4 earnings beat expectations but still landed at a net loss of $42 million on $976 million in revenue. BlackBerry's cash reserves have fallen from $3.2 billion to $2.7 billion since Q3, while it sold just 1.3 million smartphones over the quarter. Nokia, which runs third-place OS Windows Phone, sold 8.2 million Lumia smartphones in the last three months of 2013.
Another worry comes from the collapse in sales of BlackBerry's tentpole devices, its Bold and Curve phones. The now ancient — in technology terms — devices run BlackBerry's old BB7 operating system, but still manage to outsell BlackBerry's newer, touchscreen BB10 devices. In Q3 of 2013, 1 million BB10 devices were sold, but consumers snapped up 5 milion Bolds and Curves. Sadly, that's no longer the case — its last quarter saw another million BB10 devices sold, but just over 2 million of its keyboard-toting BB7 devices made it into customer's hands.
Chen is aware of the problem. He told Bloomberg he intends to wean BlackBerry off of depending purely on device sales in order to be profitable. "I don't have a plan to get rid of handsets, I have a plan to not be dependent on handsets," he said at Bloomberg's headquarters. "All I need to do is replace the handset revenue, and this company will be very different."
How does Chen intend to accomplish this? By focusing on the company's QNX operating system and its BBM instant-messaging service. BlackBerry purchased QNX in 2010 and, after a failed attempt to use it on tablet devices with the BlackBerry Playbook, it found a lucrative revenue stream licensing it out to car manufacturers and industrial settings for use on computers and devices. Chen wants to remove the lack of interoperability between devices by utilizing QNX. "This is where the industry is going. It's all about device interaction. This is why it's so important to be agnostic." It's already working, with over half of BlackBerry's revenue streams now coming from services rather than devices.
This doesn't necessarily mean an end to BlackBerry device sales, however. Chen stated that sales and manufacturing would continue so long as BlackBerry maintained 10 million units sold per year. A new manufacturing deal to reduce costs on its BB7 devices should help them be more profitable, despite sliding sales, but BB10 — BlackBerry's newest operating system, intended to rescue it from losing further market share — is failing to ignite with users. Of course, it doesn't help that the company has just broken ties with T-Mobile, which angered the Canadian company by ecouraging customers to trade in BlackBerry handsets for a newer device. BlackBerry can't afford to have any less retail avenues for its devices.
Of course, what Chen failed to divulge is the impact this could have on one very important BlackBerry user — President Obama. The President has stuck with his trusty BlackBerry despite repeated attempts to convince him to switch to a newer device. "I'm still clinging to my BlackBerry," then President-elect Obama told CNBC in 2009. "They're going to pry it out of my hands." Should BlackBerry stop making devices, the Wall Street Journal reports that the White House has been testing Android handsets from Samsung and LG. Samsung stated "We have seen strong interest from the government sector and are working closely with various agencies to deploy pilot programs." The White House declined to comment on specifics, only saying that "the Executive Office of the President isn't participating in any pilot programs affecting their hand-held devices." The WSJ's source stated that Apple's iPhone is not in consideration, despite the President using an iPad for reading.
Should the President switch from BlackBerry to Android, it'll be another metaphorical nail in a coffin already dangerously close to being sealed for BlackBerry's handset business. Whether the company itself can survive without devices remains to be seen.
Image Credit: AP