"That's got more swing than a hooker with a broken heel and a brick in her handbag."
In addition to a steady flow of swinging deep house tunes, Boy George's Club Culture podcast also features colorful commentary between tracks as only the '80s-era gay pop star would deliver. He made the above comment, for example, on his podcast's ninth episode, posted in December, in response to the track "My Bassline Friend" by Simone Vitullo & Do Santos.
Yes, Boy George is a house music DJ these days — a very fine one. But he's also still making pop music. Just last week he released This Is What I Do,his first original solo album in 18 years. He's even preparing to record new music with Culture Club, the British band that made him a household name and staple on MTV in its early influential days. It was 30 years ago this year that Culture Club won as Best New Artist at the Grammys. "Thanks America," Boy George said in accepting the award. "You've got style, you've got taste, and you know a good drag queen when you see one." Mind you, this was long before drag queens became anything close to mainstream — nearly a whole decade before RuPaul emerged on the scene.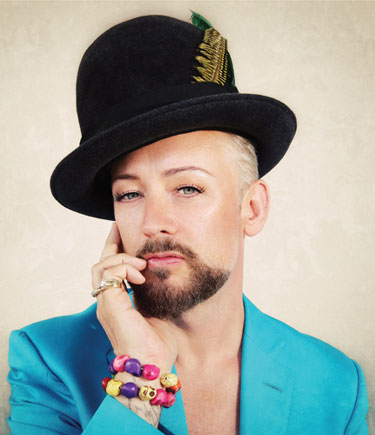 Boy George
The man born almost 53 years ago as George Alan O'Dowd, one of six in an Irish family living in England, isn't nearly as androgynous or even as flamboyant as he was thirty years ago. He's far more grounded, both in voice and in deed. After several well-publicized bouts with drug addictions over the decades, Boy George got sober and became a practicing Buddhist, and he credits the philosophy with helping keep him on a good path. And that good path includes a long-overdue return to the United States as a singer. In a few weeks he'll front a nine-piece band in concert at the 9:30 Club. Expect it be a swinging good time — with or without hookers, heels or handbags.
METRO WEEKLY: It's been a while since you've toured the states. When was the last time exactly?
BOY GEORGE: Uh, yeah. It's certainly been a long, long time. I think the last time I really played live in America was with Culture Club, which would have been about 14 or 15 years ago.
MW: People will be getting a different experience from the last time.
BOY GEORGE: [Laughs.] Oh, yeah, much better. I mean this is a totally different thing. It's a different time in my life. Just so different. It's going to be exciting for me. I'm bringing something that I'm really proud of. We did a few dates last year in the U.K. We're kind of starting with a tour of England, and then we go to Europe, and then we go to America. By the time we get to America we should be firing on all cylinders. It's been a difficult thing to get the whole band there. Because it's a big band, a nine-piece band, with three brass players. Everybody in the band is kind of a friend, and it's a really nice unit.
MW: This is a tour in support of your new album. How much does that factor into the concert?
BOY GEORGE: How it worked in the U.K. last year — the album came out a month before we went on tour, and people seemed to be very much engaged with the record. People were singing along to the new songs. I'm expecting that this tour will be attracting pretty hardcore fans. It's not a massive tour. It's not a stadium tour. It's quite intimate. I think it's going to be sort-of ardent followers. And I'm hoping that they'll have done some of their homework with the music. [Laughs.] But I think for me, it's been a long time since I've put out a record, so the reaction in the U.K. was very positive. I think people have waited so long for a new record, and they've heard the old stuff so much. It's not exactly a novelty to hear the stuff from the past. I mean we kind of factor some of that in. Obviously when you do a live show, whoever you are, you want to give people a bit of familiar stuff. Maybe some things they've never heard, maybe some interesting to make the show interesting for yourself as well. You have to strike a pretty fine balance. But I've been doing this for a while so I think I'll be able to pull it off. [Laughs.]
MW: Well, in listening to the new album one thing that really struck me is that you reference God at several points.
BOY GEORGE: Well, I always have I think. He/she has always been there somewhere.
MW: So religion still plays a big role in your life? How do you identify now in terms of religion?
BOY GEORGE: Well, I don't think I do identify with religion as such. I've always been fascinated by the kind of theater and drama of — you say religion, I think just faith and spirituality. Be it sort-of exotic, Asian religions like Krishna Consciousness or Buddhism. I think for a writer it's a very fascinating subject, because even if you reject it, it still plays a huge role in our lives. Even if you're an atheist — which I'm not — it's still everywhere you go. And there's so much conflict in the world based around people's ideas of faith. Conflicts about sexuality, conflicts about everything. So it's there. It's omnipresent. It's everywhere in our lives. And I think also for a gay man, it's a big issue. It's a big subject. How it reflects on our sexuality, the way that people kind of make judgments based on whatever they may believe, or how they've interpreted their doctrine. So it's something that you can't really shy away from. And I suppose, rather naively, I looked for the good in it. [Laughs.] In the same way that, you know, I've always sung reggae music, and people think of reggae music as being very homophobic.
I suppose I'm one of those people who likes to get in the middle of things. I think that's another way of understanding them. In a funny sort of way I'm drawn to stuff that opposes me. That's just a Gemini thing I think. The stuff that tries to push me away, whether it's religion, boys — I think it's that duality/twin sort-of madness. I don't know, I'm kind of interested in animosity. I think it's a writer thing as well. You think, well, what is it about this issue? It's always people — it always comes down to individual people's ideas about what's right and wrong. It's a fascinating minefield of a subject for a writer, which is primarily what I see myself as, really.