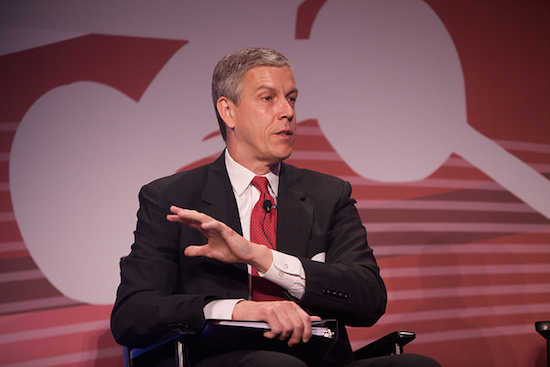 Transgender students are protected from discrimination under the same federal law that prohibits sex discrimination, the Department of Education announced Tuesday.
According to guidance issued by the Education Department's Office for Civil Rights, Title IX of the Education Amendments of 1972 "extends to claims of discrimination based on gender identity or failure to conform to stereotypical notions of masculinity or femininity." Moreover, the Office for Civil Rights states that it will investigate complaints of discrimination on the basis of gender identity. 
"Our federal civil rights laws demand that all students – women and men; gay and straight; transgender or not; citizens and foreign students – be allowed to learn and participate in all parts of college life without sexual assault and harassment limiting their opportunities," said Catherine E. Lhamon, assistant secretary for civil rights, in a statement. "The Office for Civil Rights stands ready to enforce this core principle to ensure all students' safety in schools."
Title IX prohibits under federal civil rights law discrimination on the basis of sex in federally funded education programs and activities, thus forcing all public and private elementary and secondary schools, school districts, colleges and universities receiving any federal financial assistance to comply with Title IX. Today's explicit inclusion of protections for transgender students comes as part of broader guidance issued by the Obama administration to address sexual harassment in the nation's educational institutions. 
"This announcement is a breakthrough for transgender students, who too often face hostility at school and refusal by school officials to accept them for who they truly are," said Harper Jean Tobin, policy director for the National Center for Transgender Equality, in a statement. "It is now clearer than ever that schools nationwide are responsible for ensuring that transgender students are respected and safe, and students can seek protection from the Department of Education and the courts if schools fail to do so." 
According to advocates, the policy guidance on transgender students issued today is not confined solely to cases of physical or sexual violence, but extends to all cases of discrimination. As such, several LGBT-rights organizations are calling on the Department of Education to issue detailed guidance clarifying the rights of transgender students.
"This guidance is crystal clear and leaves no room for uncertainty on the part of schools regarding their legal obligation to protect transgender students from discrimination," said Ian Thompson, legislative representative for the American Civil Liberties Union, in a statement. "The Office for Civil Rights must now take the next step and issue comprehensive guidance on Title IX and transgender students." 
Today's guidance builds on a growing number of federal court and government decisions protecting transgender Americans under existing laws prohibiting sex discrimination. According to Tobin, the Education Department's statement that gender identity equals sex for purposes of federal law mirrors decisions made by the Equal Employment Opportunity Commission, the Department of Housing and Human Development and the Department of Health and Human Services. "There is no basis for limiting this principle to any specific factual context or any indication that [the Education Department] is trying to do that there," said Tobin. "Rolling this into the sexual violence guidance is just a matter of timing."
In a settlement released last July, the Education and Justice departments sided with a transgender student who faced discrimination in middle school in determining school districts cannot discriminate against students on the basis of gender identity. "All students, including transgender students and students who do not conform to sex stereotypes, are protected from sex-based discrimination under Title IX and Title IV," department officials wrote in that settlement.
According to a U.S. Department of Education official, today's guidance is consistent with the statements of other federal agencies, as well as federal courts' interpretation of statutes prohibiting sex discrimination. Moreover, the official said clarification that Title IX protects all students, including those who are transgender, came in response to requests for such clarification from the public and members of Congress.
[Photo: Education Secretary Arne Duncan. Credit: Department of Education.]
Department of Education Questions and Answers on Title IX and Sexual Violence