Equality Maryland PAC, the political action committee for the Free State's most prominent LGBT-rights group, announced on Monday it was endorsing state Sen. Brian Frosh (D-Montgomery Co.) in the race to succeed Attorney General Doug Gansler, an LGBT ally who is pursuing a bid for governor.
Frosh, a longtime supporter of LGBT rights, chairs the Senate Judicial Proceedings Committee, which oversaw deliberations regarding both the marriage-equality bill during the 2011 and 2012 sessions and the recently passed bill to prohibit discrimination in employment, housing, credit and public accommodations based on gender identity or expression.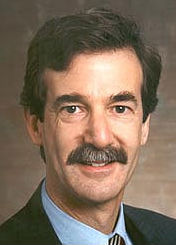 Maryland Sen. Brian Frosh
"Brian Frosh has been a firm ally and leader on LGBT issues in the General Assembly," Carrie Evans, the executive director of Equality Maryland, said in a statement announcing the endorsement. "He has the maturity, experience and commitment to be an effective advocate for the LGBT communities of Maryland as our next Attorney General."
Equality Maryland PAC's endorsement decision was based on Frosh's responses to a questionnaire and an in-person interview with staffers and board members from Equality Maryland, as well as some of the organization's regular members. Both Frosh and one of his two opponents in the Democratic primary, Del. Jon Cardin (D-Baltimore Co.), submitted questionnaires and were interviewed. Del. Aisha Braveboy (D-Prince George's Co.), Frosh's second Democratic opponent, was determined to be ineligible for Equality Maryland's endorsement because of her vote against the marriage-equality bill in 2012.
"Equality Maryland members were already aware of Brian Frosh's record of support on our issues," Timothy Williams, the chair of Equality Maryland PAC, said in a statement. "During his interview with us he spoke convincingly about his commitment to fairness and how his own convictions were shaped by the example of his father, who supported civil rights for African Americans as a member of the Montgomery County Council more than 50 years ago."
Frosh's endorsement marks Equality Maryland PAC's second endorsement for statewide office and its fifth endorsement of a non-incumbent. The PAC has endorsed Lt. Gov. Anthony Brown (D) and his running mate, Howard County Executive Ken Ulman, in the race for governor and lieutenant governor.
"Senator Frosh has more than 35 years of experience as a practicing attorney and has served in the General Assembly for 27 years," Stephanie Bernstein, Equality Maryland board chair, said in a statement. "He understands the duties of the Attorney General and articulates a clear vision for how this office can continue to move Maryland forward on fairness or equality. We strongly urge the LGBT community and its allies to support Senator Frosh in his bid to be Maryland's next attorney general."