Sonia Rutstein recently met a man in Germany who inquired about her name.
"Oh, 'Rutstein.' This is a German name. Are you German?" she recalls the man asking. "And I said, 'Well, I was once.' And it felt really good to say that, because that's my heritage."
Germany has also become part of the Jewish-American folk artist's present-day life. "My friends have been wondering if I'm speaking in German and French yet, because I've spent quite a bit of time now here in Germany and also in France," Rutstein says during a recent phone call from, naturally, Germany.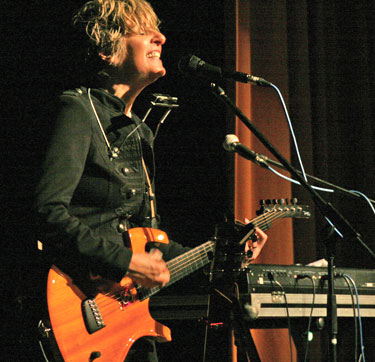 SONiA
(Photo by Terry Irons)
But Rutstein, who records using just her first name, stylized as "SONiA," is preparing to return to her homeland. The Baltimore native is coming back to promote the new album Broken Film with her band disappear fear – also stylized, but with lower-case letters – including a tour stop at Jammin Java Saturday, April 12. "Most of the concert will be in English," she says, teasing that there "may be a little in German," a language she's currently studying. SONiA will also sing a few songs in Spanish and in Hebrew drawn from her recorded repertoire, featuring lyrics often touching on progressive themes and LGBT rights.
After a few years away, the lesbian artist anticipates returning to this year's LGBT Pride festival circuit. But she only expects to hit one or two events in the U.S. — which is nothing like the near-omnipresence she had 15 or so years ago. "I think I did like 20 festivals in one summer," she sighs, reminiscing about a year in the late 1990s.
Rutstein's sights these days are mostly on the broader international summer festival circuit, with gigs anticipated at events in the United States and Canada as well as in Europe. She's also finalizing plans to perform at a large gay festival in Germany, where she recently wrapped a string of concerts in conjunction with a music convention.
"Most of my concerts have been sold out, which is so cool," she says — just one among many positive experiences the she's had in the country. "There's been, absolutely, just complete open-arms welcoming to me. I feel completely embraced."
disappear fear performs Saturday, April 12, at 7 p.m. Jammin Java, 227 Maple Ave. E., Vienna. Tickets are $18 to $20. Call 703-255-3747 or visit jamminjava.com.