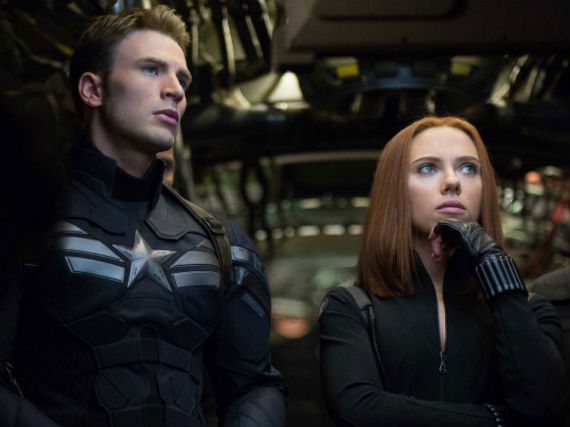 Have you noticed how very boilerplate superhero movies have become? Everything is interchangeable — from the hero and his or her specific degree of angst, to the villain and his or her grandiose designs for world domination; from the artfully-positioned action sequences, introduced at what seem to be precisely-timed intervals to jolt the audience out of any encroaching slumber, to the inevitable climactic showdown, with its massive explosions and big-action face-off between the hero and villain. It may be pointless to complain about, as some of the most beloved movie franchises — think James Bond — have adhered to a tried-and-true formula for decades and are none the worse for it. And really, when a comic book is your source material, there's only so much you can do. Ang Lee, with the first Hulk, showed that when you break the mold, you shatter the underlying structure that gives audiences a sense of comfort and suck out all of the enjoyment. The boilerplate is, in fact, a carefully constructed delivery mechanism — built for maximum impact and designed to appeal to all, from casual moviegoer to ardent fanboy. It's in the details. And what filmmakers inevitably do with the boilerplate is what separates crap like Daredevil from truly magnificent fare like Captain America: The Winter Soldier (FOUR STARS).
The first Captain America was a fairly fun origins flick, made memorable chiefly by Hugo Weaving's scene-chewing turn as Nazi nemesis Red Skull, as well as the formidable chest of Chris Evans. Evans and his puffed-up pectorals return for the sequel, and while that's a very good thing, even better is the fact that the movie they're appearing in is a sly, slick stunner. I'm loathe to spoil anything, but I will note that there's a strong, unexpected emotional depth to The Winter Soldier that I don't recall surfacing in any of the other Marvel films, save perhaps Spider-Man. This Captain America benefits from honesty and gravitas, interspersed with a swift, sparky lightness of tone. There's much speculation that Joss Whedon had a hand in the screenplay — and I wouldn't doubt it for a bit. The film is not only perfectly structured and modulated in the way Whedon's projects tend to be, but it features dialogue that's simultaneously snappy, heartfelt and authentic. The relationships are carefully drawn and expanded upon; there's at least one case of an unspoken yearning between characters that doesn't just fill the screen, it engulfs the auditorium. There's also a sizzling narrative thread, one that shreds the interconnected tissue of the Marvel-verse of the Avengers to the point where you can't help but think "How are they going to resolve this mess?" Indeed, it will be interesting to see how the action of Winter Soldier folds into not just another Captain America sequel (there's a crafty little hint in one of the two post-credit sequences), but Joss Whedon's Avengers: Age of Ultron, due out summer 2015.
There is little point in a detailed plot summation, largely because to offer one would be to ruin the film's more enjoyable twists. The basics, however, are this: someone has compromised the U.S. intelligence operation, S.H.I.E.L.D., and the organization's head, Nick Fury (Samuel L. Jackson), is determined to find out who. After a rather long, torpid set-up, the film makes an engaging, swift u-turn, with Steve Rogers (Captain America) and Black Widow (Scarlett Johansson, a welcome addition who brings with her just the right amount of snark and sexy) targeted as fugitives from S.H.I.E.L.D. At this point, the movie fires up the pistons and floors it until it slams headlong into a climax that is as brilliant and blazing and spectacular as it is deft and sure-footed, with directors Joe and Anthony Russo expertly juggling three narrative set-pieces. Considering the Russos are best-known for their intricate, finely honed work in intimate TV comedies — Community and Arrested Development, among others — the fact that they're able to so perfectly pull off a complicated, massive action sequence isn't merely miraculous, it's revelatory. Just hand everything else over to them now, Marvel. They've more than earned it. 
The cast is perfect. In addition to Evans, Jackson and Johannson, we get Robert Redford as Alexander Pierce, the firm but even-headed overlord of S.H.I.E.L.D. Redford, clearly relishing his recent resurgent in movies, offers a perfectly-pitched, understated performance, even if the actor looks a bit grandmotherly these days. Toby Jones pops up in the oddest of means as a Nazi cohort of the Red Skull, and both Cobie Smulders and Emily VanKamp do fine jobs with rather small, thankless roles. The cinematically alert will enjoy the appearance of Jenny Agutter, best known for her work in genre-defining films like American Werewolf in London and Logan's Run.
The real scene stealer here is the handsome and rugged Anthony Mackie, whose good-natured, loose-limbed portrayal of paratrooper Sam Wilson makes a nice counterbalance to Evans's Rogers, who's a bit too starchy at times. Mackie's character has a purpose beyond that of a mere foil — he becomes… well, that'd be something of a spoiler. Similarly, I won't ruin the identity of the vicious uber-assassin, the Winter Soldier, though comics lovers will know who he is and why an entire movie was built around him, despite the paucity of his onscreen time.
Early on, I had my doubts about The Winter Soldier. The opening action sequence — a rescue of S.H.I.E.L.D. hostages from a hijacked ship — is a chaotic clutter. Thankfully, subsequent action sequences — including a breathtaking car chase, as Nick Fury attempts to outrun a fleet of police vehicles — are choreographed with superb muscle and clarity. Things continue to improve as the Russos raise the stakes on each successive action sequence, until they arrive at that thundering, brutal, intensely suspenseful climax. It's kick-ass material that leaves you gobsmacked in an era where it's increasingly difficult to stun audiences who've seen it all.
A recommendation: Skip seeing The Winter Soldier in 3D. There's no real need for the extra dimension, which only serves to confound the action sequences. Additionally, the first 30 or so minutes are dimly lit and bereft of much color (everything seems to be hued in deep black). Once you've donned those miserable glasses, it's impossible to pick out details. You might as well be watching with your eyes closed, but this is one movie where, inevitably, you won't want to so much as blink.
Captain America: The Winter Soldier is rated PG-13. Now playing at area theaters.