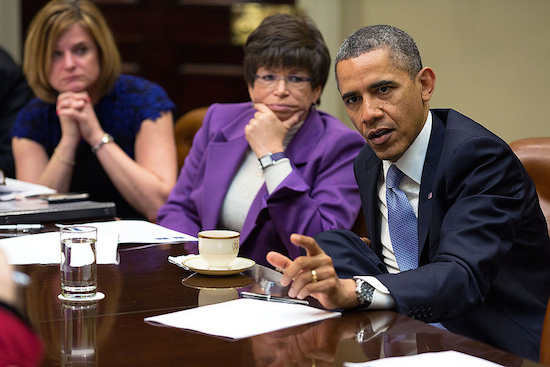 President Barack Obama continued to act on his promise to make 2014 a year of action, signing two executive actions Tuesday seeking to narrow the income gap between genders. But while the move received praise from some of the president's supporters, it quickly rankled those who have been waiting years for Obama to take similar action to protect LGBT workers.
The one executive order signed by Obama today prohibits federal contractors from retaliating against workers who discuss their salaries with each other and the other is a presidential memorandum creating new rules for contractors to report to the federal government data breaking down, on the basis of sex and race, how employees are compensated.
Speaking at the White House, Obama credited his decision to act as an attempt to put pressure on Congress to pass the Paycheck Fairness Act, which includes reforms similar to those signed today. 
"I'm not going to stand still either," Obama said. "So in this year of action I've used my executive authority whenever I could to create opportunity for more Americans. And today, I'm going to take action — executive action — to make it easier for working women to earn fair pay."
But Obama's rationale for such action — to use his pen when Congress won't act — further contradicts the administration's continued opposition to an executive order that would prohibit federal contractors from discrimination on the basis of sexual orientation or gender identity.
"Issuing these executive orders helps build momentum for Congress to act on paycheck fairness legislation," Chad Griffin, president of the Human Rights Campaign, said in a statement. "The exact same logic applies to the executive order that would afford protections to the LGBT workers of federal contractors. By the stroke of his pen, the President can immediately protect over 16 million workers and pressure Congress to pass ENDA. There is simply no reason for President Obama to wait one second longer."
For nearly two years Obama's White House has been forced to defend a broken campaign promise made by Obama when he was a candidate for president in February 2008. It was then that Obama filled out a presidential-candidate questionnaire for the Houston GLBT Political Caucus indicating he would support a nondiscrimination policy that includes sexual orientation and gender identity for federal contractors. In April 2012 White House senior adviser Valerie Jarrett told leaders from some of the nation's largest LGBT-rights organizations that Obama would not sign an executive order prohibiting federal contractors from discrimination on the basis of sexual orientation or gender identity. Since that meeting, the White House has sought to defend its decision by telling supporters and the press that Obama supports passage of comprehensive federal legislation that will protect all workers, rather than just employees of federal contractors. 
At the beginning of this year Obama announced a shifting strategy to use his pen to take executive action when Congress won't act. While that strategy has been applied to minimum wage, with Obama signing an executive order to raise minimum wage for federal contractors while the White House still pushes for federal legislation raising the minimum wage for all Americans, and now to income inequality, the White House has found itself in a contradictory position on the executive order for LGBT federal contractors. Asked in February by Metro Weekly why sign an executive order raising the minimum wage for federal contractors if the strategy is comprehensive federal legislation, White House press secretary Jay Carney responded simply, "I take your point."   
In his remarks before signing the two executive actions today, Obama laid blame for a lack of progress at the feet of Republicans for "seemingly opposing any efforts to even the playing field for working families." But his arguments for taking executive action on key White House initiatives increasingly illustrate his administration's puzzling opposition to an executive order for LGBT federal contractors. 
"So far, Republicans in Congress have been gumming up the works," Obama said today of narrowing the gender income gap. "They've been blocking progress on this issue, and of course other issues that would help with the economic recovery and help us grow faster. But we don't have to accept that. America, you don't have to sit still."
[Photo: Barack Obama (right), Senior Adviser Valerie Jarrett, Communications Director Jennifer Palmieri. Credit: Official White House Photo by Pete Souza.]