Like 16th century versions of the biopic, Shakespeare's Richard II, Henry IV (Parts 1 and 2), and Henry V, contemplate fascinating lives through an auteur's expansive lens. Equal parts historical page-turner and human drama, each track the political intrigues, power plays and battles spawned, while offering rich soil for Shakespeare's contemplations on the human condition.
If this sounds like heavy lifting, then the place to start might well be with the Shakespeare Theater Company's Henry IV, Parts 1 and 2, in which the somber episodes of Henry IV's reign over a volatile Britain share time with the carefree exploits of the antithetical Falstaff's reign over the local ne'er do wells – who happen to include the king's tear-away son, Hal. In this combination, both plays offer a "something for everyone" accessibility, including even a bit of above-average swordplay. And since they're playing in rep, the plays can be seen on separate nights but still in order — a unique opportunity to follow not only Henry's history, but also the way in which Shakespeare darkly and interestingly evolves his characters.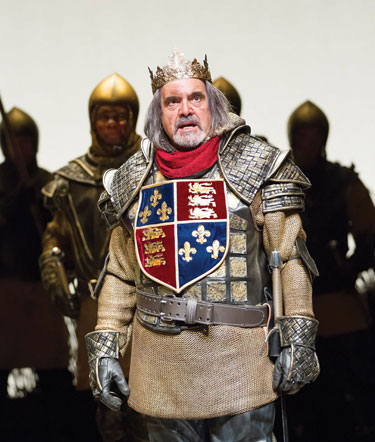 Edward Geroas King Henry IV
(Photo by Scott Suchman)
Carrying both plays, Henry IV, Falstaff and Hal are crucial linchpins and there is no doubt that, whether or not the interpretations speak to you, Edward Gero, Stacy Keach and Matthew Amendt, respectively, make for a strong and memorable continuity. Big stage presences working within the strong vision of director Michael Kahn, these three flawlessly maintain the vibe of their respective worlds and conundrums as they live in parallel, and then as they finally begin to collide. Thus, even with a big cast (in which many play multiple roles across the two productions) and despite an overarching plot that the uninitiated may find obtuse, most will find the drama unfolding among the three men eminently accessible.
For what does it really boil down to? Two aging men, Henry and Falstaff, each in their own ruthless, sometimes noble, ways controlling respective domains, now beginning to turn inward as the pressures of personal and political survival mount. Caught between them is the young Hal, who though happily slumming it in Falstaff's world, never quite forgets he belongs elsewhere. As war threatens, all three must accept change: Hal must decide who he really wants to be, his father must accept him as not only as heir apparent but also as a capable man, and Falstaff must come to terms with the fact that he has ever only been a weigh station in a much larger and inevitable scheme. None are wholly happy with where they land, but then who is? It's a dynamic we can relate to without ever claiming royal blood or a tavern for a home.
For sheer gravitas and the kind of muscular but emotionally poetic integrity that brings Shakespeare into stark immediacy, Gero takes the day with his King Henry IV. At first fully engaged in ruling the various bellicose British factions, Gero fills his Henry with a convincing expedience and intelligent steel. Hal may blithely mock him (at first), but it is no accident that Henry has no time for frivolity; he has been wracked with responsibility and a morally ambiguous reign. By Part 2, Gero completes a subtle seismic shift and reveals with brilliance the shadows in this man's soul.
And it is a brilliance made all the more potent by Kahn's choice to steep these productions fully and gloriously (except for one small, but wonderful, moment) in full-on classical mode. Tightly sprung, perfectly pitched and paced, these productions are the bloody steaks and tannic reds of the theater; rich, gratifying and offering an energy that endures long after the evening has ended. This essential approach is enhanced by Alexander Dodge's rough-hewn but restrained sets, which evoke Henry's medieval era while serving as symbol for the unsettled nation he must rule.
Counter to Gero's deadly serious Henry is Keach, playing his Falstaff to please the crowd. Embodying his man with some clever prosthetics and a doddering walk, Keach manages the none-too-easy task of entertaining on disparate levels. Thus, while some will howl with joy at the vaudevillian moves while others will cringe, pretty much everyone will find pleasure in his facility with Shakespeare's language and the clever way in which he clearly and yet deftly delivers the bard's wit. It's a writ-large rendering with whiffs of the Old American West, but it is warm, engaging and speaks to the subtle pathos that inflects the character.
Completing the triangle is Amendt's Hal, who is wholly more complicated. Exuding what can only be called an unlikable charm, he is an undeniable force whenever onstage — compelling, memorable and well matched to the two charismatic older men. But there is an ever-so-slight dampener at the heart of the performance that seems to emanate from something akin too much calculation and not enough being. More specifically, Amendt is master of the language, of Hal's emotions (he cries real tears!), the comic timing, even the staged unexpected; yet, unlike his seasoned co-leads, Amendt doesn't quite generate the sense of the man who is the sum of all these parts. It is all the more distracting when it mingles with Hal's slightly devious characterization: Is it Hal, or Amendt playing Hal?
Stacy Keach in Henry IV
(Photo by Scott Suchman)
Still, it's a small question in a bigger, very wonderful whole. Rounding out the central action in this large cast are many finely tuned performances, with standouts dominated, without doubt, by the senior players. Ted van Griethuysen outdoes himself with beautiful comic portraits. Kevin McGuire brings much potency and poetry to his Shakespeare. Steve Pickering offers a nicely grounded gravitas. Derrick Lee Weeden brings gratifying urgency to his Lord Chief Justice. And Bev Appleton and Brad Bellamy bring big laughs in little roles.
Of the younger members, John Keabler is a suitably fiery rebel Hotspur, thorn in the king's side, but would do well with a less-is-more approach to this man's energy. As his wife Lady Percy, Kelley Curran is a striking figure with a memorable edge, while Chris Genebach offers a compelling presence and voice that leaves one wanting more.
All in, these are two productions guaranteed to deliver "argument for a week, laughter for a month, and a good jest for ever."
Henry IV, Parts 1 and 2 (




) run to June 8 in Shakespeare Theatre Company's Sidney Harman Hall, 610 F St. NW. Tickets are $20 to $110 for one play, with discounts available for combined purchase. Call 202-547-1122 or visit shakespearetheatre.org.