The D.C. Office of Human Rights (OHR) today launched a new public-awareness campaign, "Safe Bathrooms DC," aimed at making it easier for transgender people in the District to access facilities without fear of reprisal by ensuring that all single-stall restroom facilities in the District are gender-neutral.
The requirement that single-stall facilities be gender neutral is already part of existing statute. When the District amended its Human Rights Act in 2006 to include nondiscrimination protections for individuals based on their gender identity or expression, it included a provision that required all entities covered by the act to allow individuals to use gender-specific restrooms or facilities such as dressing rooms, homeless shelters and group homes that are consistent with their gender identity and expression. It also clarified that single-occupancy restroom facilities were to use gender-neutral signage and replace older signs designating such bathrooms as being for "men" or "women."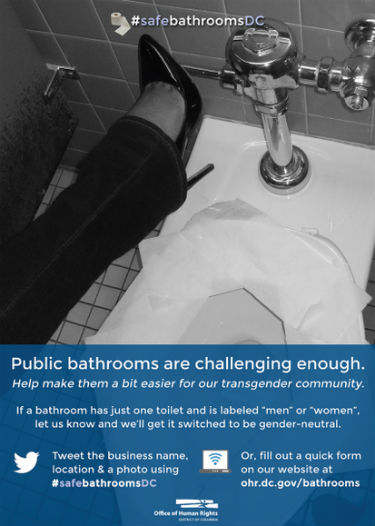 #safeBathroomsDC
Still, the statute has been difficult to enforce, in part due to conflicting regulations between the District's Human Rights Act and regulations adopted by the D.C. Department of Health (DOH) and the D.C. Department of Consumer and Regulatory Affairs (DCRA).
David Mariner, executive director of The DC Center, the city's primary LGBT community center, has said over the past few years that he and several volunteers have consistently been reporting non-compliant facilities to OHR, but that some establishments have resisted retiring gender-specific restrooms.
According to OHR spokesman Elliot Imse, at the heart of the conflict over regulations was that both DOH and DCRA had adopted standard plumbing regulations, which state that if a facility has two single-stall bathrooms, one must be designated for men and the other for women. While OHR could inform businesses that they needed to comply with the Human Rights Act, there was no enforcement mechanism until last year when both DOH and DCRA changed their regulations to allow for gender-neutral, single-stall restrooms.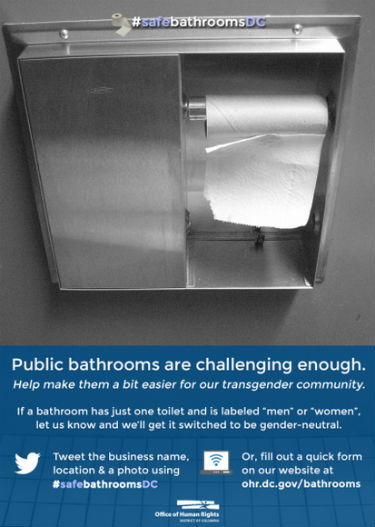 #safeBathroomsDC
Even after those conflicting regulations were resolved, the process to report venues that were non-compliant in relabeling single-stall facilities as gender-neutral remained cumbersome, as complainants needed to report to the Office of Human Rights and fill out a 20-question "public accommodations complaint" form, usually taking about 20 minutes to complete.
At an April 3 event held at the local LGBT community organization Casa Ruby, one of the partners in the Safe Bathrooms DC campaign, OHR announced it was asking community members to utilize social media, such as Twitter, and the OHR website to report non-compliant bathrooms. The OHR's website form consists has only five questions, expected to require less than a minute to complete. Community members reporting non-compliant establishments also have the option of submitting a photo of the non-compliant restroom. OHR is also asking for photos of violations to be tweeted, along with the business name and location, using the hashtag "#safebathroomsDC."
"We are encouraging people to take 30 seconds to notify us via Twitter or our website when a single-occupancy public bathroom is not gender-neural, so we can get it changed," OHR Director Monica Palacio said in a statement. "By working together, we can ensure the transgender community and others who prefer using gender-neutral bathrooms have an increased number of safe places to use."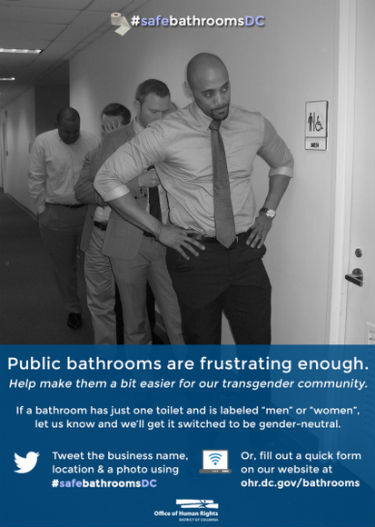 #safeBathroomsDC
To promote the Safe Bathrooms DC campaign, OHR has released a series of ads featuring awkward bathroom experiences, such as waiting in line, running out of toilet paper, or using a shoe to avoid touching a toilet when flushing. The tagline on each reads: "Public bathrooms are challenging enough. Help make them a bit easier for our transgender community." The ads also include information about reporting non-compliant establishments via Twitter or the new OHR complaint website. Samples of the ads, as well as additional information on gender-neutral bathroom regulations, can be found at ohr.dc.gov/bathrooms.
"The success of this campaign largely depends on rallying the LBGT community and its allies to report non-compliant bathrooms using Twitter or our website," Palacio said in a statement. "So we are encouraging people to share of Safe Bathrooms DC advertisements on social media, in the hope that together we can dramatically increase the number of single-occupancy gender-neutral bathrooms here in the District. We believe harnessing social media to raise awareness on this issue can inspire municipalities around the nation to begin their own efforts."