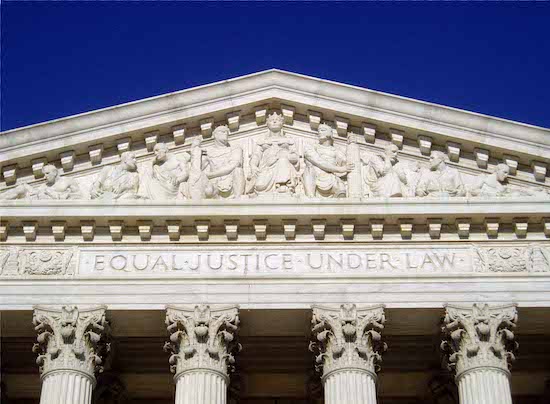 The U.S. Supreme Court will not address whether businesses have a right to discriminate after declining Monday to hear arguments in an anti-LGBT discrimination case that has sparked "religious freedom" bills in state legislatures across the country. 
As is usually the case, the Supreme Court justices provided no reasoning for their decision to deny the appeal of Elane Photography v. Willock, a case in which the New Mexico Supreme Court ruled last August that Elaine Huguenin, co-owner of Elane Photography in Albuquerque, violated state law when she turned away Vanessa Willock and her partner in 2006 on the grounds that photographing the same-sex couple's wedding ceremony would violate her religious beliefs. The denial of the appeal lets stand the New Mexico Supreme Court's original ruling.
According to the New Mexico Supreme Court, the state's Human Rights Act, which was amended in 2003 to add "sexual orientation" as a class of people protected from discrimination, does not violate free speech because it does not compel the photographer to either "speak a government-mandated message or to publish the speech of another."
It was that unanimous decision that has led lawmakers from Arizona to Mississippi to introduce bills that would allow businesses to discriminate against LGBT people by granting religious exemptions to nondiscrimination laws. Such laws have been rejected in Georgia, Idaho, Maine and Ohio, with bills still pending in Missouri and Oklahoma. Arizona Gov. Jan Brewer (R) vetoed a similar bill in February following national attention and Mississippi lawmakers approved such a bill last week, sending it to the desk for Gov. Phil Bryant (R) for his signature. 
"No court has ever held that businesses have a First Amendment right to discriminate, and it is no surprise that the Supreme Court has denied this attempt to overturn settled law," said Joshua Block, staff attorney with the ACLU Lesbian Gay Bisexual and Transgender Project, in a statement. "Selling commercial wedding photography services, like selling a wedding cake or a flower arrangement, does not mean that a business owner endorses a customer's marriage. The business is simply providing a commercial service. Everybody has the right to express their views on whatever subject they wish, and that includes business owners. But every business has to play by the same rules to protect customers from discrimination in the marketplace."
[Photo: U.S. Supreme Court, via Wikimedia Commons.]