This is what you don't want.
You don't want to see your dish displayed as Ted Allen briskly lifts the silver cover. Because that means, as Allen brusquely intones, "You've been chopped."
Since January of 2009, Allen has been hosting the popular Food Network show that pits four chefs (and sometimes celebrities) against one another in a unique cook-off that features three courses — an appetizer, entree and dessert — cooked at a breathless pace, and incorporating four generally very disparate, seemingly incompatible ingredients. After each course, one of the chefs is eliminated.
The chefs have to contend with absurd mystery ingredient combinations like pickle juice, herb stems, overripe tomatoes, fish carcass for the appetizer; fenugreek, new potatoes, bison short ribs, cheese spread in a jar for the entree; and cooked corn cobs, pitcher of sangria, duck sauce, stale plain doughnuts for the dessert course. What is it they say these days? Oh, right. Om nom nom.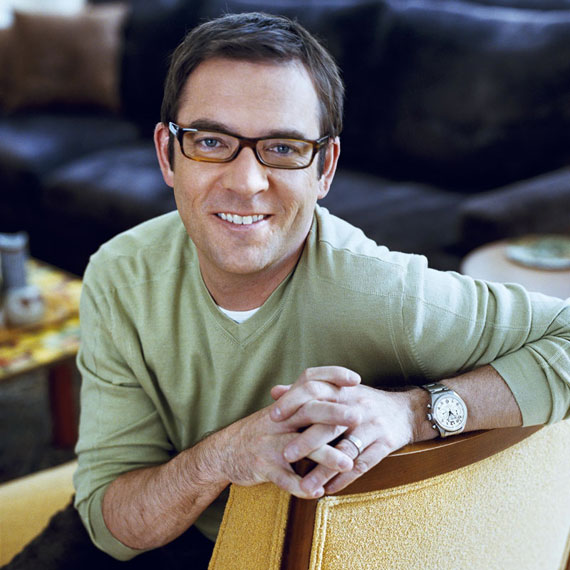 Ted Allen
(Photo by Peter Ross)
The people who dream up the ingredient combinations for Chopped are clearly either full-on sadists or genuinely believe that culinary magic can be arrived at combining fruit punch with chicken feet. Even Allen admits that not all the dishes are appetizing. "Sometimes it's terrible," he confides. One of the Food Network's most enjoyable, enduring competitions, Chopped owes much of its success to Allen, whose on-screen persona is best quantified as equal parts warm, remote and unforgivingly stern.
In person, Allen is nothing but warm. A former member of the Queer Eye for the Straight Guy posse, for which he served as "food and wine specialist," and prior to that a journalist who penned culinary articles for Chicago magazine, Allen still contributes frequently to Esquire magazine, and was recently handed the hosting keys to yet another Food Network show, America's Best Cook, which premiered Sunday, April 13. On it, home cooks from different regions of the nation are mentored by Food Network celebrity chefs as they vie for a $50,000 grand prize. That buys a lot of Kraft Mac & Cheese.
But Allen also has a philanthropic side, and as such serves as an ambassador to Dining Out for Life, helping to promote the nationwide event in which participating restaurants donate a portion of their day's receipts to worthy causes that help to feed the infirm and homebound.
In the case of our city, the beneficiary is Food & Friends, which helps to keep people living with HIV/AIDS, cancer and other illnesses not only well-fed, but in healthy nutritional balance. It's one of our area's most enduring, important services, and though it sprung out of the gay community, it has evolved over the years to reach far beyond its initial bounds, enveloping all who are in need of its services.
In advance of Dining Out for Life, Metro Weekly talked with Allen about the event, as well as his time spent on Chopped, where he reveals, among other things, his favorite "weird" ingredient of all time.
Hint: It comes in a can. And sounds spectacularly unappealing. Om nom nom, indeed.
METRO WEEKLY: You are one of four Dining Out for Life ambassadors, nationwide. What do you like most about this event?
TED ALLEN: I really love this event because in a single day it raises $4 million to fight HIV and AIDS in cities all across the county, while at the same time, encouraging people to go out and spend money in local restaurants, thus helping the economy, helping my friends who are chefs, hopefully helping diners discover something really delicious, and playing a meaningful part in the fight against HIV and AIDS. It's such a win-win-win, I can't stop being involved with it.
MW: We've been a supporter of it here, for Food & Friends, for years. One thing we've noticed over the years is that fewer restaurants seem willing to give at the 100 and 50 percent level. Of course, that's voluntary and any amount is obviously appreciated by the organization, but why do you think it's decreased?
ALLEN: I'm not privy to official statistics inside the organization itself, so this is just me talking. Whenever anyone's trying to raise money for anything, the restaurant community is always the first place they go, and the restaurant community always steps up. That having been said, if there has been a decrease in the percentage that many restaurants are able or willing to put in, I can only imagine that it's because of the economy over the last five or six years. It's made life difficult in a business where the margins are always tight. If you're making 10 percent profits in the restaurant business, you're doing a great job. Also, I think the demands on everybody for philanthropy has just gone through the roof. Since the original Dining Out for Lifes, lots of other people have started doing a Dining Out for this and Dining Out for that. That said, someone who used to give 100 — if they can still give 50, God bless 'em.
MW: Where do you usually do Dining Out for Life?
ALLEN: The irony is that New York City, being a place that was basically ground zero for the AIDS epidemic in the first place, is so well served with organizations that deliver food to people and raise money for AIDS and HIV that they don't actually do a Dining Out for Life here. I have in the past gone to Philadelphia to celebrate it. But this year I will be in a studio on April 24, shooting Chopped, so I don't get to go. When I have done it, I try to do drinks and appetizers at one place and dinner and dessert at another place to kind of spread it around a little bit.
MW: Let's talk about Chopped. Great show. How long have you been doing it now?
ALLEN: It's been about five years. We have made 257 episodes. We have not aired all those yet. We have new ones coming out now, and they will be coming out for a while.
MW: Watching you on it, you seem to genuinely enjoy it.
ALLEN: I love it. I love all the judges. I have great friends there. We're super fortunate that the show's been so successful. The only thing about it that I don't like is getting up at the crack of hell. I hate that. And I don't like being on my feet for 12 hours. But talking about food with these gifted New York City chefs all day is such a treat for me — it's a blast.
MW: I'm not generally a huge fan of the food competition shows, but I like Chopped because of the bizarre combinations of ingredients you hurl at the chefs.
ALLEN: Lamb testicles and chicken feet.
MW: It's often remarkable that they can actually make something good out of the disparate ingredients they're given.
ALLEN: Sometimes it's terrible. It's very difficult to cook anything good with the ingredients we give them, under those conditions.