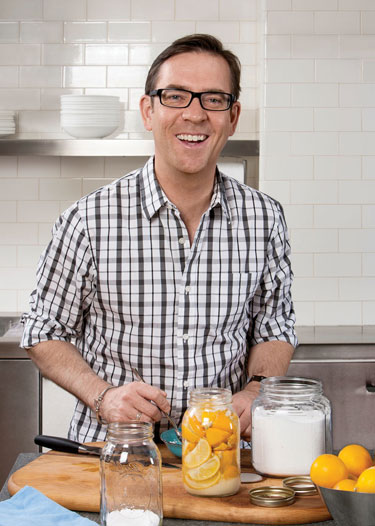 Ted Allen
(Photo by Peter Ross)
MW: Do you personally get to taste everything?
ALLEN: I taste anything that looks really good. Every once in a while someone really hits it out of the park and the judges always fix me a little bite. It's just so impressive when someone can do that. It's a very specific skill and it really has very little reflection on your actual talents as a chef day-to-day. Every chef [in their own kitchen] gets to pick their own ingredients to a certain extent and has a chance to try them out and plan and dream and research. And the ability to make something out of lamb testicles and chicken feet and Pabst Blue Ribbon in 20 minutes without cutting off your thumb is a very specific and different talent.
MW: The competitions are shot in real time?
ALLEN: Yes.
MW: That's incredible. It's brilliantly photographed and edited. But, God, what a nightmare it must be to edit.
ALLEN: One episode of Chopped takes 37 days to edit. We have nine or 10 cameras, each of them coming out of a 12-hour shoot day. They probably shoot about seven or eight hours of tape each. All that stuff has to be viewed in the raw, on a single monitor with all nine cameras at once, in different little squares. It's unbelievable to me — I can't believe anybody could do that job.
It sounds so trite to say we're a close family, but we just are. We have a great director and a team of camera operators. They're all freelancers, but they all come back because they love to work together and it's kind of like shooting a basketball game. It's fun for them to shoot. Many of the same people have done the cake competition shows, and those are not fun for them to shoot because [contestants] have two hours to bake a cake and there's no action. It's just [host] Ron Ben-Israel in the room and a cake in the oven gradually getting larger.
MW: You've had a really interesting career. Obviously you don't plan a career like this, but, looking it over, are you happy with the way it's turned out and where you've ended up?
ALLEN: I couldn't be more grateful. I loved writing for magazines and newspapers, too. But I think anybody who gets to work in a field that they love — in my case talking about and tasting and thinking about food — that's a very fortunate person. To get a chance to work in television and have a show that takes off is such a rare thing. I'm kind of amazed by it. The only thing about it that's kind of difficult is that it's really hard to plan for the next act, as every show ends. I have a couple of things in the hopper, but the ratings for this show are nowhere but great, so I don't think it's ending anytime soon.
It amazes me that as long as we've been doing it, it's still basically the same game show. I don't get bored. I think that's something to be really grateful for. We always have different competitors, our judges rotate, we have different personalities, we have different ingredients, there's always something new to learn and talk about. I couldn't be happier. The network's great to me. I'm very fortunate.
MW: You're well known as a gay man, and you're hosting this popular show, but it's never really brought into focus at all. It's just another example of just cultural assimilation. I'm saying that's a good thing.
ALLEN: I agree with you. I think that's something Food Network deserves some credit for. In fact, the LGBT presence at Food Network is reflected all the way at the top, starting with our president, Bob Tuschman, who's openly gay. There are lots of gay people in the executive suites and the ranks of the producers.
MW: Was there ever any doubt that you now know of before they selected you as host?
ALLEN: I'm sure they had their doubts. Whenever you put somebody in the host position, you wonder if they can carry the show. And I don't have to carry the show because the stars of our show are the competitors. And then I've got the judges to lean back on, as well. I'm sure you would always wonder if this person is going to work out whether they're gay or what gender or race or whatever it might be. But this was actually the second show Food Network has put me in charge of and they've been nothing but great. No one has ever said, "Hey, stay away from those pride parades!"
MW: What's your favorite thing to cook at home?
ALLEN: Ironically, when you consider where I work, I'm very much a slow-food guy. I actually don't even like to cook things that are done quickly. I love to braise things. I love to put a roast in my smoker — like a pork roast — and cook it for eight hours until it's just fall-off-the-bone tender. Stir-fry? I'll eat it once in a while if I'm in a hurry and because it's delicious and I like it.
But what really gets me started is slow and low, long-developed flavor. Long-simmered sauces.
I've taken a lot of inspiration from our judges, because I've spent so much time talking to them and I've learned a lot — [chef and Chopped judge] Scott Conant taught me a lot about cooking pasta and about making polenta. And the secret to polenta is cooking it for a very long time. Scott cooks his for about three hours. Very low temperature. It's just cornmeal, but it becomes something sexy and silky and sensual. I love stuff like that.
MW: What's the weirdest ingredient you've ever encountered on Chopped? Where you were like, "I can't believe they put this into the mix."
ALLEN: In a competition that's seen at least three or four kinds of testicles, it's kind of hard to narrow it down to one ingredient. But I'll tell you my favorite weird ingredient: a whole chicken in a can. I don't know why anybody would want such a thing, but it does exist. I think they probably can the chicken raw, seal it and then cook it, because when you open it and plop it out, it comes slipping out with a bunch of gelatin. It's hideous — and the skin is on it and the skin's all rubbery-looking. It must have been developed for bomb shelters or something. It's just such an appalling ingredient, that's what I like about it.
MW: I've never eaten chicken in a can, nor do I think I want to. And I've never eaten testicles. Hmmm. I probably shouldn't put it that way.
ALLEN: [Laughs.] I was going to try to save you, but too late. I did an interview about an hour ago where I said, "You know it's not like I want to eat polish sausage every day of the week, but…." I really think I should have rephrased that.
New episodes of Chopped air Tuesdays at 10 p.m. on the Food Network. America's Best Cook airs Sundays at 9 p.m. Visit foodnetwork.com.
Dining Out for Life is Thursday, April 24. For more information on the national event, and to find a city near you, visit diningoutforlife.com. For the local D.C. event, benefiting Food & Friends, visit foodandfriends.org/dol. A complete listing of participating local restaurants follows.