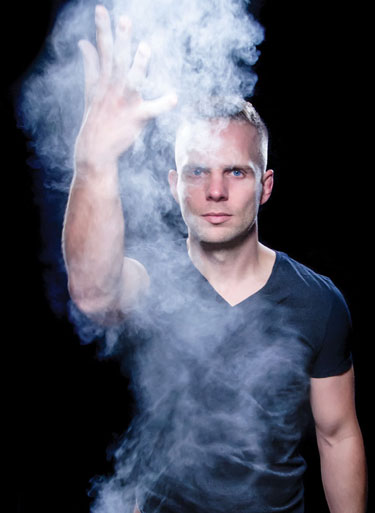 Tom Goss
(Photo by Julian Vankim)
MW: How do you feed that competitiveness now?
GOSS: I guess I was saying all that because, for me, the idea of being an artist is so different. It's not who "wins" at the art. I have very little musical competition. I don't feel like that has any place in this business. I do feel like sometimes that gets stirred up, but I push it back down. The music business is different because it's so up and down. Somebody loves you. Somebody hates you.
MW: So, that's sort of where the feeling of failure comes in? Because there's no referee to hold your arm up and tell you that you're the champion?
GOSS: My point is that I'm so competitive that if this is my bar, as soon as I get close the bar rises. My competitiveness in this industry is to always want to do better. It's not to compete against a thing or a person. Being successful in art, to connect with people in art, is to be as authentic as you can possibly be to yourself. If you're authentic and you can speak authentically, people will connect with that. The competition is not, "I want to beat this person down." The competition is, "I want to be the most authentic and fully integrated self that I can be." Which is a totally different mindset.
MW: That's difficult to quantify, a lot harder to "win."
GOSS: You can't. You quantify it by how much money you make. You quantify it by how many Facebook "Likes" you get. You quantify it by the stupidest shit.
MW: Does your husband help you temper that edge?
GOSS: My husband's way crazier than I am. [Laughs.] That's one of the few things we'll actually get in fights about.
The other thing about this is you can't take anything personally. If somebody doesn't book you for a gig or somebody doesn't call you back — and these can be people you have relationships with, or not — Mike takes that stuff, if he finds out about it, very personally.
MW: Mike is very protective?
GOSS: Super protective. He's protective of me and he's very protective of the things that I do and the talent that he believes that I have. It's hard. When he sees other people doing well, he wonders why I didn't get that specific thing.
It's hard, because I feel like it's that way in the community, as well. I feel like a lot of musicians get stuff and hold it, and they don't want to share and they don't want to collaborate and they don't want to create community. How many CDs do you own? You don't buy one CD. It's not like you win if you sell this CD. You win if you create this community of people that is supportive. It's not one or the other. It's about, how do we create something that people want? How do we create this whole community of goodness?
If you think about — especially indie artists — artists that get big, it's because they created this community, because a bunch of people got together and collaborated and helped bring more people into the message they had to offer.
MW: What is your message?
GOSS: It's funny. If you asked someone else, I think they'd say my message is love. I believe that my message is truth. I think that my message, especially on this record, is authenticity. I'm always searching for truth. I'm searching for that thing that is good and that is true and that is right. And that is bigger than me. A lot of me believes there's not much beyond this.
MW: Having left seminary, what is it that you do believe?
GOSS: I don't think there's anything else. And that scares me: the idea that we live, we do our thing, and then we die. Maybe someone remembers us for 10 years or 20 years. But — be honest — 50 years later? Do you know who these statues are around D.C.? These people have statues in circles! And most people are like, "Enh, it's a guy on a horse." You know what I mean? A big piece of me doesn't want to believe that.
I always want to believe that there's something bigger and there's something greater. I'm always searching. So far, the only thing in my life that speaks, like it just is what it is and cuts through the shit, is love. When I see people acting out of love, whether that's with their husbands or wives or children or friends, when they're acting selflessly, that's truly seeing who they are and what is good about the world. That's what I always want to be representing: The one thing that's biggest and best and all encompassing and that draws us all together.
MW: Has the tour for Wait already begun?
GOSS: No. I'll be going over to Europe, playing Iceland and the U.K. The record doesn't release till May 13, but it will be great to get a first European tour under my belt and to just play these songs a lot more.
MW: And you're the one on the phone arranging all this?
GOSS: Yeah. It's always kind of a delicate process. I've been getting pokes from Europe a lot the past year or so. I've been really afraid of it. I love touring. Touring is where the bulk of my income comes from. But the idea of putting a big, upfront chunk of change down is a little nerve-wracking.
MW: It's not the sort of thing banks want to give you a loan for?
GOSS: Nah. Well, I've never asked — maybe they do. [Laughs.] Essentially, I had this period of time where I could do it. I was having conversations with some folks and their dates were matching my dates. Really, to be honest, I spent the money on the plane tickets so I had to do it. [Laughs.] That's what I did! It's been great. I really like the idea of it, and I'm excited to see what comes of it. It's a whole new monster. Everybody says Europe is way better than the states in terms of touring, for making money, for reception.
MW: One of the venues you're playing, London's Manbar, hosts quite a few fundraising gigs. Are there particular social causes you get behind?
GOSS: Besides the fact that I've spent the past eight years running a meal program for the homeless? For the most part, anybody who's asked me to do an event for them, I pretty much always say yes.
Obviously, most of my experience, my knowledge base, is in the homeless community. I'm going to plug my organization, Charlie's Place, because I'm leaving there in a week.
MW: You're leaving to dedicate yourself full time to your music career?
GOSS: Yeah. I've been at Charlie's Place for eight years, started as the program director. I was there every morning at 6, when we feed 50 to 80 clients. I was the only employee there. About a year and a half later, I had a really great opportunity to start going on the road full time. I also understood my limitations of being one person who does all the development, who does the volunteer coordination — who does everything. That's kind of why I pitched a development role. "Look, you need somebody in there whose sole focus is the clients, in a capacity that helps them transition off the streets. They shouldn't have to worry about money. I can do this, and I can do this part time, and I can do this telecommuting."
Of course, I also said, "I'm going on the road. I have to take this opportunity first. I love you guys, I don't want to leave, but…." And they said it was a great idea, so I've spent the past six years doing solely development. I do a lot of that from home, a lot of it from the road. It's kind of gotten to the point, just to be really honest, it's too much to juggle. That's been happening for years. There have been times when I've had to turn down gigs because of work. That's life. Whatever. But, yeah, over the past year or so, as things continue to just be more hectic — I shot this movie, Out To Kill, that'll release in the summertime.