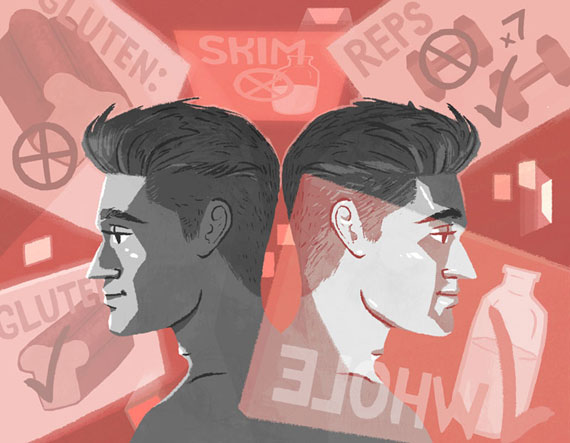 Maybe the thing you remember most about the 1990s is Friends. Or maybe you remember it as the era when we were constantly tempted with promises of "no-fat" and "low-fat." Today, walking the aisles of any grocery store you'll still spot all sorts of bright, bold labels proclaiming "Fat Free!" or "Low Fat!" as a result of that era's research that essentially warned that fat is whack.
Thankfully, knowledge of the body and nutrition has started to swing back toward reality. Sure, excess fat in your diet can lead to excess fat on the body. But simply being the most calorie-dense macronutrient out there doesn't make fat evil — not when there's gluten lurking around.
Welcome to the new hot topic. Gluten intolerance has taken a stranglehold on nutrition. Again, there's some truth behind the fear. Gluten negatively affects some people's digestion, for example. In reality, though, all macronutrients found in food have some role to play. Nutritional research is not complete. It's ongoing. And for every bit of new information, there's a marketing team or milkshake eager to cash in.
Training is not immune to riding the "trend train," either. There has been a long-standing debate between the two main groups of weightlifters. Power lifters advocate fewer repetitions with higher weight. Bodybuilders, on the other hand, go for increased repetitions with lower weight to spur growth.
Earlier this month, a new study was released. To power lifters' joy, it concluded that muscular size gains were identical across two groups, with one group lifting increased reps and the other lower. However, the low-rep group had stronger growth in its one-rep-maximum on the bench press. All of that means that power lifters are right: You can get similar size gains with low reps. And bodybuilders are sort of wrong — at least for now.
Herein lies the problem with nutritional and health studies. There will always be contradictions. There are so many different variables that it makes any absolute truth a practical impossibility. Sleep, diet, training protocol and even level of muscular development between different participants can all skew data.
This brings me to a crossroads in both professional accountability and my desire to provide the most helpful content. Access to all available research — even for someone with the access to it and time to digest it — would still be nothing more than a starting point. The secret to becoming fit and healthy is not the newest fad diet someone's plugging on television, or the latest training protocol you've read about in a magazine. It's about what works for you, regardless of what you read or hear — or see beyond your own body.
The body is a remarkably complicated piece of machinery, and although we're all made of the same fleshy bag of bones, we're all made rather differently. Add in the psychological aspect, and you have a big bag of illogical desires and preferences.
It's important to find what you love to do and to do it again and again. When it comes to nutrition, this is the reason I recommend the "If It Fits Your Macros" plan. This type of diet plan allows you to have the things you enjoy by forgoing other things. It keeps a balanced approach and allows you to subscribe to any particular meal plan you'd like. All you have to do is track your calories, and aim for a specific amount of carbs, proteins and fats. Hit them consistently, and you'll see results.
Science is continuing to increase life spans. Those advances aren't negated by eating a moderate amount of fat. Chowing down a dozen doughnuts every weekend won't help you live longer or feel better, but one now and then isn't cause for alarm. Lifting at a higher rep range isn't going to spell the end of your fitness career — your limbs won't fall off.
Trends will come and go, but we get just one body. Listen to it carefully, and it will usually steer you in the right direction.