Celebrating my husband's birthday last week, there were a couple unintentional themes at play. I'd taken him to Puerto Rico for a long weekend, a place where it's impossible for me as a Washingtonian not to feel some kinship in an "American, but not United States" kind of way.
A second theme was 9/11. I know, I know — we're party people.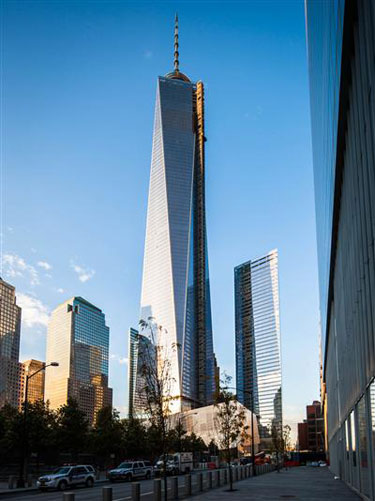 One World Trade Center
(Photo by Joe Woolhead / Courtesy Silverstein Properties)
The husbear's bestie, Jenny, down from the Bronx to help celebrate, was talking about a possible change to her commute, which pricked her memories of starting a new commute that same week of 2001 and not knowing how to get home from Manhattan once the trains were shut down. That, in turn, reminded me of walking from Columbia Heights down 14th Street to U Street that horrible morning. I had no idea that billowing smoke in the distance was the Pentagon in flames, no idea that the world had just experienced an event that would change everything.
A third theme was birthdays, plural, as a week from my husband's birthday comes another. April 4 may be infamous for the miserable national memory of Martin Luther King Jr.'s assassination, but it's also the anniversary of something great: It's the original World Trade Center's official birthday, 1973.
While I'm just a bit older, my own unique journey beginning the weekend of the Stonewall Riots, those towers loomed large in much of my life. I was never in them, never lived in New York, but they were still ever present. As a kid, I was nuts for King Kong, the black-and-white original. Then, in second grade, the Jessica Lange remake came out. My sister took me to the theater where I sat mesmerized not only by buff Jeff Bridges, but by Kong's climb up one of the Twin Towers. Under the family's 1976 Christmas tree, I got a 3D paint-by-numbers kit of my ferocious monkey man atop the tower fighting for Dwan. The towers set the tone for the beginning of every childhood episode of Barney Miller. I'd seen them from the sky several times when changing planes in New York or Newark. My first real visit to the Big Apple wasn't until 1998, giving me a chance to spy them from the ground up as I made my way through Manhattan. The towers had nothing to do with my trip, but the stately sentinels offered a comforting presence of familiarity and continuity. A couple days after 9/11, I went to a screening of Big Eden. It was a wonderfully heartwarming movie, but with the towers as backdrop in the opening credits, certainly not easy to market.
Soon, a reiteration of the World Trade Center will open — One World Trade Center — in mid-2014. I'm rooting for NYC Pride Weekend, myself, as April 4 doesn't seem at all possible.
When plans for this tower were announced, I remember some arguing that it was too dangerous. "It will be a target." Yes, it will be. Just like marathons, British buses, Spanish trains, federal buildings and sandstone Buddhas. All the more reason to build it.
One World Trade Center, whether in the 20th century or the 21st, is a center bustling with every possibility of ethnicity, class, orientation and outlook. From the subway maintenance worker in the basement to Anna Wintour ruling her above-the-clouds Vogue roost to the Vantone China Center, this publicly owned tower will continue to be a crossroads to influence the future. Whenever it opens, I'd love to see its birthday continue to be marked as April 4. We cherish the day of King's birth, not the day of his demise. April 4 can be a day that celebrates the possibilities of humanity to rise.
Will O'Bryan is Metro Weekly's managing editor. Email him at wobryan@MetroWeekly.com. Follow him @wobryan.