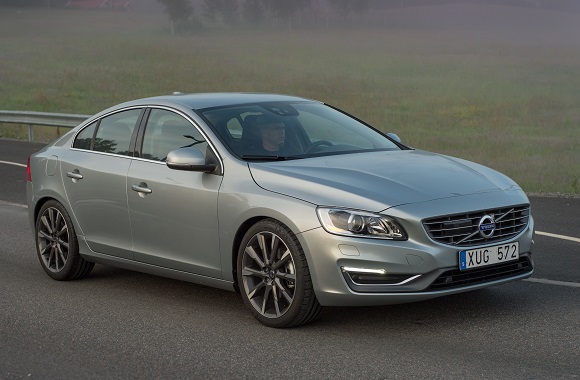 If I asked you to think of Volvo, where would your mind wander off to? Would it retreat to the 1950s and '60s, to the gorgeous, curvy P1900 and P1800 sports cars or to the 1800ES station wagon? Or would you think of the boxy wagons and sedans Volvo became notorious for in the '80s and '90s? More likely than not, it's the latter. Volvo's passion for safe, functional, well-made cars led to a spate of autos — the 850, the 740, the first generation V70 — all designed with a ruler. These big, Swedish, boxes on wheels were famous for protecting their occupants from crashes and offering sprightly turbocharged engines, but their design language caused Volvo's cachet with buyers to suffer, and sales declined throughout the '90s.
The turn of the century brought a fresh design strategy and new ownership. Ford bought the brand, hoping to capitalize on Volvo's obsession with safety by using its technologies across their own numerous marques. The new millennium gave us the soccer-mom favorite XC90 SUV, as well as redesigned and refreshed wagons and sedans — the S60, the C70, the V40 — all in an attempt to revitalize the Swedish company. The financial crisis in 2008 threatened to undo what little progress had been made, however. Ford's attempts at pushing the marque upmarket to compete with the established German brands prevented middle-America from being able to afford them in the new, cash-strapped economic climate. Mass layoffs occurred, with Volvo's ownership worrying that Ford would shutter the then 80-year-old company in an effort to stem losses. Mercifully, Ford settled on selling Volvo, which was snapped up by Chinese firm Geely for a mere $1.8 billion. The rest, as they say, is history. Volvo is still with us, so they must be doing something right.
I must admit that I've never been a great fan. To me, Volvos were very much a car of the suburbs, driven by parents who wished to keep their children safe in something reliable and well made. If they wanted to bring the family dog, too, they'd buy a Volvo station wagon. They were sedate, comfy, but never something you desired to own. They didn't set my pulse racing.
Of course, that's never really been the point. Volvo designs some of the safest cars on the road, intending for drivers to always reach point B without a single accident en route from point A. The latest technologies in many Volvos mean they can brake and park themselves, detect cyclists, pedestrians, other cars, alert a drowsy driver to pull over, or even ready the car if it detects that a crash is unavoidable. By 2020, Volvo is determined that "nobody shall be seriously injured or killed in a new Volvo." That's a bold claim, and whether or not it's achievable is entirely subjective. If there's one car company that can do it, however, it's Volvo.
It's why I was surprised, then, on a recent trip to Harpers Ferry, W.V. Reaching the Hertz counter at the Washington Hilton, I was offered a choice of two vehicles from their Prestige Collection, which I'd opted for to enhance the drive to West Virginia. Outside stood a white Mercedes-Benz E350, with Merc's purring V6 engine and sumptuous cabin. Behind it, a black Volvo S60, with the Swede's 5-cylinder turbocharged T5 engine. It was no contest. I took the Volvo.
Now, convention and history would have normally steered me into the seat of the German, but I can't emphasize enough how striking the new S60 is in person. It's not beautiful, per se. It is, instead, incredibly handsome. It's muscular, with a purposeful front end and a sharp, pert rear. It's striking in person, especially in the shining black of my rental. Inside, it's so far, so Volvo. The trademark floating center console is here, as are its big, comfy seats and premium feel. As a place to while away the hours, it won't cosset you as much as a Cadillac or German sedan. And while the plastics aren't as premium as they could be on the parts you touch less frequently, overall it's very pleasant.
The instrument cluster deserves particular mention. It's a large, digital display, with three selectable modes — Elegance, Eco and Performance. I selected the latter option, which turns the speedometer an enticingly sporty red and displays available power, and forgot the other two modes existed. However, while I found it a cinch to navigate the display and onboard infotainment system, our editor-in-chief showed his age when he struggled to connect his phone to Bluetooth. It's not an intuitive system, though it does look very clean and modern. Similarly, though Volvo's center stack is minimalist, some of the buttons are a little too minute — not ideal for a company focused on safety to force drivers to spend longer than necessary trying to input something.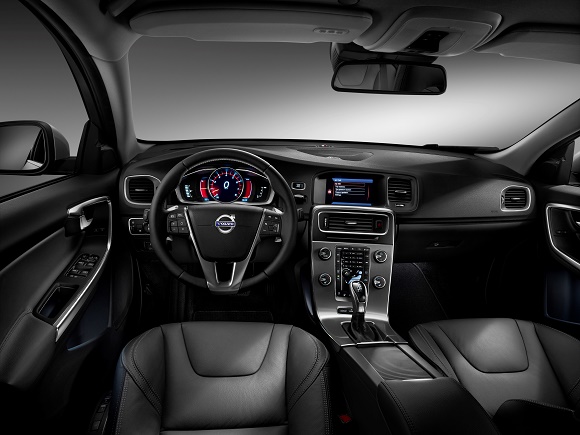 Out on the road, it felt as I'd expected. Planted, secure, stable. The S60 rides on the firm side, but it's never uncomfortable. It irons out the worst scars on the highway, but it doesn't wallow and pitch while navigating on-ramps or under-braking. The steering wheel is thick and meaty, with a great feel in the hand. It's also surprisingly heavy, almost harking back to the days before power steering robbed a lot of the natural feel from driving. It isn't cumbersome to navigate around the city, but it's noticeably tougher to turn the wheel than with some competitors. At speed, though, it helps the S60 feel as solid as a Swedish rock. Aiding that is its T5 engine. A 5-cylinder power plant, it's a unique little engine; a 2.5-liter, 254 hp, 266 lb ft turbocharged unit paired to a 6-speed auto box. It offers a pleasant burble at standstill, which livens into a rorty growl under hard acceleration. It's slightly gruff, but that only makes it more endearing. There's enough power for overtaking and merging, though a few extra horses under the hood wouldn't go amiss.
Overall, my impressions were positive, but far from bowled over. It was pleasant, surprising in places, but there wasn't anything particularly revelatory to suggest why there are some truly devoted Volvo owners out there. That feeling lasted for most of the journey to Harpers Ferry — right up until I hit the winding roads that snake through the hills around the historic town. It was here that the Volvo unleashed its secret weapon: It is ridiculously good fun to drive. That heavy, chunky steering wheel feels directly connected to the road, with every input I made resulting in surefooted, immediate changes in direction. This 3,500 pound sedan let me throw it around tight, winding back roads without ever putting up a fight. Understeer is minimal, the back end is tight, grip is plentiful, the T5 engine starts to sing once Sport is engaged on the auto box. Squeezing the throttle to power out of a corner, the engine barking, suspension soaking up the worst undulations in the road, I couldn't help but smile — and I didn't stop. Harpers Ferry became something of an afterthought as I searched my smartphone for more roads, tighter corners, better bends. I lost my afternoon finding roads to challenge this Swedish superstar and every time I reached the end of another beautiful stretch of pavement I fell a little bit more in love with it.
With disdain I left the countryside of West Virginia and headed back to D.C., settling back in to freeway speeds. It's here that you can pick holes in the S60's armor. It isn't as well equipped as some rivals, lacking many of Volvo's headline safety features such as pedestrian detection or auto-braking. It was also devoid of parking sensors, a reverse camera and satellite navigation — things buyers in this category would likely expect as standard. Its T5 engine, though fun to rev, isn't as efficient as I'd have liked and could definitely have used an extra gear or two, managing just 30 mpg highway. That latter complaint, however, is solved with the 2015 model year, as Volvo has changed the T5 engine to a 2.0-liter, 4-cylinder model that boosts economy to 37 mpg highway — an 8-speed gearbox and 100 lbs of flab lost helping immensely.
In many respects, at face value the S60 shares a lot in common with its Swedish neighbor IKEA. It's attractive, competitively priced and easy to live with. It's been designed to appeal to as many people as possible and has been extensively tested for durability. Similarly, there are some notable quirks. A few screws will likely be missing from that bookshelf you've just bought, much like some equipment is missing from the S60. Drive the S60 like a normal sedan — grocery shopping, the daily commute, out to dinner — and it'll perform just fine. You'll likely enjoy owning it. Take it out for a proper drive, though, and the similarities end. It transforms into a bespoke piece of luxury furniture. Honed, crafted, solid.
Every time I climbed behind the wheel of the S60 I wanted to drive it. I would detour through Rock Creek Park just to throw it round a few more corners. I would caress the meaty steering wheel, glance over the red dials, engage its addictive Sport mode. In a weekend, it had succeeded in doing something I didn't think possible — I wanted this Volvo. Returning it to Hertz, I wondered no longer why people love their Volvos. If something can be that durable, that safe and also be that fun to drive, I'm forever grateful that Ford sold the company rather than shutter it. A world without incredible surprises like the Volvo S60 would be a dull world indeed.
Special thanks go to Hertz for providing the vehicle for this article. The S60 is available as part of Hertz's Prestige Collection, a range of luxury SUVs, crossovers, sedans, coupes and convertibles available nationwide. If you're considering renting on your next vacation or even heading out for a weekend trip, we thoroughly recommend the Prestige Collection. It makes any journey, either business or leisure, that much more memorable. Just make sure you return the car, no matter how much you fall in love with it.