Spring, despite its lingering chill in 2014, is a time to think of birth, of growth, of renewal. That means youth – LGBT youth, in particular. Like D.C.'s spring, LGBT youth can also be chilly – and sunny and breezy and all the rest. There is no universal template for people, certainly not the youngest among us. They are bois and grrrls, queer and kindred. They are everything at once, coming out, testing their wings and getting a better look at those generations ahead of them who have laid the groundwork, and whom they will gradually replace.
In the D.C. metro area alone, they represent thousands of unique perspectives. Ahead of the Youth Pride Alliance's May 3 Youth Pride Day, Metro Weekly checked in with three of them.
From Mean Streets to Easier Street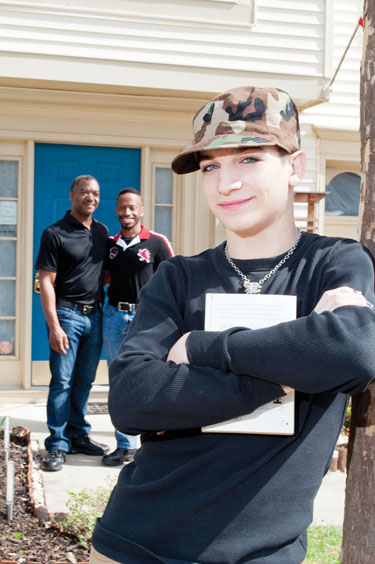 Lundyn Terry-Smith with Justin and Philip
(Photo by Todd Franson)
In the world of Annie, a hard-knock life means a nasty orphanage full of toil and show tunes, with a "Daddy" Warbucks tap-dancing along to make your life magic. In the world of Lundyn Terry-Smith, things worked a little differently.
"I was living in Baltimore City and I was homeless," says Terry-Smith, now 17, of a time shortly after he'd turned 14. The abuse, he says, came primarily from his father. While his mother wasn't abusive, she was also long absent – since he was 8 months old. But there was also abuse at school. "In elementary school, I got along okay. In middle school it was a little bit tougher, because that's when I figured out I was gay. In high school, it was just terrible. I never really came out and said, 'Hey, I'm gay.' People assumed, and they were correct. That's just how it was. I did get bullied a lot for it. It got pretty bad. It got to the point I was fighting every day, getting shoved in lockers, all that other good stuff."
The way out, as Terry-Smith saw it, was to run away from home. And, indeed, that ended the daily abuse. Still, the trajectory of his life was far from taking a positive turn. Things were going to get much worse before they got better.
"I was jumping from house to house, with friends and stuff," Terry-Smith says of the start of his life on the streets. "Then I found an abandoned home. It had a couch, and the electricity hadn't been shut off. I stayed there for a little bit. I got addicted to some pretty nasty drugs. Finally, I got really tired of that life. I went to my aunt for help."
Cue the happy-ending music? Oh, no.
Terry-Smith's aunt was able to get him off the streets and into a 90-day program operated in Maryland by Texas-based Arrow Child & Family Ministries. As a self-identified Pagan, Terry-Smith says his experience with the Christian social-services provider may have provided him a safe harbor, but did little to assuage his sense of isolation.
Whatever his feelings about Arrow, the program did, at least, get him a step closer to that happy ending. Still, Terry-Smith clearly remembers his dissatisfaction coloring his first meeting with Justin and Philip B. Terry-Smith.
"The first thing I said was, 'Get me the hell out of here."'
The shared last name is the spoiler — you know where this is going. Following months of getting acquainted and the attendant paperwork and court dates, Lundyn Terry-Smith is officially – right down to the legal last name – part of the family, living in Maryland with his two dads, and thriving in ways that have given him a new lease on life. Not only does he have a roof over his head, but he's also got his own bathroom. And, unlike plenty of people his age, Terry-Smith seems to embrace his chore list.
"It's right here if you'd like me read it to you," he says. "Sundays I have to dust surfaces and do the kitchen floor. Monday is two hours of studying. Tuesday is my laundry day. Wednesday is trash day. Thursday, I have to clean my bathroom. Friday, I have to clean and vacuum my room and the hallway. Saturday, I have to dust and vacuum the living room and dining room."
He even makes dinner once a week: "Thursdays are my night to cook. Last night I cooked orange chicken. It was the first time I ever made it. It turned out really good."
In a safe and stable home, Terry-Smith can actually turn his attention from staying warm and fed – or feeding an addiction – and concentrate on the here and now. He's continuing his high school education online, often heading to Anne Arundel Community College with his father Philip, who serves as an assistant professor of sociology there, and crafting a future as a cosmetologist and professional belly-dancer. That's not all he's got planned for the future.
"April 12, 2013," says Terry-Smith. That's the day his fiancé, José, popped the question. "We've known each other since we were little. He found me and messaged me online. He reminded me who he was, then he told me he was gay. We kept talking and things happened."
Terry-Smith says the marriage will have to wait a couple years, until José's Army tour ends, but a boy can dream.
"Justin will walk me down the aisle, and Phil will marry us," he says of the fixed points. Attire is still up in the air. "I kind of want to wear a dress to my wedding and be all dragged up. But I'm debating."
Terry-Smith is more definitive, however, when it comes to where the community could do a better job regarding the younger end of the LGBT spectrum. He says there's a critical need for more service organizations that target LGBT youth, for more culturally competent support groups to help them navigate these first years of having an LGBT identity.
In the meantime, he, at least, has found his own support group.
"Not only do I have homosexual parents, but I have the large group of LGBT friends that they have," he says of the social circle he adopted along with his socially prominent parents. "I feel so welcome. It's amazing. I have such a large support group now. I wish everybody did. Without it, life gets pretty hard."
Seems Lundyn Terry-Smith's "Tomorrow" has already arrived, and the sunshine couldn't be much brighter.