SMYAL's Eager Ambassador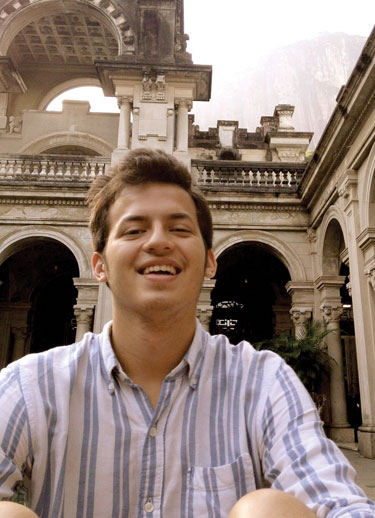 Marco Hernon
Supporting and Mentoring Youth Advocates and Leaders – née the Sexual Minority Youth Assistance League, but best known as SMYAL, whatever the iteration – throws a heck of a brunch every year. In 2013, it featured Marco Herndon, a young man who moved to Arlington, Va., from Georgia, ahead of his sophomore year of high school, roughly five years ago. SMYAL had asked him to come and share his experience with the organization.
"I talked about how SMYAL has affected my experiences as an LGBT youth," Herndon recalls. "I talked about how I learned a lot of leadership skills through them. I talked about how they exposed me to the diversity of the LGBT community. Growing up in the suburbs in Arlington, I didn't have exposure to a lot of LGBT youth. SMYAL exposed me to a lot of different types of LGBT youth and experiences. What I knew of gay culture was mainly Dupont Circle, or very well-to-do gay men. … It was the first time I met transgender youth who were my age. Just knowing there were other LGBT youth in the area was really cool. I got to express myself in ways I couldn't in high school. I was always trying to act 'not too gay.' In this other space, I was able to just be myself. It really challenged me, as well. Through SMYAL, I learned that there are a lot of different experiences."
That foundation has had a great influence on Herndon's experience at the University of Pennsylvania in Philadelphia, where the 20-year-old is focusing on urban and legal studies. From finding SMYAL when he was 16, to volunteering, to becoming a member of SMYAL's Youth Advocates Program during his senior year of high school, Herndon learned not only more about himself and his community, but also about communicating in a variety of environments and about the nuts-and-bolts of operating a nonprofit. All of it useful.
"I'm part of the Lambda Alliance at UPenn. It's the undergrad umbrella organization for LGBT students. I'm on the board, pretty involved with that," Herndon says of campus life. "I've also been able to explore more intersections of the LGBT community. I'm Latino. I've been able to understand what it means to be a Latino gay man within the wider LGBT community. As part of my role in this organization on campus, I've had to organize retreats. I've evolved a lot of the skills I started learning at SMYAL. Whenever I have to plan something or talk about these types of issues, when I have to talk about these 'soft skills,' I always think back to conversations or events at SMYAL. That was a really good starting point in learning how to talk about social issues, learning how to tackle them."
It's also a question of conversations, he says, when thinking of what's lacking for his generation – young gay men, in particular. Herndon would like to see more conversations about sex, more guidance from the older generation, in an effort to counter high HIV infection rates among his peers.
"My generation of gay men, we have this pervasive hook-up culture, but we don't really have a lot of exposure to what it means to be an openly gay young person," says Herndon, describing his generation as pioneers of sorts, a group that may have come of age in high schools with Gay-Straight Alliances – but among the first to do so. Their age of exploration and identity is beginning younger than their forefathers', but without the cultural infrastructure of their straight peers. "I'd argue we're one of the first generations to be totally open, but there's no real standard, no format. We don't really have an idea of how relationships are supposed to work at our age.
"The HIV/AIDS crisis is happening all over again with LGBT youth, especially 17 to 24 year old gay men, who are the most prone to HIV. There are a lot of different stress points on a young LGBT person. We don't feel like there's a place in the mainstream LGBT movement that's concerned about this."
Youth leaders like Herndon – with skills learned at SMYAL – may be the ones to start the conversation. While Herndon offers that message to an older generation, he also has a message for those a bit younger, living in the D.C. area, across the LGBT spectrum.
"I'd like them to know that SMYAL is a place where you can be yourself, but that it's also a place that challenges you to think about who you are, and it challenges you to be independent," says Herndon. "It makes you think about your identity in a multidimensional way. It's not just about being lesbian, gay, bisexual, transgender or queer youth. It's also about exploring the wide array of things that define you. In exploring that, you really empower yourself. You realize you can't be reduced to just one thing, that your identity is really a collection of things."
The Youth Pride Alliance's Youth Pride Day is Saturday, May 3, from noon to 5 p.m., in Dupont Circle. For more information, visit youthpridedc.org.