It seems just like yesterday.
Running around frantically in my tiny apartment at the corner of 17th and T Streets, scrambling to get the very first issue of Metro Arts & Entertainment Weekly written and to the printer. I don't have clear, detailed memories of it, apart from recalling that pages were laid out in PageMaker on a monochrome IBM computer (floppy disks!), printed out on a cheap black and white laser printer, and then pasted onto templates through the aid of a hot-glue gun. The pages were then bound into a loose-leaf three-ring binder — "the book," as it came to be known — which was then raced to the printer by car and handed off, relay style, to the camera department. From there, I always said, "It's in God's hands." God, in this case, being the printing press, which would not break down and create a distribution delay. God forbid.
I remember franticness. Followed by relief. Followed by exhilaration. Followed by a lot of celebratory alcohol. Followed by a hangover. Rinse and repeat.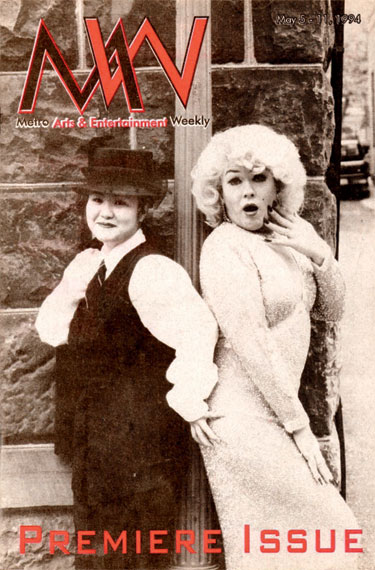 Premiere Issue of Metro Weekly magazine
In the ensuing years the changes came. Many changes — to the name, to the logo, to the format, to the way we submitted our files to the printer, to the staff — and through them all we've remained consistent to our mission to create a magazine — and a website — that speaks to the LGBT community, locally and beyond, in a literate, interesting and, whenever possible, unique way. A magazine that covers things that are more than just LGBT-oriented, because as LGBT people, we are interested in things beyond our own microcosm.
The fight for equality has begat same-sex marriage, the end of "Don't Ask, Don't' Tell," and a rise in our awareness and a fuller understanding of our transgender brothers and sisters. These two decades have seen monumental advances in combating HIV/AIDS, though we've lost so many in that time and still have such a long way to go. And the view, from 1994 to 2014, has changed so dramatically that we routinely browse the world outside our all-too-often confining borders thanks to this little always-connected thing they call The Interwebs. These changes have been reflected in our pages, often through the words of the people who were working hard to implement them.
Quality has always been our hallmark at Metro Weekly. I have worked — and continue to work — with an abundance of talented writers, photographers and illustrators – more than any editor/publisher has a right to. Sifting through 20 years of Metro Weekly — more than 1,000 issues — only reinforced that notion. It's an honor, really, and very humbling.
Some of our writers and artists have moved on to other venues — Entertainment Weekly, The Washington Post, New York Magazine, The Daily Beast, BuzzFeed. But just as many have stayed here for years — Todd Franson, Will O'Bryan, David Uy, Sean Bugg, Kate Wingfield and Doug Rule have worked with the magazine for more than a decade. Then there are the relative newcomers — Justin Snow, John Riley, Rhuaridh Marr, Brandon Harrison, Chris Gerard, Richard J. Rosendall, Troy Petenbrink, Zack Rosen — who have carved out their niches within the magazine, whether it be politics or pets, music or cars, technology or travel, offering voices, both in print and online, that are distinct and unique and complementary to one another.
In Julian Vankim, we unearthed a magnificent photographer who brings an alternative sensibility (and a bit of relief pitching) to Todd Franson, whose own extraordinary ways with portraiture have defined this magazine's look for much of its existence. We're lucky to work with incredible illustrators, each of whom bring their own spark of life to the magazine, from the elegant, thoughtful illustrations of Christopher Cunetto (who also doubles as one of our Scene photographers) to Scott G. Brooks, whose elaborate detail-work frequently leaves one's jaw ajar for hours if not days. And, of course, there's Ward Morrison. Everybody knows Ward. Everybody's been photographed by Ward. Everybody's been hugged by Ward. And everybody is all the better for it.
There are plenty who operate behind the scenes to ensure things run smoothly, notably David Uy, who arrived in 2002 and brought us onto the Web with a dazzling flair. David is overseeing the launch of our newly redesigned website (coming soon!), which all staffers younger than me (everyone, come to think of it) say is far more appealing than our current outmoded look. But what do I know about technology? I still type texts with my forefinger while chewing my tongue out the side of my mouth. We'd never get into your hands were it not for the weekly efforts of Dennis Havrilla and Richard Goldsmith. And thanks to the talented Aram Vartian, we've been able to toss the occasional video into the mix with the same kind of quality and care we bring to our print and online endeavors.
It's these people who work extra hard, often through weekends, to ensure that Metro Weekly isn't just one of the best, most interesting LGBT magazines you'll ever read, but that MetroWeekly.com is a place you'll gladly visit daily (which, I'm pleased to say, you do). We engage the world of social media with a page on Facebook and a perch on Twitter, as well as an email we call The Daily Blast, and which, like everything here, is constantly evolving. (Sign up at metroweekly.com/join.)
Indeed, the combined efforts of these people — and those who came before them — have been the reason for the magazine's success all these years. The magazine you are holding today is a tribute to everyone who has ever been part of it. And I am grateful to every single one of them for their efforts, for their talent, for their devotion to this publication.
Think of this issue as a kickoff to a year of recollections and tributes, as we'll continue to look back at our history throughout the year. For me personally, editing this particular issue unleashed a torrent of fond memories and evoked strong, deep emotions. Maybe I'll share a story every so often on our Facebook page (facebook.com/metroweekly) or tweet a rarely seen snapshot from the past (twitter.com/metroweekly), as there is plenty to still be seen and celebrated. Too much, almost. But we can't stay steeped in the past. We have a magazine to put out for the present. Once this week is done, we're on to next week.
Expect changes in the coming months. We've already introduced Pets, Home and Car sections. We added Technology, Health and Games to our arts and leisure roster, and are about to debut Food. (Fun aside: Out On the Town has appeared in every single issue since the very first.) We'll keep growing, keep evolving, keep trying on new things and revisiting former ideas in a new way. We are grateful for your readership, grateful for our advertisers whose support allows us to do our job to the height of our ability (which is why you should support our advertisers), and we will never take your readership for granted. We will always strive to earn it, week in, week out.
Producing Metro Weekly has now occupied a full third of my own life. It is, for me, a legacy — an unexpected one as I never really set out in life to be a magazine publisher. Yet now I can't think of anything else I'd rather be doing. And I can't think of any magazine I'd rather be publishing more than Metro Weekly.
It may seem just like yesterday, but around here it already feels like tomorrow.
Randy Shulman
Publisher/Editor-in-Chief