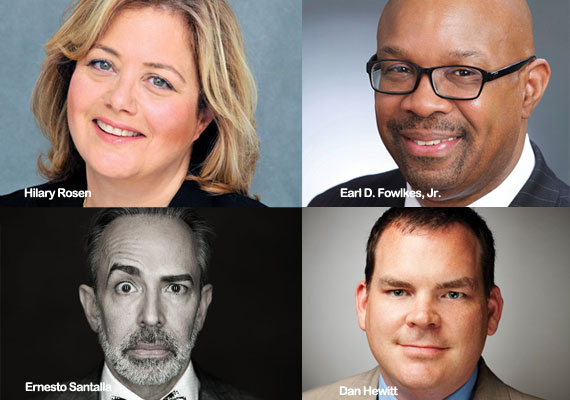 The Next Generation Awardees are chosen from a pool of community nominations by a panel of Washington-area LGBT leaders from the worlds of arts, activism, business and politics. The 2014 Next Generation Selection Panel members are:
Earl D. Fowlkes Jr.
President/CEO
Center for Black Equity Inc.
As president and CEO of the CBE, Fowlkes oversees the only black LGBT international organization in the world, with organizational and individual membership in Canada, the U.K., Ghana, Uganda, Guyana, Suriname, Jamaica, Trinidad, Barbados, Kenya, South Africa, Brazil and Zimbabwe. He also serves on seven nonprofit boards of directors and as chair of the D.C. Mayor's GLBT Advisory Committee.
Dan Hewitt
Vice President
Media Relations and Event Management
Entertainment Software Association (ESA)
At the ESA, Dan Hewitt serves as an on-the-record spokesman in top-tier print and electronic media. Since he began at the ESA in 2004, he has been responsible for developing and executing communications strategies that educate key audiences about the industry, its goals, and its consumers.
Hoai B. Huynh
Principal for International Development
Energy, Environment and Transportation Group
ICF International
At ICF International, Hoai B. Huynh oversees programs and strategies in the developing-country context. He has worked extensively in developing countries, particularly working with USAID, World Bank, and other clients and partners on climate change, environmental, water and energy programs.
Hilary B. Rosen
Managing Director
SKDKnickerbocker
Hilary B. Rosen is a well-known Washington strategist who effectively navigates the intersection of communications, media, and politics. Her name has appeared regularly on influential year-end power lists including Entertainment Weekly's "Annual Power List," The Hollywood Reporter's "Power 50 Women," and National Journal's "Washington's Powerful Insiders."
Ernesto Santalla
Founder/President
Studio Santalla Inc.
Board Chair/President
Capital Area Gay and Lesbian Chamber of Commerce
Born in Cuba, Ernesto Santalla has been in Washington since 1984 when he received a degree in architecture from Cornell University. His Studio Santalla specializes in architectural design and is the parent company for Graphic SS, Ernesto Santalla Photography and Ernesto Santalla Home.