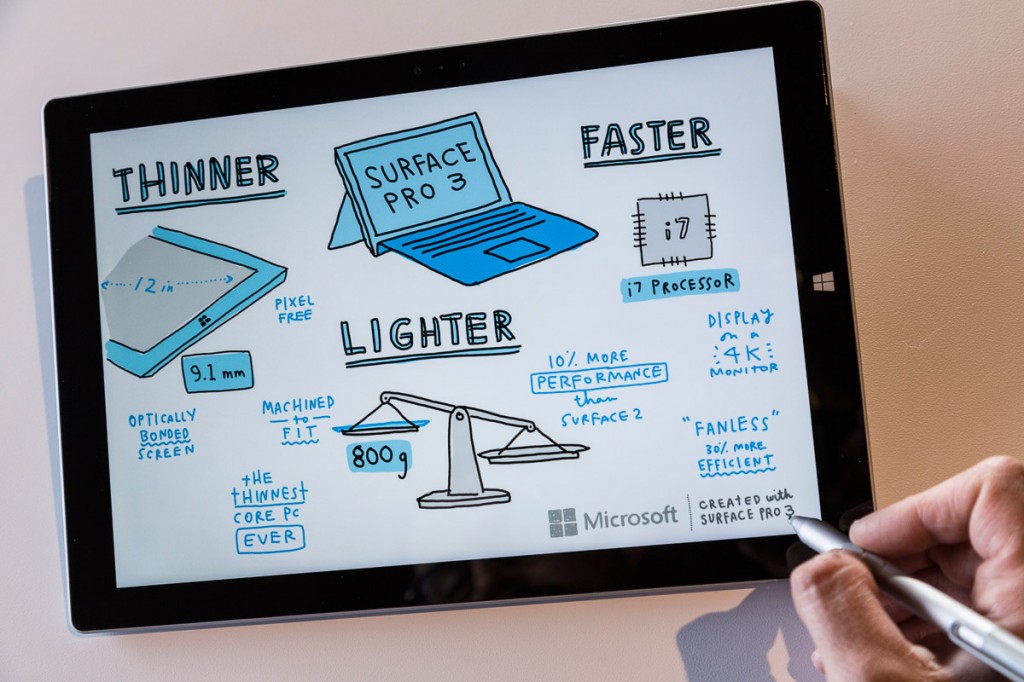 Rumors ran abundant that Microsoft would debut a smaller version of its Surface tablet line this week. After sending journalists invites to a "small gathering", it seemed all but certain that the oft-discussed Surface Mini would make its first appearance. Instead, Microsoft surprised everyone in the room by launching its largest slate yet. Folks, meet the 12-inch Surface Pro 3.
Landing 8 months after the Surface 2 and Surface Pro 2 made their official debut, its a surprising move by the company — but given what's on offer, we're sure nobody is complaining. On first impressions, it's classic Surface. Microsoft's tablet-cum-laptop hybrids, running its Windows 8 software and featuring built-in kickstands, covers that double as keyboards and even pen input and laptop-grade processors in the Pro line, have carved a niche in the market as users strive to find one device that does everything a laptop and tablet offers. While far from perfect, Microsoft have come as close as anyone to realizing that dream, and, they believe, with the Pro 3, they've finally achieved it.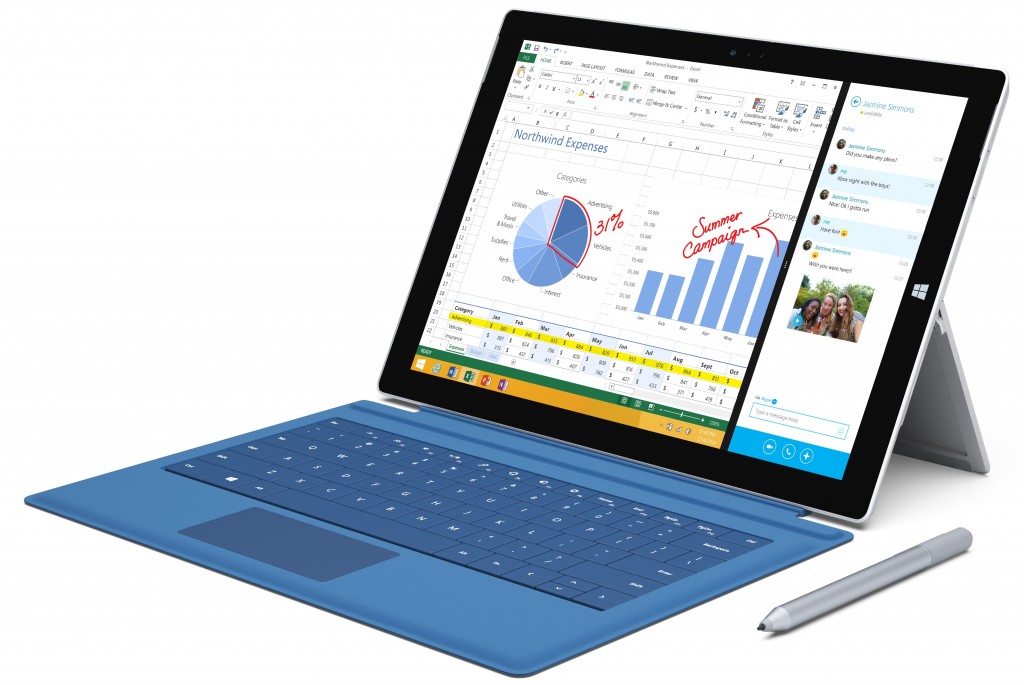 For starters, it's a looker. Constructed from the same VaporMg magnesium chassis as its siblings, it's a premium device. It's face is coated in glossy, scratch-resistant glass, the back and sides the aforementioned soft-touch, cool, durable metal. The back is also home to an all-new kickstand design. No longer does it have the signature Surface "click", but instead features a friction design which can recline up to 150-degrees. A 12-inch, 2,160 x 1,440 screen dominates the front — a considerable upgrade from the Full HD screens on last year's models — surrounded by slim bezels which help emphasize the new, enlarged display. Of course, with such a display, there's bound to be concerns about the portability and ease of use of the Pro 3 when in tablet mode.

Amazingly, this 12-inch slate weighs just 1.76 pounds — the 11-inch Macbook Air is a portly 2.4 pounds by comparison. It's also a mere 0.36-inches thick, which is on par with the original iPad. Indeed, Microsoft proudly proclaimed that the Surface Pro 3 is the thinnest ever product to feature Intel's beefiest, Core i7 CPU. Yes, you read that correctly — the Pro 3 packs full Intel Core i7 internals in its most expensive variant, though it can also be had with Core i3 or i5 CPUs, with storage running from 64 to 512GB. Concerns of it running out of juice should be assuage with Microsoft's claims of up to 9 hours of battery life. Connectivity includes USB 3.0, a microSD card reader and a Mini DisplayPort. It packs an Ultrabook punch, then, without the size and weight one normally associates with those (already rather slim) devices.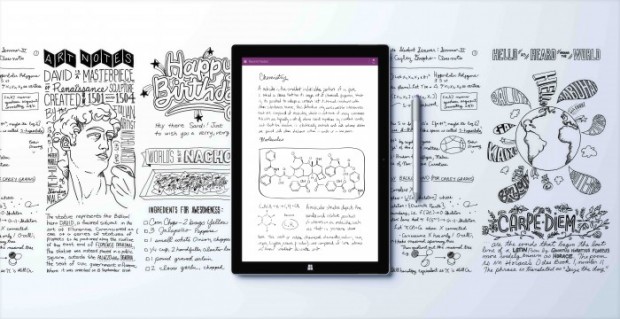 Naturally, no Surface launch would be complete without a new iteration of Microsoft's excellent covers, which "click" into the tablet, allowing it to become a fully-fledged laptop replacement. For the Pro 3, it's a new Type Cover designed exclusively to match the device. A lot of criticism was levied at Microsoft for the lacklustre touchpad on past Type Covers — I own a Surface Pro 2 and can attest that it is an exercise in extreme frustration. Scrolling, clicking, even basic navigation could be immensely fiddly and hit-or-miss in accuracy. Thankfully, they've taken note, and enlarged the touchpad to better accommodate the Pro 3's width. On top of that, it now features a built-in button, matching the rest of the covers physical keys, letting users "click" on objects on-screen. The already stellar typing experience returns, although now its aided by bigger, roomier keys — again, another boon of the extra screen real estate and increased dimensions. Another nifty feature, though, is a new magnetic lock attached to the cover. Flip up the edge of the cover and it locks magnetically against the Pro 3's screen, raising the keyboard into the wedge profile laptop users have become accustomed to typing on. If you've ever found the Surface keyboards a little uncomfortable for extended use, Microsoft are sure this will help.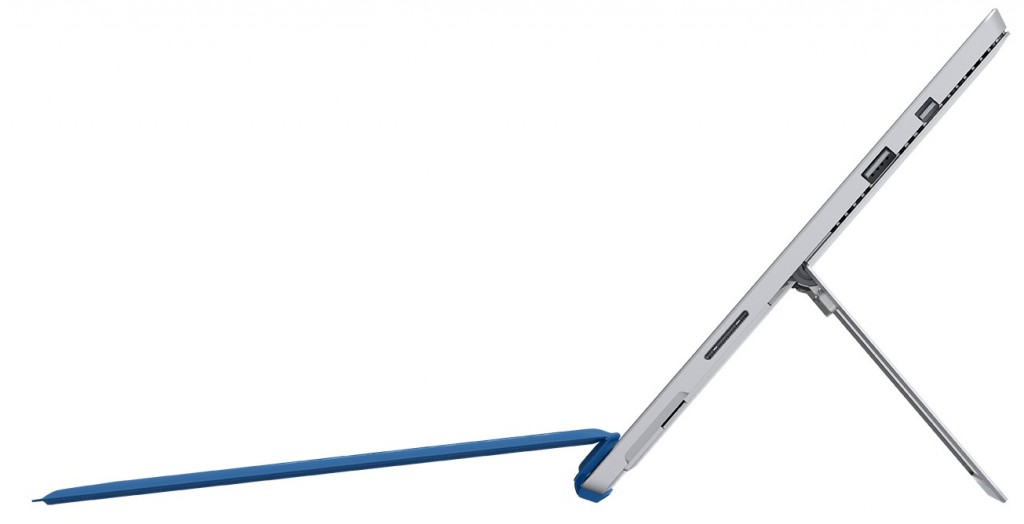 Also new is the Surface Pro 3's pen. Microsoft were keen to stress that it wasn't a stylus, but had been designed to match the look and feel of an ink pen. The Surface Pro 2's Wacom technology has been abandoned in favor of an N-trig digitizer, which Microsoft claim offers a few unique benefits. Click the purple button on top of the pen and the Pro 3 will unlock straight into Microsoft's OneNote app, letting users instantly start taking notes — which are automatically saved to the cloud as you write — without having to access the device's lock screen. In a bid to increase the functionality of their already stellar pen technology, Microsoft showcased a new version of Adobe's Photoshop CC, designed specifically to enable pen and finger input to help professionals make use of their touchscreen — though this new, improved Photoshop CC will be available for all Windows devices with a touchscreen and pen input and isn't limited to the Pro 3.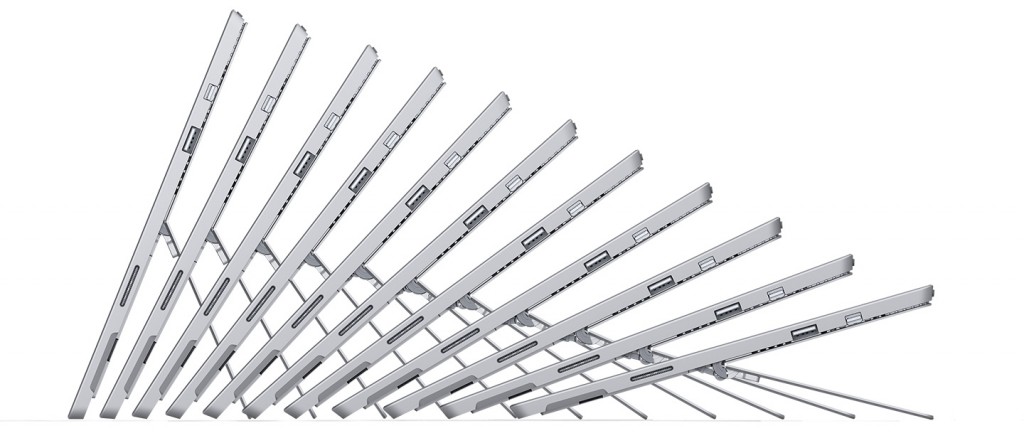 Microsoft continually stressed that the Surface Pro 3 was the definitive answer to the need for one device which can handle both work and play — indeed, it's marketed specifically as "The tablet that can replace your laptop". With its high-density screen, impeccable build quality, pen input, smart keyboard cover, featherweight build and powerful internals, the Pro 3 could well be that device.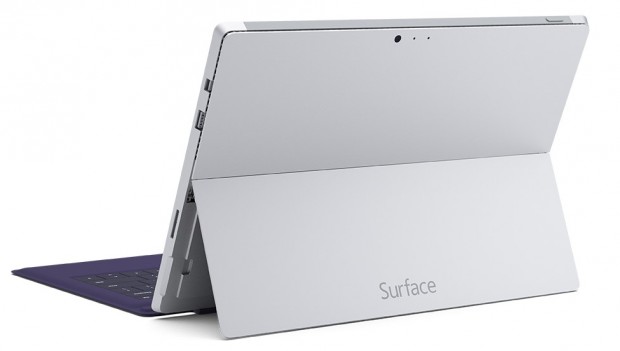 If Microsoft has convinced you of the Pro 3's merits, it's available to pre-order now, with Core i5 models shipping June 20th — Core i3 and i7 buyers will have to wait until August, unfortunately. Pricing starts at $799 for 64GB Core i3 model, Core i5 versions can be had with either 128 or 256Gb of storage starting at $999, while top-tier Core i7 models start at $1,549 with 256GB of storage, expandable up to 512GB. Though slightly eye-watering, prices compare favorably with ultra-thin laptops such as Apple's MacBook air, which is thicker, heavier, has a significantly weaker display and lacks a touchscreen, pen input and costs $1,449 for a similarly-specced 13-inch model.
If you're worried about the slim, light Surface Pro 3's durability, don't be. Panos Panay boldly dropped a demo unit on-stage to show the new model's durability, and we've included it below, along with the official product video.
We dropped the #SurfacePro3 today, figuratively and literally. http://t.co/XdCzJ2oYo5

— Surface (@surface) May 21, 2014