What, exactly, was the point of rebooting the Spider-Man franchise with 2012's The Amazing Spider-Man? Arriving in theaters just five years after the incredibly lackluster Spider-Man 3, it was too similar, too soon and too underwhelming to shake off the barely formed cobwebs. A ho-hum origin story, decent villain and some exciting action sequences were sufficient for Sony to steam ahead with the sequel, but it still can't quite answer the questions surrounding its existence.
Compare The Amazing Spider-Man 2 with 2004's numerically similar Spider-Man 2, and it can't touch the Sam Raimi-helmed blockbuster. Alfred Molina's Doctor Ock was an engaging, complex and emotionally resonant counterpart to Tobey Maguire's dorky hero. Well-paced, competently written, bombastic and emotionally gratifying, it made many year end "best of" lists.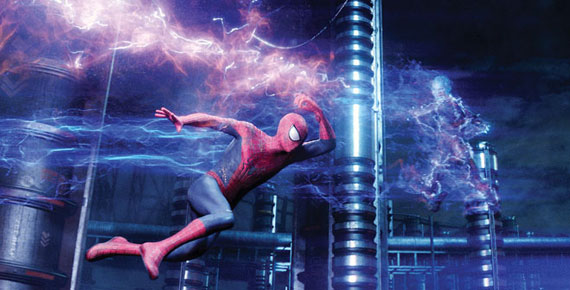 Amazing Spider-man 2
This time around, I doubt Marc Webb's sequel will enjoy similar acclaim. Here, Peter Parker (Andrew Garfield) is struggling with the aftermath of the first film. His promise to Gwen Stacy's (Emma Stone) father to keep her out of his life is playing on his mind, as he bounces between pushing her away and pulling her into another passionate kiss. They are both caught in that awkward moment after high school, neither sure of where their relationship is going, or whether it's worth the potential hurt it could cause them both. Forget villains and super powers, the main focus of this movie is very much the relationship between Peter and Gwen.
This fact is made all the more apparent as we watch the main antagonist muddle through a very B-movie subplot. Jamie Foxx is onboard this time, with the Oscar-winner's talents squandered playing Electro. Starting the movie as Max Dillon, a lowly employee for Oscorp who designed pioneering technology but is largely ignored by everyone around him, we watch as an industrial accident transforms him into the formidable super-villain. Wielding electricity, complete with a glowing blue body, he ventures out into New York City and proceeds to cause havoc.
It's all a great setup, particularly when we see his powers outstrip Spidey's — this is a villain who can absorb all of the electricity from the city, who can travel through wires, who can remove any technological advantage from play. He could be a devastatingly powerful foe. What we ultimately get, however, is a hackneyed villain who, once he becomes Electro, is stripped of anything worth caring about. Max Dillon is a fragile, confused, obsessive individual, lonely and mentally abused by coworkers. His conclusion in this film ignores any attempts at characterization established before he became Electro, there's no emotional payoff or references to his life as Max. Once he's the bad guy, we should apparently stop giving a damn. On top of that, every scene that doesn't involve either Peter, Gwen or the returning Harry Osborne feels underwhelming or over-indulgent, with some incredibly hammy acting for good measure. There's even a mad German scientist and a steroid-enhanced Russian thug thrown into the mix, because clichés are still du jour, evidently.
Another subplot that fails to satisfy is one established in an opening flashback. Peter's parents, who left him with his uncle and aunt (the ever-glorious Sally Field), are shown fleeing from an unknown danger, preparing for a life on the run. Their disappearance, his father's work at Oscorp, the real reason as to why they had to run — so many answers, all of which lead to a rather average conclusion about two-thirds of the way through the film. Nobody cares about Peter's parents, not here, not in the comics, but the forced nature of his backstory in this film series requires that his father's work be discussed and their disappearance be addressed. It's here simply for padding, and to offer Garfield a chance to show his acting chops as he comes to terms with his parents' actions and their place in his life.
Given all of this, is The Amazing Spider-Man 2 worth your money? Yes, for two main reasons. Whereas Tobey Maguire and Kirsten Dunst had an undeniable spark in the original trilogy, Garfield and Stone set every scene ablaze. Their chemistry is undeniable, their affection for one another bolstered by their status as a couple outside of the film. Every scene offers a wealth of emotion and some brilliant acting. Garfield's cheekily arrogant Peter is grounded by the upbeat, intensely smart Gwen. Her common sense balances his "act first, think later" approach. Their turmoil over the course of the film's 142-minutes is what sustains it, as they bounce between passionate kissing, jokey chatter, tearful contemplation and emotional goodbyes. If you strip away the action sequences, the antagonists, the web-slinging, what you're left with is a teen romance, as two people come to terms with life in the real world, outside the comfort and security of high school. While I could give or take the film as a whole, it's worth it just to watch Stone and Garfield light up the screen in a way few on-screen couples have in recent memory.
On top of this, Dane DeHaan's turn as Harry Osborne is far more commendable than Foxx's forgettable Electro — though again this has more to do with characterization than performance. DeHaan's Osborne is desperate, battling an illness inherited from his father, frantically searching for a cure. Though there are only a few short scenes establishing his place in the franchise and prior friendship with Peter, when the two actors meet their camaraderie is instantly believable. Osborne's storyline also falls victim to the main focus on Parker and Stacy, but his arc over the film's length is ultimately more satisfying than that of Electro's.
Ultimately, Amazing Spider-Man 2 is very watchable, sticking to the same template as many superhero films of the past decade or so, with our protagonist facing emotional and romantic turmoil, an everyman turning into our protagonist, and devious, underhanded deeds occurring at major corporations. It's all very standard fare. Action sequences are nicely helmed — indeed, they're one area where seeing the film in 3D may be worth the price of entry. Watching Spidey zip through the streets of New York, the sense of depth and height is pretty incredible. Outside of the set pieces, though, it's Garfield and Stone who give the biggest reason to see Spider-Man's latest outing. Their chemistry binds the film's disparate pieces together, offering reason enough to sit through its average villain and average scripting.
The Amazing Spider-Man 2 cannot compare to the beautifully realized Spider-Man 2, whose characters were better-rounded, better-written and generally just better. If I could transplant Garfield's Spidey and Stone's Stacy into the 2004 film, it'd pretty much be a perfect effort. As such, we're still left wondering why The Amazing Spider-Man 2 exists, save to offer decent popcorn fare ahead of the summer blockbuster rush and increased profits for Columbia Pictures. It's less Amazing Spider-Man, more Stick to a Tried and Tested Formula Spider-Man. For some, that'll be more than enough.
The Amazing Spider-Man 2 (THREE STARS) opens nationwide May 2.